Highlight-reel win!
Highlight-reel shots elevate Canadian men over Sweden at FISU Games
SARANAC LAKE, N.Y. — There are 128 stones thrown in a curling game at the 2023 FISU World University Games in Lake Placid, N.Y. There is an abundance of possibilities and outcomes that result in a winner and a loser.
But it's hard to look past two key late-game shots by Canada's Team Owen Purcell (4-1) and see them as anything else but the cement to set Canada's 6-5 win against Sweden's Team Johan Nygren (2-3) at the Saranac Lake Civic Centre.
With the teams tied 4-4 in the seventh end, Team Purcell of Dalhousie University in Halifax desperately sought to keep Sweden to a single point and obtain the last stone for the final end. However, the Swedes built momentum and had two nicely placed counters on each four-foot side. Canada took a timeout to discuss its options.
"We had a hard time figuring out exactly what we wanted to do there because these guys are such good hitters that you have to make sure when you're setting up angles you have everything in the right spots," Purcell said.
Skip Purcell, vice-skip Jeffrey Meagher, second Adam McEachren and lead David McCurdy executed a perfect hit-and-roll on one counter and locked the shot rock onto the other to sit one. Sweden couldn't score more than one point.
The work was not done as Sweden applied pressure on the Canadians and looked primed to slide out of the eighth end with a stolen victory. However, Purcell and the team (backed by alternate Caelan McPherson, coach Anthony Purcell and team lead Helen Radford) had one more trick in their back pockets.
Canada had a long double-run double-takeout to sit two. Purcell hit the centre guard just right, thrusting it about 20 feet forward into the house and doubling out two Swedish stones under a canopy of guards. Canada sat two and won the game after Sweden missed a difficult draw.
"We put the broom where we thought we needed to hit it, threw it good and the guys were sweeping well. Jeff called the line good and we made a beauty, which made Sweden have a tough one on its last," Purcell said.
It was the exclamation point on a roller coaster of a game and further proof that Purcell, a 22-year-old computer science student, can step up to the plate in big moments when representing his country. Purcell and McEachren pulled out similar gutsy performances at the 2022 world junior championships, relying on big shots in crucial moments to pick up close victories en route to a bronze-medal performance.
"As a front-end player, there's nothing better than seeing skipper making everything and he's been picking it up as time goes on," McEachren said. "Same with (vice-skip) Jeff and as a team in general. As time goes on from our first game, we're playing better and better in every game."
Purcell's sharpshooter instinct plays a factor in these big Canadian moments at the FISU Games, but the skip is also quick to share the spotlight with his teammates.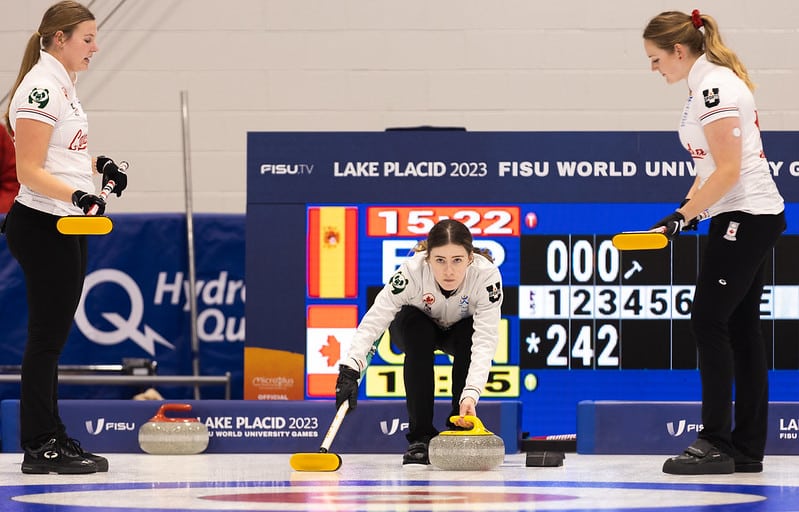 "The sweeping has really been phenomenal from the guys and there's just that clutch factor from the line calls too. It's so nice to have. The guys are always in my corner when I want to play a big shot like that and I think that really bodes well for us going later in the week," he said.
The Canadian men are tied for second with the United States in the standings and have four more games to play. They will play two of those games on Tuesday: against South Korea's Team Jaebeom Lee (3-2) at 9 a.m. (all times ET) and Norway's Team Mathias Braenden (2-3) at 7 p.m.
The Canadian women's team (2-4) from the University of Alberta in Edmonton is searching for a spark after two losses on Monday.
Skip Abby Marks, vice-skip Catherine Clifford, second Brianna Cullen, lead Paige Papley, alternate Serena Gray-Withers, coach Amanda St. Laurent and team lead Radford were singled out of its evening game against Sweden's team Emma Moberg (3-3) with a 6-2 loss.
Canada forced Sweden to a single point in the first end, but Sweden put up steals of one in the second through fifth ends. Team Marks got on the scoreboard in the sixth end with a hit for two. Sweden scored one in the seventh and ran Canada out of stones in the eighth for the win.
Earlier in the day, the Canadians nearly took down undefeated Team Yu Han of China (6-0) but succumbed by a score of 7-4. The game was tied heading into the eighth end, with China earning the win with the last stone.
Until that point, it was a close bout between the two teams, highlighted by Canada's final stone in the fifth end. Team Marks threw a bump-weight hit, narrowly avoiding a centre guard and tapped a connection of stones up into the house for two.
The Canadian women have one game on Tuesday at 2 p.m. against Australia's Team Kirby Gill (0-6).
Live scoring, standings and statistics for the 2023 FISU World University Games are available by clicking here.
TSN will broadcast select curling games. Click here for the full schedule.
This story will be available in French as soon as possible here.