Lead Love!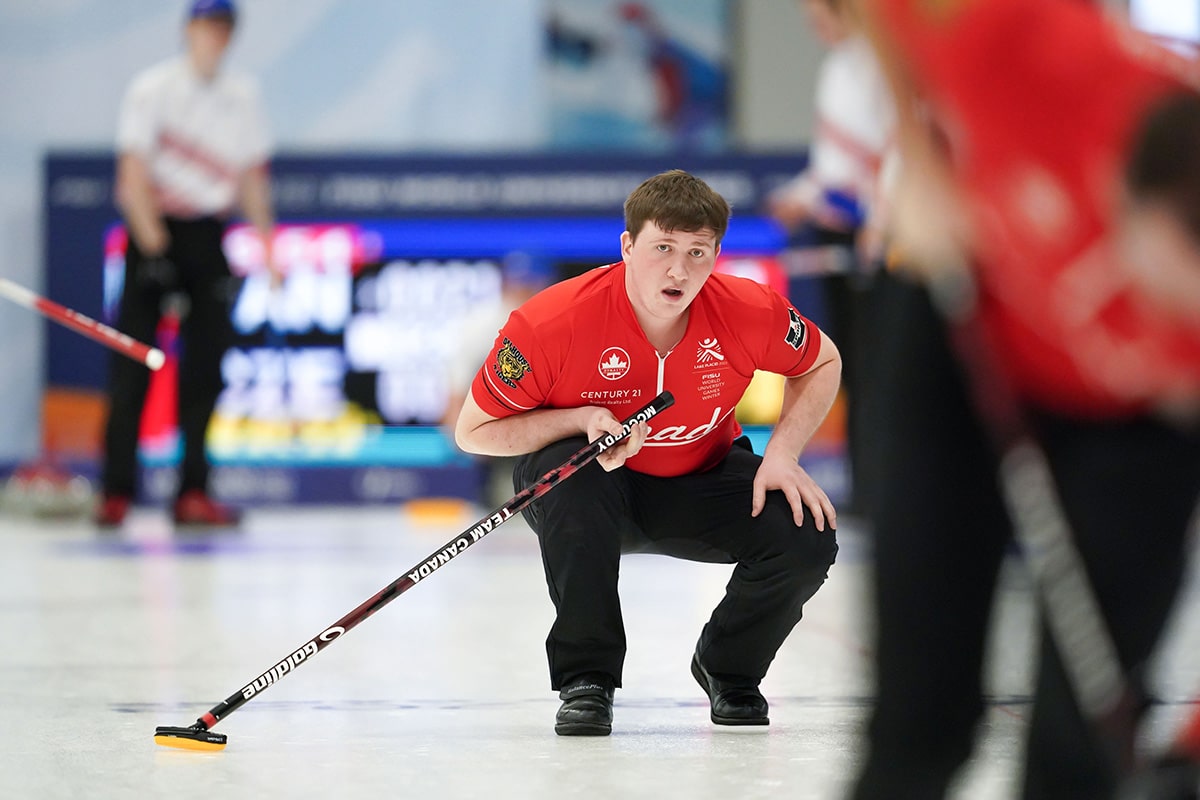 Canada's Team Owen Purcell qualifies for semifinals at FISU World University Games
SARANAC LAKE, N.Y. — In over a decade of curling, Canadian men's lead David McCurdy has never had this much fun out on the ice while at the 2023 FISU University World Games in Lake Placid, N.Y.
McCurdy, of Truro, N.S., is representing his country for the first time. It is safe to say it's the highlight of his curling career, especially after Canada qualified for the playoffs on Wednesday afternoon at Saranac Lake Civic Centre.
"Really exciting. This is the most fun I've had curling in a really long time, not that I haven't had fun curling before. I love the guys that I'm with and every time I go out there, it's such a high-energy environment," McCurdy said.
The guys – skip Owen Purcell, vice-skip Jeffrey Meagher, second Adam McEachren and alternate Caelan McPherson – lost its afternoon game against Team Daniel Casper of the United States (5-3) by a score of 5-4.
However, the Dalhousie University team from Halifax – backed by coach Anthony Purcell and team lead Helen Radford – still earned a 'Q' in the standings with its six-win and two-loss record.
Opposing skip Casper didn't miss. The Americans need to win the remaining games on their schedule to qualify for the playoffs and the team certainly played like its backs were against the wall. The United States started with hammer and converted a deuce while forcing Canada to one in the second. It set the game's tone, with the U.S.A. holding the momentum throughout the game, despite an improved effort by Canada in the second half to rebound from the deficit.
The loss ends Canada's six-game winning streak, but the team remains positive with one more round-robin game to play against Great Britain's Team James Craik (7-1) on Thursday at 9 a.m. (all times ET). The semifinals start later that evening at 7 p.m.
"We're looking forward to playing in the playoffs. We've done well to rattle off six wins in a row, so we're looking forward to seeing how we can bounce back from a loss like this," skip Purcell said.
It is the kind of ups and downs and raw emotion McCurdy hasn't experienced much of in his curling career. His teammates have won an ensemble of national championships and international accolades. While McCurdy doesn't have those items on his resume, he has been crucial to the team's success this week. The 21-year-old is setting up ends efficiently and has been a literal powerhouse on the broom.
McCurdy, a dairy farmer on his family farm when he's not pursuing his engineering degree, is one of the burliest men on the ice and packs a punch when he leans into the broom. McCurdy, combined with second McEachren, are a powerful duo on the brushes; a combination skip Purcell has never experienced before.
"Oh man, he can really sweep. I've got two really big guys that allow me to play any shot that I want and I'm grateful for that," Purcell said. "I haven't experienced that before and it's something else."
Strength and ability are only one aspect of what McCurdy brings to the table, for he is just as much a team player contributing to the winning culture off the ice. As Purcell puts it, McCurdy, a "Jolly Giant", has kept the team loose and relaxed during these big-time moments and usually has a well-timed quip.
"This is a lot different than playing in Tuesday night league," McCurdy said of the international multi-sport event. "These guys expect you to make your shot and you better make it because if not, the end is not going to go well."
This is the first time McCurdy has played competitively in years. He started curling in the Truro Curling Club junior program in his young teens, where he met teammate McEachren, also from Truro. McEachren encouraged McCurdy to attend Dalhousie University curling tryouts; the rest is history.
Now he's representing Canada and having the experience of a lifetime interacting with teammates on his curling team and with the Canadian athletes competing in different sports.
"Never in a million years. I could have never imagined that before this. It's been so exciting right through all this. It means a lot. I love playing for Canada and representing my country," he said of the FISU Games experience.
Curling runs in McCurdy's family. His parents had to balance two major curling events this past week. Not only were they in attendance at Lake Placid, but they were also supporting McCurdy's brother Christopher who won the Nova Scotia junior provincial championship earlier this week. Christopher will now play lead for Nova Scotia at the 2023 New Holland Canadian Junior Curling Championships.
The McCurdy's hope there will be a second major curling accomplishment in the family to celebrate this week.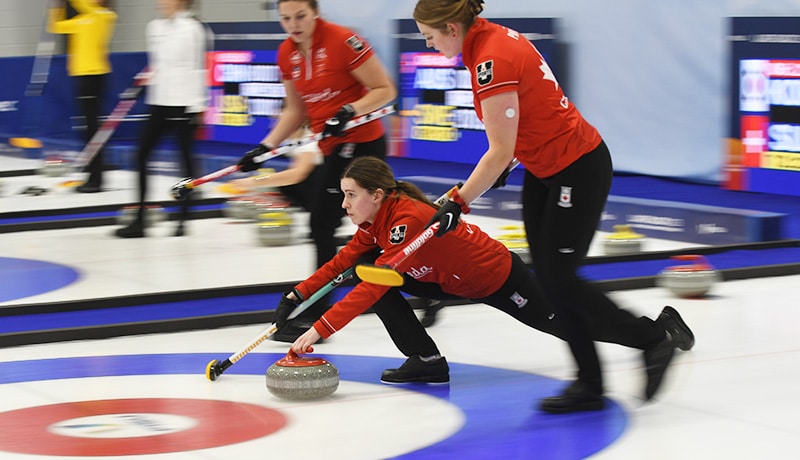 The Canadian women were officially eliminated from the playoffs during the Wednesday morning draw after a tough 8-4 loss to Team Fay Henderson of Great Britain (7-2). Team Henderson had big ends of four points in the fourth and three points in the sixth to win the game.
Skip Abby Marks, vice-skip Catherine Clifford, second Brianna Cullen, lead Paige Papley, alternate Serena Gray-Withers, coach Amanda St. Laurent and team lead Radford ended the round robin on a positive note. On Wednesday evening Canada defeated Switzerland's Team Corrie Huerlimann (4-5) by a score of 5-3.
Canada started with the hammer, blanking the first and scoring two in the second end. Switzerland battled back to tie the game by the fifth end. Team Marks retook control in the sixth end after making a short runback takeout to score three. The Canadians forced Switzerland to one point in the seventh and ran the opposition out of stones in the final end.
It is a bittersweet end to the event, especially for Marks and Papley, who are graduating from the University of Alberta curling program.
"It's been a tough few days, but I think this has been the best way we could have ended it, given the situation. I'm super proud of the team," Marks said. "I'm super thankful for the last five years. It's meant a lot to me and it's nice to go out on a win."
Live scoring, standings and statistics for the 2023 FISU World University Games are available by clicking here.
TSN will broadcast select curling games. Click here for the full schedule.
FISU TV will also stream non-televised playoff games.
This story will be available in French as soon as possible here.