Champs roar back!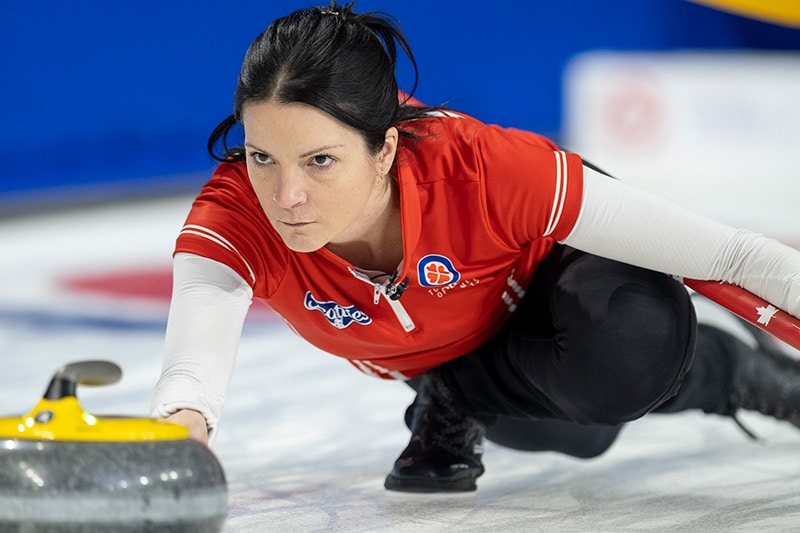 Team Canada fights back at Scotties after early deficit 
It didn't take long for the big names to collide at the 2023 Scotties Tournament of Hearts in Kamloops, B.C., and the brief wait was worth it.
Defending champions Team Canada skipped by Kerri Einarson of Gimli, Man., shrugged off a slow start Sunday afternoon at the Sandman Centre before assuming command in a 9-8 extra-end win over skip Kaitlyn Lawes and Team Wild Card 1 (2-1, Winnipeg).
The two teams, who are no strangers to each other, came into the game with spotless 2-0 records, so something had to give, and it was Lawes and her new-look team from the Fort Rouge Curling Club.
But not without a fight.
Team Lawes jumped out to a 5-2 lead after four ends, but Team Canada followed with a count of three and it was game on.
"We never gave up when we were down. We kept fighting and putting some shots together. When we got that three-ender I think it took the wind out of their sails," said Einarson, whose team is attempting to win a fourth consecutive Canadian women's curling championship title. A fourth straight win would tie it with Nova Scotia's legendary Team Colleen Jones of Halifax, which won four straight (2001-2004).
Einarson, back with her familiar lineup of vice-skip Val Sweeting, second Shannon Birchard, lead Briane Harris, alternate Krysten Karwacki and coach Reid Carruthers, didn't assume control of the game until the seventh end where, after a lengthy measurement, a well-constructed deuce put them up 7-6.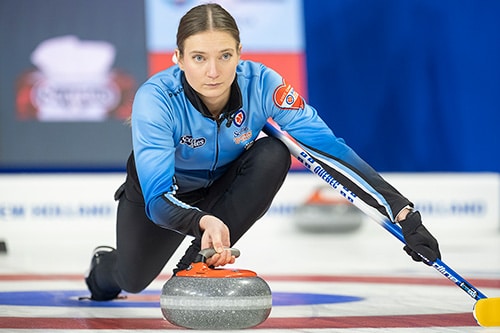 Einarson had the makings of an even bigger end but Lawes made a great hit and corner freeze to limit the damage. The two teams exchanged deuces in the eighth and ninth ends until Team Lawes was forced to take a single in the 10th and send the game into extra time where Team Canada kept things tidy and closed out the win.
Einarson thought the measurements were key. It favoured Team Wild Card 1 at first, but a re-measurement eventually went Team Canada's way.
"For sure, it was the turning point of that game," Einarson said.
The win allowed Einarson to get a sniff of the rareified air of first place as the only Pool A team without a loss, but it is still very early.
Lawes, who has branched out on her own as skip this season after years throwing third stones for the incomparable Jennifer Jones, took the loss in stride.
"It was a little tricky out there this afternoon," said Lawes, backed by vice-skip Laura Walker, second Jocelyn Peterman, lead Kristin MacCuish, Selena Njegovan (on parental leave) and coached by Lisa Weagle. "I think we just mismanaged a few shots and just let it get away from us. There's tons of games left and we just have to learn from this."
Lawes thought the measurement was so close it could have been a blank end.
"It's so subjective," she said. "But it wasn't why we lost."
In another key matchup in Pool A play Sunday, local fans went home happy after watching Team British Columbia skipped by Clancy Grandy (2-1, Vancouver) scored four in the second end en route to an 11-6 win over skip Robyn Silvernagle's Team Saskatchewan (1-2, North Battleford).
In other Pool A games, skip Christina Black guided her Team Nova Scotia (2-1, Dartmouth) to a 10-4 win over Team Suzanne Birt Team Prince Edward Island (1-2, Cornwall), while Laurie St-Georges skipped Team Quebec, (1-1, Laval-sur-le-Lac/Glenmore) to a 13-5 victory over Brigitte MacPhail's Team Nunavut (0-2, Iqaluit).
Team Alberta (0-2, Calgary), skipped by Kayla Skrlik, had the bye.
The 18 Scotties teams are split into two pools of nine, and will play a complete eight-game round robin. The top three teams in each pool advance to the playoffs where it will be further reduced to a Final Four and a Page playoff system.
The final goes Sunday, Feb. 26.
The 2023 Scotties Tournament of Hearts continues Sunday with a draw at 6:30 p.m. (all times PST).
Live scoring, standings and statistics for the 2023 Scotties Tournament of Hearts are available at www.curling.ca/scoreboard/.
TSN and RDS2 will provide complete coverage of the 2023 Scotties Tournament of Hearts. CLICK HERE for the complete schedule.
For ticket information for the 2023 Scotties Tournament of Hearts, go to www.curling.ca/2023scotties/tickets/.
This story will be available in French as soon as possible at www.curling.ca/2023scotties/nouvelles/?lang=fr.