Massive win!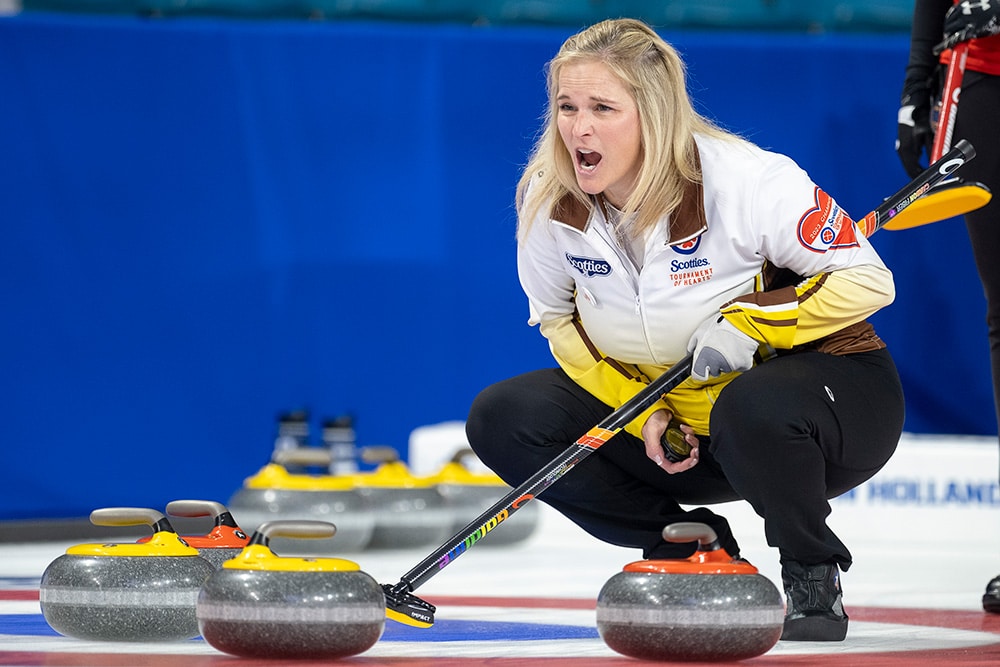 Manitoba's Team Jones edges Ontario's Team Homan in battle among the best at 2023 Scotties
For years Jennifer Jones has enjoyed immense success playing with the same cast of team members. After a successful run last season, peaking with a trip as Team Canada to the 2022 Olympic Winter Games, the Winnipeg team parted ways.
Now, the 48-year-old skip now has three new youngsters in the lineup, all in their early 20s. And still, she's winning. 
The six-time Scotties champion made a last-rock tap back to score two in the 10th end for a riveting 6-4 win over long-time rival skip Rachel Homan and Team Ontario (2-2, Ottawa).
"That was a massive win," Jones said after her Team Manitoba improved to 3-1 and a three-way tie for top spot in Pool B. "We really wanted to come in, play well and get the win. Our pool is very hard and you can't afford too many losses.
"It was definitely a grind, lots of good shots being made," Jones said.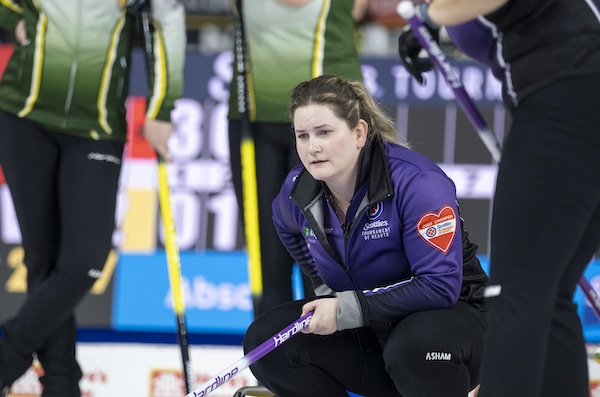 Manitoba jump-started its path to victory by taking advantage on a couple of misses by Homan's team to steal key singles in the seventh and eighth ends. 
"The key is to make the right shot at the right time and make a big shot when you needed to and that's what I thought we did. We put some pressure on them when we had to and made some key draws to save a few ends."
While Jones has a ton of experience and success, third Karlee Burgess and front-end players Mackenzie Zacharias (also vice-skip), Emily Zacharias and Lauren Lenentine are gaining experience and enjoying the success playing with Jones.
"They were pretty excited," Jones said of her teammates. "They've got great perspective. Even after our first loss (Saturday afternoon) it wasn't a big deal. As much as they're young… they're just amazing to play with."
Homan and Team Ontario, now being skipped by Tracy Fleury with Homan throwing fourth stones, were patient early, blanking the second and third ends before scoring two in the fourth for a 2-1 lead. But Jones pulled into a tie with one in the fifth and then stole singles by taking advantage of Team Ontario misses. One of those came in the eighth when Homan's last-rock draw was heavy. Homan made a delicate tap back for two in the ninth.
Jones is tied for top spot in Pool B with Kerry Galusha's Team Northwest Territories (Yellowknife) and Northern Ontario's Team Krista McCarville (Thunder Bay), all at 3-1.
The loss dropped Homan to 2-2.
In the other Pool B games, Hailey Birnie and Team Yukon (1-2, Whitehorse), with alternate Jenna Duncan playing third in place of her sister and Chelsea Jarvis, scored three in each of the first and sixth ends to get its first win of the tournament, 10-3 over Team Casey Scheidegger and Wild Card 2 (1-2, Lethbridge).
"I think I had butterflies through most of that game," Birnie said after the win. "I feel like that is a huge win for us. We played our game. We're incredibly happy right now. We did make shots, we got a few breaks, we did show up."
In Pool A games, Kerri Einarson and Team Canada (4-0, Gimli, Man.) continued its march towards a possible fourth straight Scotties championship with a 9-2 win over Team Suzanne Birt of P.E.I. (1-3, Cornwall) and Laurie St-Georges and Team Quebec (2-2, Laval/Glenmore) beat Robyn Silvernagle and Team Saskatchewan (1-3, North Battleford) 9-5.
The 18 Scotties teams are split into two pools of nine and will play a complete eight-game round robin. The top three teams in each pool advance to the playoffs where it will be further reduced to a Final Four and a Page playoff system.
The final goes Sunday, Feb. 26.
The 2023 Scotties Tournament of Hearts continues with the evening draw today at 6:30 p.m. PST.
Live scoring, standings and statistics for the 2023 Scotties Tournament of Hearts are available at www.curling.ca/scoreboard/.
TSN and RDS2 will provide complete coverage of the 2023 Scotties Tournament of Hearts. CLICK HERE for the complete schedule.