Bittersweet Start!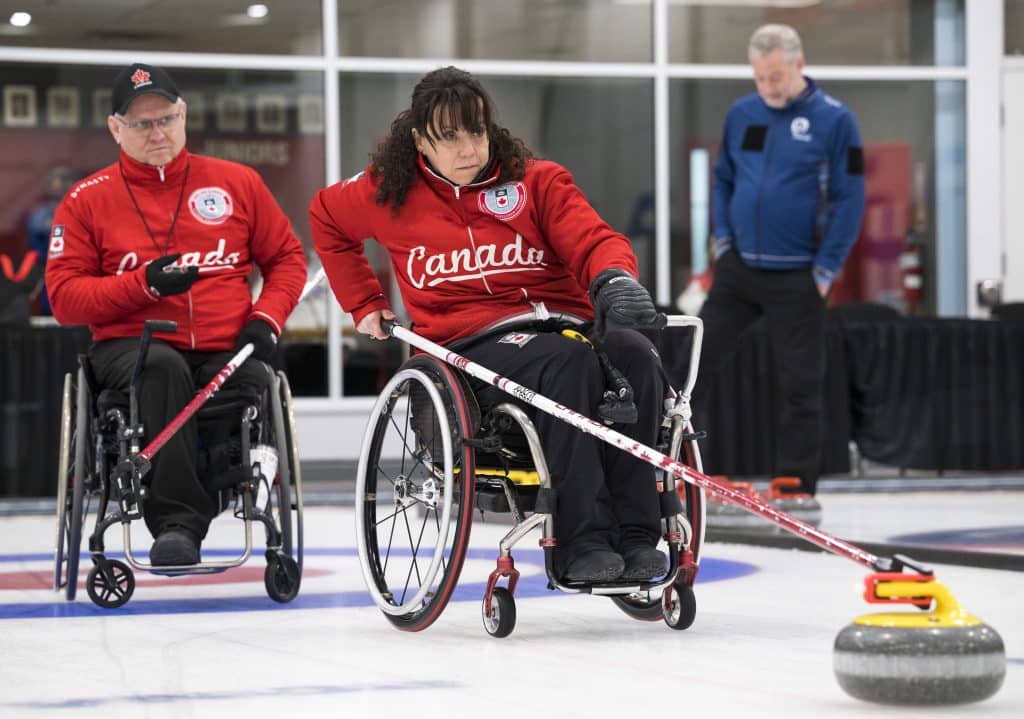 Canada's team at the 2023 World Wheelchair Mixed Doubles Curling Championship scored double victories while four-person team falters on opening day at the Richmond Curling Centre in Richmond, B.C.
Collinda Joseph of Stittsville, Ont., and Dennis Thiessen of Winnipeg, supported by coach Dana Ferguson and team leader Kyle Turcotte, cruised past Denmark 8-1 in their first game before overcoming South Korea 9-6 Saturday afternoon to sit atop the nine-team Pool B standings at 2-0. Pool A has 10 teams.
After taking a 4-2 lead heading into the sixth end, South Korea put up a four score to take the lead heading into the final two ends. But in the seventh, Canada bounced back with three to go back in front 7-6.
"It was crazy. It was a really nice challenge for us this afternoon, and we found a way to caddy each other which was great," said Joseph.
"(The four) made us a little nervous, but you know we were only down by two after that so when you put that scoreboard in perspective with the four. We came back with the power play and we played that really, really well and pulled out a three with that, so we were really pleased we were able to bounce back and put a three on the board."
Canada stole a point in the first end off the South Korean team of Minkyong Cho and Taeyeong when Joseph's tick off a rock out front buried on the button and Cho couldn't remove it. They then forced South Korea to one in the second end. South Korea, though, got a steal in the second for a 2-1 lead. But in the fourth end Joseph drew the edge of the button for two to go ahead 3-2. Canada increased it by protecting its rock buried on the button resulting in a steal and a 4-2 lead after five ends.
"Collinda saved me that game there," said Thiessen. "She came through with perfect shots."
In their opening game, Joseph and Thiessen defeated Denmark 8-1. Canada scored early and often with a two in the first end and steals in the next four ends before Denmark finally picked up a point in the sixth end. Canada sealed its first victory with two in the seventh.
"This morning's game both of us we were just not missing a shot," said Thiessen. "We were making all our shots. It was a well-called game by Collinda and all I had to do was make my shots. It felt easy this morning."
Canada's mixed doubles team does not play Sunday but will battle Italy (9 a.m., all times PT) and Latvia (4 p.m.) Monday.
Canada's entry in the 2023 World Wheelchair Curling Championship, however, didn't get off to as sweet a start as the mixed doubles squad dropping a 9-4 extra-end decision to China, which has won the last two Paralympics.
The game was tight until the final rock. Jon Thurston (Dunston, Ont.), who throws fourth rocks for Canada, had to draw the button facing three Chinese counters in the third end just to tie the game 1-1. But in the fourth end, a couple of misses by Canada enabled China, skipped by Haitao Wang, to pick up a pair to take control with a 3-1 lead. China increased it to 4-1 when Thurston's attempted takeout to blank the end hit a guard out front. He had a draw to the edge of the four-foot for two in the sixth but came up light forcing Canada, trailing 4-2, to steal its way to a win if they hoped to be victorious.
They got one theft in the seventh when Wang's attempted double takeout only eliminated one Canadian rock. And then two flashes by Wang of a mostly buried Canadian stone in the eighth allowed Canada to force the extra end with another steal. But in that end, Wang regained his hitting stroke delivering two raised takeouts of rocks Thurston had placed behind cover to score five.
"A really nice way to open the tournament though against the defending gold medallist at the Paralympics," said Canadian skip Mark Ideson (London, Ont.), who is supported by Thurston, third Ina Forrest (Spallumcheen, B.C.), second Gil Dash (Wolseley, Sask.), fifth Marie Wright (Moose Jaw, Sask.), head coach Mick Lizmore and team leader Kyle Paquette. "Fun to play against, brings out the best in us."
Ideson agreed the fourth and fifth ends, when Canada fell behind 4-1, were a deciding factor in the Chinese victory.
"They make a lot of shots and make us pay for misses and that's curling. But we're happy with the way we came back in the game and ground it out right to the end of the game to take it the extra," said Ideson. "We really like the way we played today. It was just a strong opponent and if we continue to play that way all week we'll be there the rest of the way."
Although China scored five in the extra end, Thurston forced Wang to come up with a couple of tough raises to secure the victory.
"It was fun to watch both skips go toe-to-toe there at the end. The last four shots, it was impressive runbacks by (Wang)," said Lizmore. "It's a game to build off of. Just try to learn the conditions, learn the ice and take some momentum into the next game from that first round."
Canada took on the Czech Republic Saturday evening and will play against the United States (noon) and Latvia (7 p.m.) on Sunday. Denmark, South Korea, Norway, Japan and Italy also scored first draw victories in the 12-team round robin.
Both of Canada's teams are supported by Dr. Steven Macaluso (Physician), Sari Shatil (Physiotherapist), Erin Brennan (Mental Performance Consultant), and Wendy Morgan (Leadership Support).
Live scores can be found at https://worldcurling.org/live-scores/ and results at https://worldcurling.org/events/wwhcc2023?pageType=results.
There is free entry to watch the event live. The World Curling Federation will provide coverage of select games at the World Wheelchair and World Mixed Doubles Wheelchair Curling Championships.
Watch live games on The Curling Channel in partnership with Recast. For non-feature games, Curl BC will provide an international live stream of static camera footage on its YouTube channel. Canadians can watch feature games on the CBC Sports YouTube channel.