A reward for Manuel labour!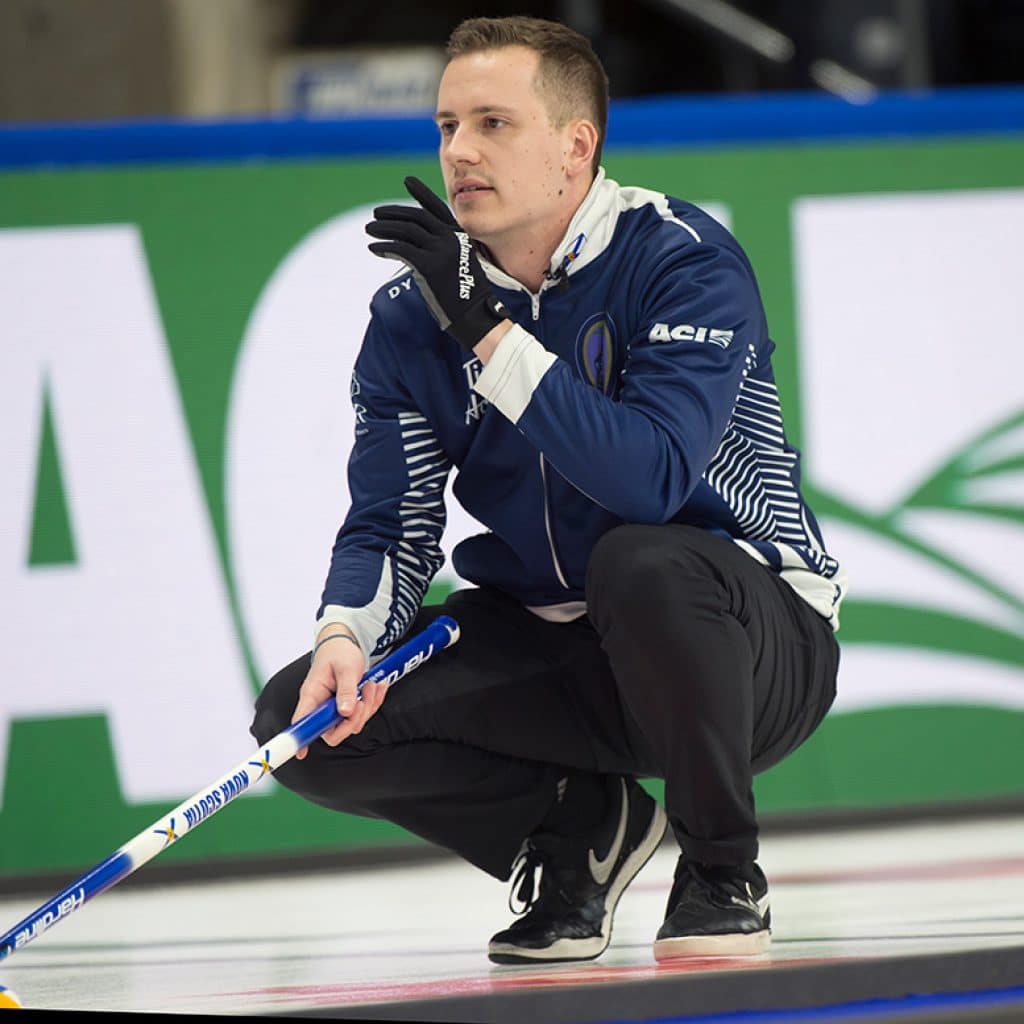 Team Nova Scotia makes statement win at Tim Hortons Brier
A new wave of young, talented curlers have graduated to the big leagues at the 2023 Tim Hortons Brier, presented by AGI, and high among them is Team Nova Scotia skipped by Matthew Manuel.
How good is the team from the Halifax Curling Club? Just ask Team Alberta skip Kevin Koe who needed all his shots to finally subdue the Tim Hortons Brier newbies 5-4 in their openers Saturday.
The Bluenosers were at it again Sunday evening, looking confident and patient in posting an 8-5 win over veteran skip Jamie Koe's Team Northwest Territories (0-2, Yellowknife) in one of four Pool A games on the ice.
It was a matchup of different eras. Koe is playing in his 16th Tim Hortons Brier. Manuel and his fresh-faced compatriots (third Luke Saunders, second Jeff Meagher, lead Nick Zachernuk, alternate Ryan Abraham and coached by Kevin Patterson) are in their first.
"It's pretty unreal" said Manuel, who got a great ovation from the crowd after the victory. "That means a lot. There were so many fans in the stands. We had a bunch of people fly in to catch the weekend games. It's just so cool. It's special. We played so well out there."
Team Nova Scotia had the Polars under the gun right from the start when Koe needed a delicate angle raise to bite the button for one, facing four enemy stones in the first end.
The story was repeated in several ends when Koe had to bail his team out of jackpots with end-saving shots.
But he couldn't make them all, so when he came up light in the eighth end trying to sink another one in to score, his fate was sealed after giving up a steal of two.
"That's what Jamie can do," said Manuel, who watched his team outshoot Team Northwest Territories 90 per cent to 68 per cent. "We've seen him on TV for years and he's beaten the big names before."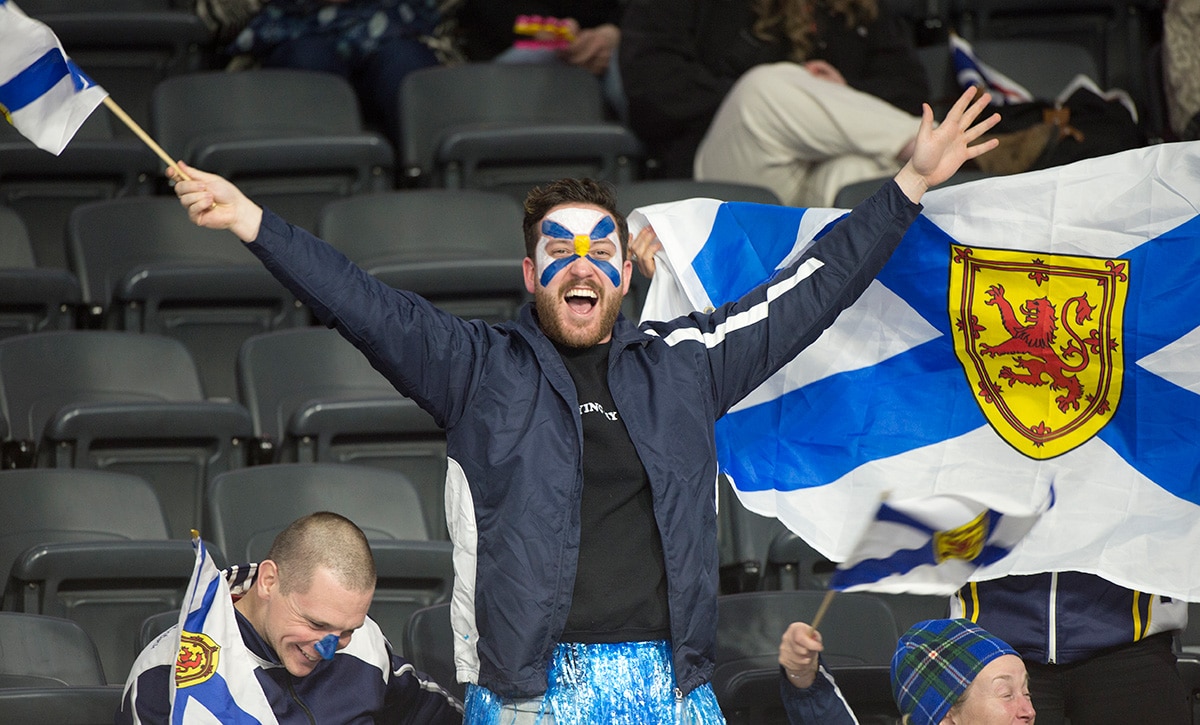 Manuel says he is drawing some inspiration from the performance of skip Christina Black's Team Nova Scotia which wowed the fans in Kamloops, B.C., at the 2023 Scotties Tournament of Hearts before bowing out near the finish line.
"But not only Christina," he said. "We've drawn on what Nova Scotia curling is doing right now. We had both gold medals at the Canada Games, we had unreal results at the Under-18 level. Nova Scotia curling is in a phenomenal place right now and we just want to be a part of it."
The team also has the support of one of Canada's greatest curlers in the audience at Budweiser Gardens. Saunders is the son of six-time Canadian and two-time world champion Colleen Jones.
There were two Koes on the ice Sunday, and while Jamie Koe had his troubles, his brother, four-time Canadian champion Kevin of Team Alberta was enjoying his night, skipping his crew from The Glencoe Club in Calgary to its third straight win to start the week. The Albertans were always in control, applying pressure, en route to an 8-4 victory over Kelly Knapp's Team Saskatchewan (1-2, Regina).
Meanwhile, skip Reid Carruthers of Team Wild Card 2 (2-1, Morris, Man.) won his second in a row after an opening loss. Carruthers, playing in the same arena he won the 2011 Tim Hortons Brier as second for Jeff Stoughton, dropped Team Newfoundland and Labrador (0-3, St. John's), skipped by Nathan Young, 7-6.
Skip Tanner Horgan's Team Northern Ontario (2-1, Sudbury) also made an upwards move in the pool standings with a narrow 6-4 victory over Team Nunavut (1-2, Iqaluit) skipped by Jake Higgs.
Manitoba's Team Matt Dunstone (2-0, Winnipeg) had the evening bye.
The 18 Tim Hortons Brier teams are split into two pools of nine, and will play a complete eight-game round robin. The top three teams in each pool advance to the playoffs where it will be further reduced to a Final Four and a Page playoff system.
The final goes Sunday, March 12.
The Tim Hortons Brier champion will wear the Maple Leaf at the 2023 BKT Tires & OK Tire World Men's Curling Championship, April 1-9 in Ottawa.
The 2023 Tim Hortons Brier continues with draws Monday with draws at 9 a.m., 2 p.m. and 7 p.m. (all times ET).
Live scoring, standings and statistics for the 2023 Tim Hortons Brier are available at curling.ca/scoreboard.
TSN and RDS2 will provide complete coverage of the 2023 Tim Hortons Brier. CLICK HERE for the complete schedule.
For ticket information for the 2023 Tim Hortons Brier, go to www.curling.ca/2023brier/tickets/
This story will be available in French as soon as possible at www.curling.ca/2023brier/nouvelles/?lang=fr