Big win for Gang Green!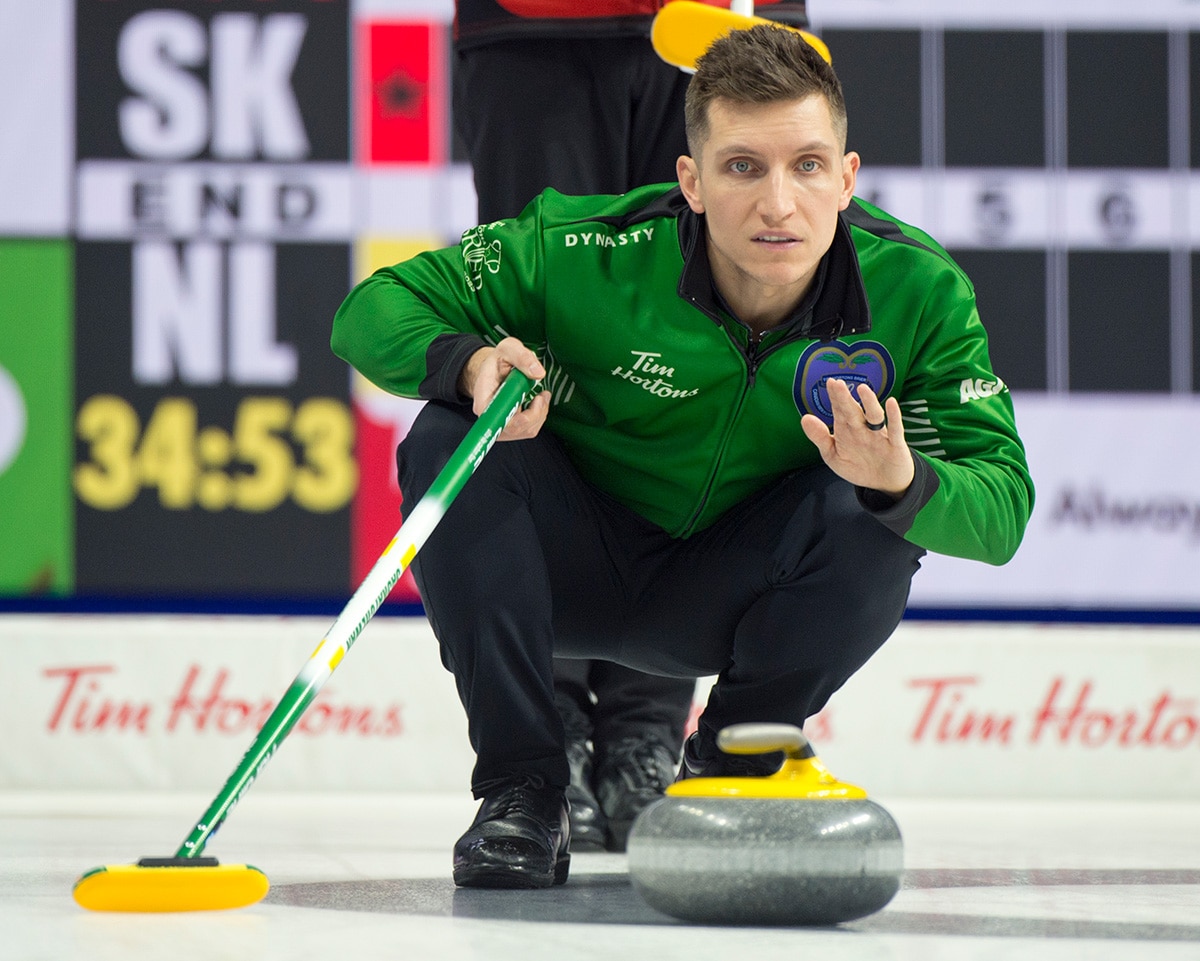 Team Saskatchewan hits win column at Tim Hortons Brier
Every year they come to the Tim Hortons Brier, presented by AGI, with high hopes, these green-clad curlers, and every year they return home, empty-handed — some of them with their tails between their legs.
The biggest Tim Hortons Brier baffle during the past four-plus decades has been Saskatchewan's inability to win the Canadian men's curling championship.
But could this be the year in London, Ont.? Skip Kelly Knapp sure hopes so, and with a 1-1 start to kick off the 2023 Tim Hortons Brier, presented by AGI, the event holds some promise for the flatlanders from Saskatchewan.
"That's pretty thrilling to get your first win at the Brier. It's always a bit of a monkey on your back until you get the first one and hopefully we can build on that," said Knapp, who guided his Regina Highland squad to a 7-3 triumph over skip Nathan Young's Team Newfoundland and Labrador (0-2, St. John's, N.L.) in one of four Pool A games on the ice Sunday morning at Budweiser Gardens.
So what in the name of Doug Wankel has happened to Saskatchewan teams in the past four-plus decades? Saskatoon's Rick Folk was the last to do it in 1980. That's ancient history. Saskatchewan came close last year when Colton Flasch made the Final Four, but that still wasn't enough to end the drought.
Knapp knew the question was coming and was ready for it.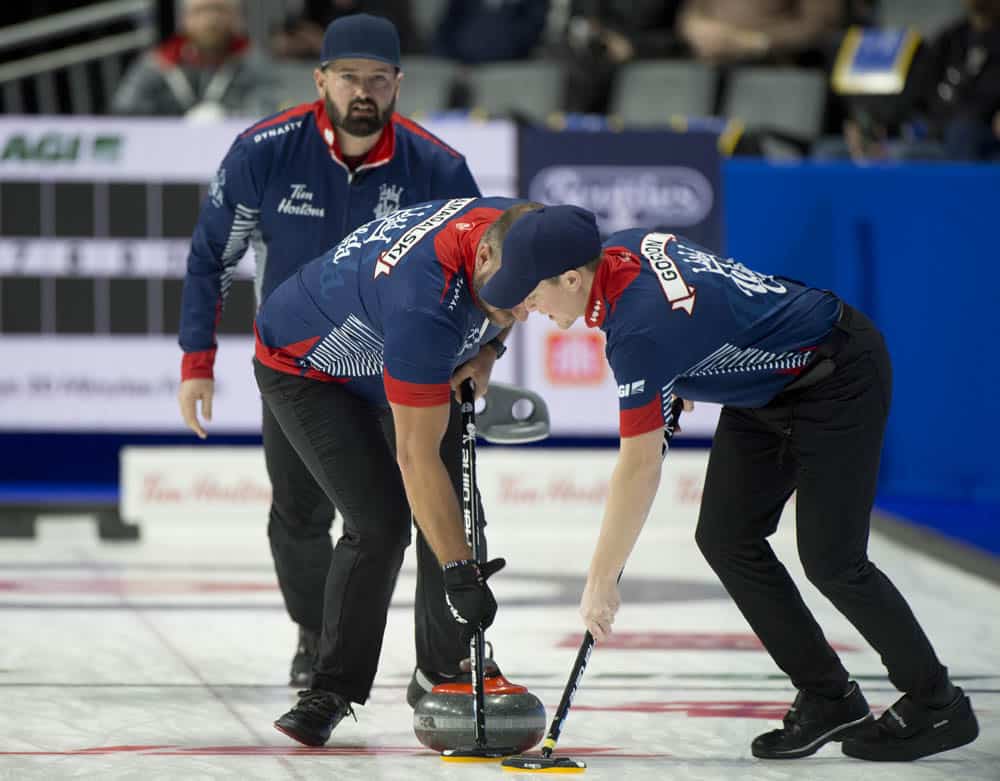 "You're going to see us win soon enough," said the 33-year-old physiotherapist. "We are due and we have a lot of good curlers up-and-coming. I hope that we're that team but I'm confident enough in our province that we'll get it done soon."
The bright lights and TV cameras shouldn't be a distraction for the prairie boys — third Brennen Jones, second Mike Armstrong, lead Trent Knapp, alternate Dustin Kidby, and coached by Brian McCusker. Knapp went to the 2011 Tim Hortons Brier as Steve Laycock's fifth, while Jones and Armstrong both have previous Tim Hortons Brier experience — the former in 2011 (also hosted in London) and the latter in 2012 with Scott Manners. Kidby and McCusker have been there multiple times.
Team Saskatchewan hit the ground running, with singles in the first two ends, followed by a steal of three in the third.
"It was a little dicey in the first end there," said Knapp. "Had to make a really good draw. Sometimes that's the best way to start a game. You're put in a pickle and you come up with a good team shot, a draw to the pimple to get the single. Then we got some misses out of them."
Knapp will have a better sense of where his team is at tonight when it faces four-time national champion Team Kevin Koe of Alberta (2-0, Calgary) who skipped his squad to a 7-4 win over Tanner Horgan's Team Northern Ontario (1-1, Sudbury).
Koe was especially sharp against Team Horgan shooting a blistering 94 per cent. His draw game was spot-on (100 per cent) and put constant pressure on Horgan's crew.
Also keeping their slates clean Sunday morning was Team Manitoba's Matt Dunstone (2-0, Winnipeg) who brought Team Jake Higgs of Nunavut (1-1, Iqaluit) back to earth with a blowout 14-2 win. Team Nunavut won its first-ever game at the Tim Hortons Brier Saturday.
Team Manitoba didn't take it easy on the first-time winners, racing to a 10-1 lead after four ends, including a fat five-ender.
In the other game, skip Reid Carruthers skipped his Team Wild Card 2 (1-1, Morris, Man.) to an 11-7 victory over Team Northwest Territories (0-1, Yellowknife) skipped by Jamie Koe. It was Koe's first game of the competition after sitting out the first two days of play.
The 18 Tim Hortons Brier teams are split into two pools of nine, and will play a complete eight-game round robin. The top three teams in each pool advance to the playoffs where it will be further reduced to a Final Four and a Page playoff system.
The final goes Sunday, March 12.
The Tim Hortons Brier champion will wear the Maple Leaf at the 2023 BKT Tires & OK Tire World Men's Curling Championship, April 1-9 in Ottawa.
The 2023 Tim Hortons Brier continues with draws Sunday with draws at 2 p.m. and 7 p.m. (all times ET).
Live scoring, standings and statistics for the 2023 Tim Hortons Brier are available at curling.ca/scoreboard.
TSN and RDS2 will provide complete coverage of the 2023 Tim Hortons Brier. CLICK HERE for the complete schedule.
For ticket information for the 2023 Tim Hortons Brier, go to www.curling.ca/2023brier/tickets/
This story will be available in French as soon as possible at www.curling.ca/2023brier/nouvelles/?lang=fr