Koe first in!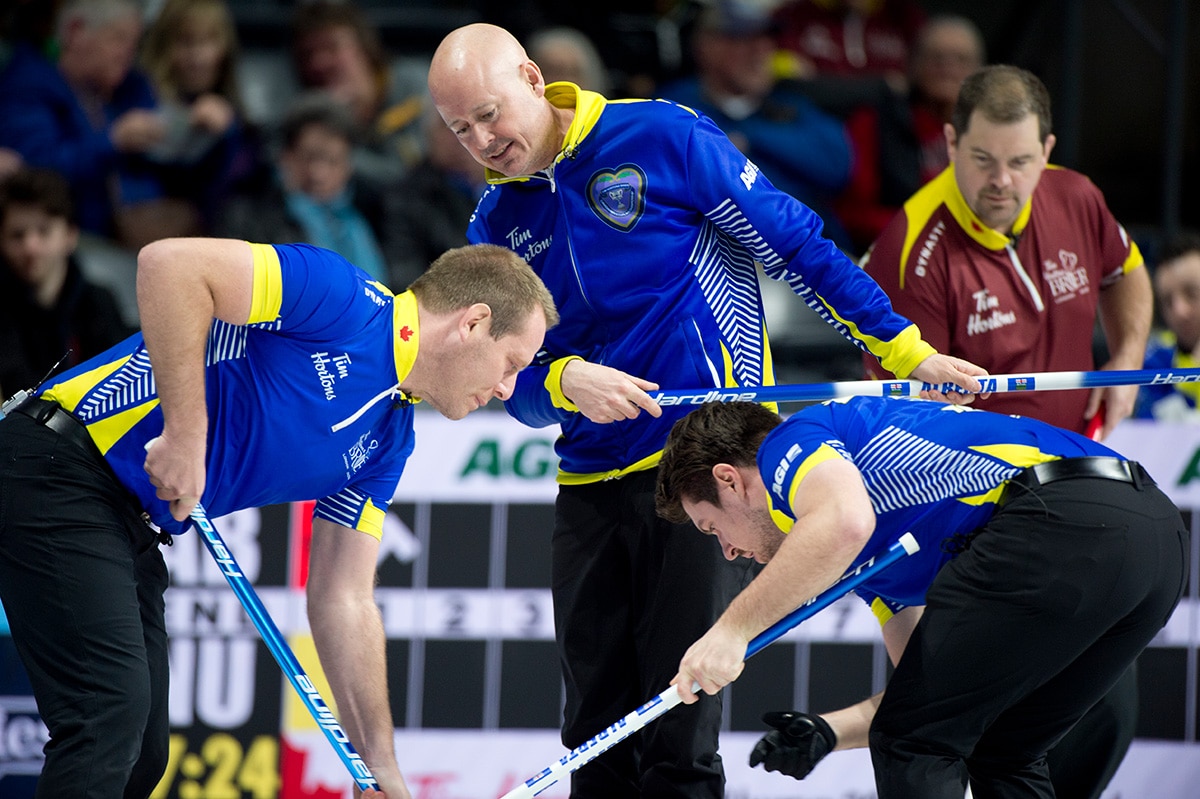 Team Alberta grabs first playoff spot at Tim Hortons Brier
Skip Kevin Koe came a whisker away from winning the Canadian men's curling championship last year, but rather than stand pat he went in the opposite route.
He retooled his team entirely, going younger, looking to win a record-breaking fifth title as a skip.
His instincts paid dividends Tuesday evening at the 2023 Tim Hortons Brier, presented by AGI, in London, Ont. Koe's Team Alberta (6-0, Calgary) was the first team to clinch a playoff spot in the 18-team competition.
Koe, a four-time national champion, moved into the playoffs after bouncing Team Nunavut, skipped by Jake Higgs (1-5, Iqaluit), 10-1 in one of two Pool A games iced at Budweiser Gardens.
Gone from Koe's roster are the familiar faces of B.J. Neufeld, John Morris and Ben Hebert, replaced by third Tyler Tardi, second Brad Thiessen, lead Karrick Martin and alternate Ted Appelman.
Koe made the changes following the heels of a crushing 9-8 extra-end loss to Team Brad Gushue at last year's Tim Hortons Brier in Lethbridge, Alta.
Koe's big move in the off-season was to install 24-year-old Tardi at third. It may have looked risky at the time, given Tardi's age, but his junior track record was superb in Langley, B.C., and included four provincial titles, three Canadian championships and two world junior crowns.
The new crew has looked sharp all week.
Tardi said it's cool to be playing with a curling legend and to be chasing a part of history.
"It's always good news to qualify," said Tardi. "We're playing well and it's exciting."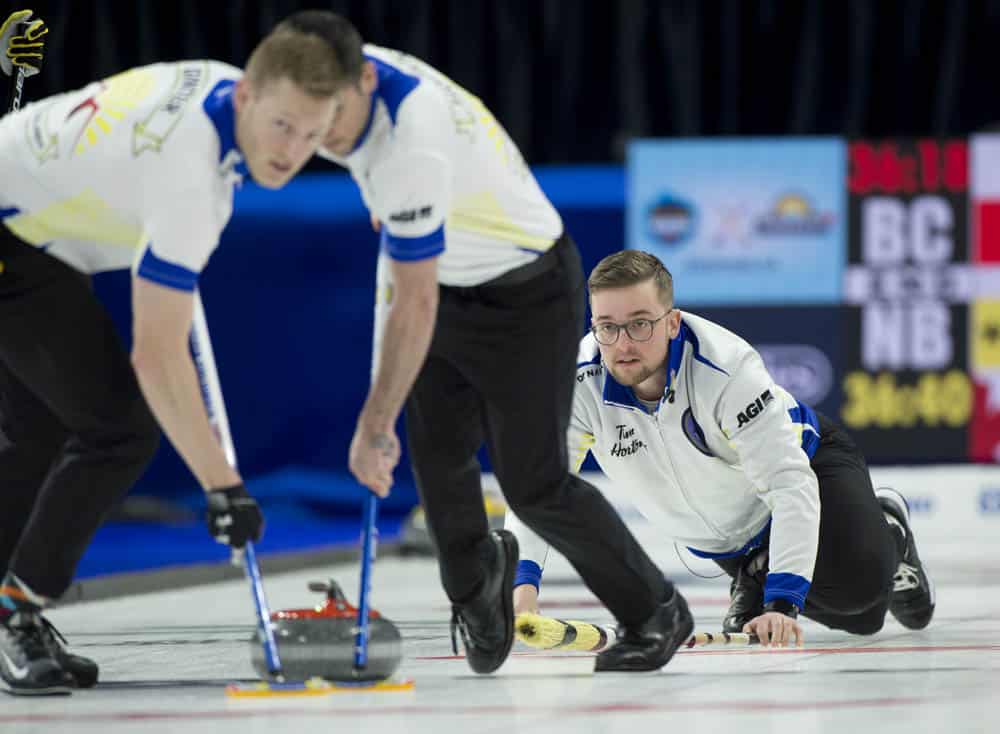 Tardi is one in the wave of talented, young curlers moving into the top echelon of the sport. He's at the Tim Hortons Brier playing against several players he used to knock heads with in juniors.
"It's really awesome," he said. "It's all teams we've had trouble beating back in juniors. They're coming here and doing the same things. Sure, it's a new experience, but we're all here to win and do the best we can."
Tardi said he didn't join Koe's rebuilt team to learn from one of Canada's all-time great skips.
"Kevin and the guys didn't pick me to mentor me," he said. "I think they wanted me for a specific reason and that wasn't just to be a learning experience. They picked me to do well. That was the plan."
Tardi has come through. He's among the top thirds with a 90 per cent shooting percentage.
Team Alberta hasn't wrapped up the top spot in Pool A yet, which comes with a tasty reward. Pool winners get a first-round bye to the Page playoff seeding game.
Team Manitoba skip Matt Dunstone (5-0, Winnipeg) still has his eyes on the No. 1 spot in Pool A, and kept Team Alberta in his sights after an 8-4 win over provincial rival Team Wild Card 2 (2-3, Morris, Man.) skipped by Reid Carruthers.
Team Manitoba benefited from a huge break in the fourth end when Carruthers' final takeout shot did more harm than good, opening the door for a simple draw for three by Dunstone.
Two Pool B games also hit the ice Tuesday. Thomas Scoffin-skipped Team Yukon (2-3, Whitehorse) remained in the playoff conversation with a 9-2 win over skip Team Tyler Smith's Team Prince Edward Island (2-4, Crapaud).
Meanwhile, Team British Columbia (2-3, Victoria), skipped by 24-year-old Jacques Gauthier, stayed on life support after a dominant 10-4 win over winless New Brunswick (0-5, Moncton) skipped by Scott Jones.
The 18 Tim Hortons Brier teams are split into two pools of nine, and will play a complete eight-game round robin. The top three teams in each pool advance to the playoffs where it will be further reduced to a Final Four and a Page playoff system.
The final goes Sunday, March 12.
The Brier champion will wear the Maple Leaf at the 2023 BKT Tires & OK Tire World Men's Curling Championship from April 1-9 in Ottawa.
The 2023 Tim Hortons Brier continues Wednesday with draws at 9 a.m., 2 p.m. and 7 p.m. (all times ET).
Live scoring, standings and statistics for the 2023 Tim Hortons Brier are available at curling.ca/scoreboard.
TSN and RDS2 will provide complete coverage of the 2023 Tim Hortons Brier. CLICK HERE for the complete schedule.
For ticket information for the 2023 Tim Hortons Brier, go to www.curling.ca/2023brier/tickets/
This story will be available in French as soon as possible at www.curling.ca/2023brier/nouvelles/?lang=fr