Silver lining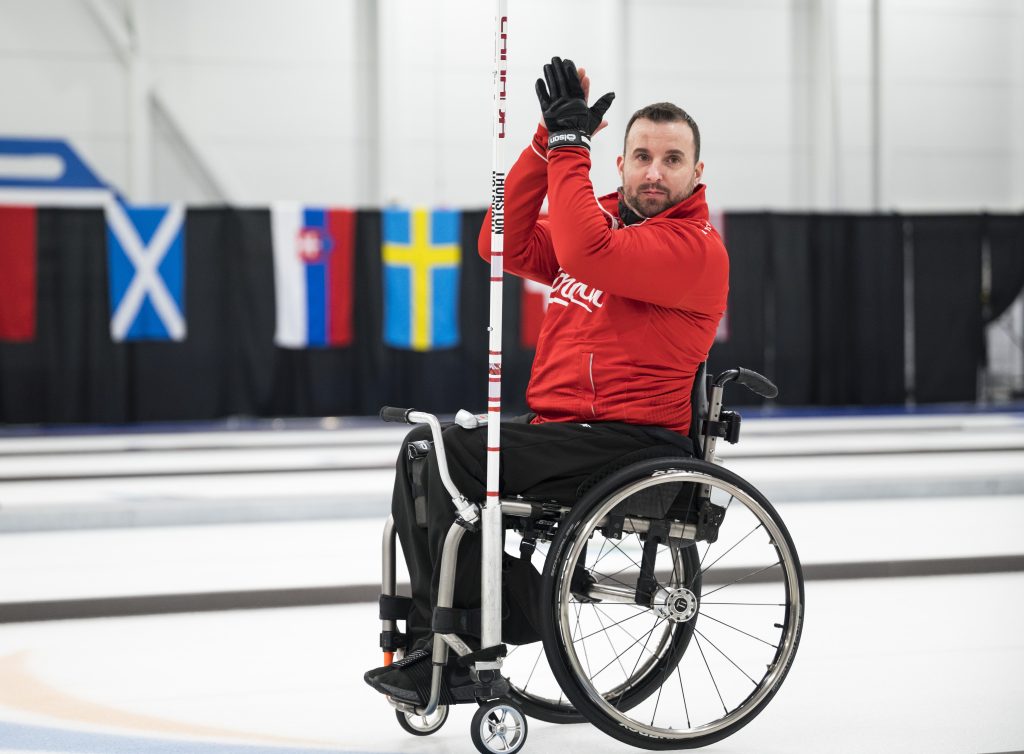 Paralympian champs China defeat Canada to claim gold at world wheelchair championships
The two-time defending Paralympian champions from China are the 2023 World Wheelchair Mixed Curling Champions after downing Canada 5-2 in the gold medal game Sunday in Richmond, B.C.
China stole two points in the eighth end to secure the title when the draw attempt to the full four-foot by fourth Jon Thurston (Dunsford, Ont.) was short. The Chinese team punched their fists in the air as they grabbed the gold while the Canadians – skip/lead Mark Ideson (London, Ont.), Thurston, third Ina Forrest (Spallumcheen, B.C.), second Gil Dash (Wolseley, Sask.), fifth Marie Wright (Moose Jaw, Sask.), head coach Mick Lizmore and team leader Kyle Paquette — consoled each other as they settled for silver.
"A really strong opponent. We played pretty well. We stuck to our game plan, which was a little more offensive. We just didn't capitalize on a couple of opportunities and they're so good that you only get a few. Congratulations to them," said Ideson of the Chinese team skipped by Haitao Wang and supported by third Shuaiyu Zhang, second Jinqiao Yang, lead Nana Li and alternate Mingliang Zhang.
In the second end, trailing 1-0, it appeared Canada was set up for a score of three, but a couple of rollouts took that number down to two, then one and eventually the Canadians had to settle for a blank. In the seventh, trailing 3-2, Forrest made a beautiful hit and roll to set up two but Thurston rolled out on his hit and stick with his first shot forcing Canada to blank the end.
"They're good at grouping rocks together because they make lots of rolls throwing lots of weight. You've got to keep those rocks spread apart and when you don't it just makes it really precise," said Ideson. "That's why they're Paralympic defending champions. They're a solid team."
Canada started the championship with an extra-end loss to China and bookended it by going down to the last rock with them. In between Canada finished second in the 12-team round robin with a 9-2 record behind China (10-1) and defeated Scotland in the semifinals.
"It was an excellent event. It went really well for us, we executed well," said Ideson. "We put ourselves where we wanted to be at the end of the week and that was to make the final and we had a great game."
Said head coach Mick Lizmore, "I'm really proud of how we built throughout the week and gave China a real run at the end of the week."
"There's a feeling on the team that we did earn that silver. As a group we earned a medal and we're really proud of that," Lizmore added. "We earned several opportunities that game, but it was just a couple of shots here and there that was the difference. It was an impressive effort from the team."
Paquette said it may take a bit for the team to get over the loss.
"For some athletes it's going to be maybe a bit difficult to overcome, a few hours to find some perspective and reassurance in the process," said Paquette. "Incredibly proud. We worked hard to be here and be among the best teams in the world and we proved that this week."
Scotland, skipped by Gregor Ewan and which had a losing (5-6) in its round-robin pool claimed the bronze by defeating Sweden, skipped by Viljo Petersson-Dahl, 7-4.
The World Wheelchair Mixed Doubles Curling Championship is also scheduled to wrap up Sunday. Canada will play China in the bronze medal final at 2:30 p.m. PT. Canada is represented by Collinda Joseph (Stittsville, Ont.) and Dennis Thiessen (Winnipeg). They are supported by head coach Dana Ferguson and team leader Kyle Turcotte. At the same time Latvia and the United States will battle for the gold medal.

Both of Canada's teams are supported by Dr. Steven Macaluso (Physician), Sari Shatil (Physiotherapist), Erin Brennan (Mental Performance Consultant), and Wendy Morgan (Leadership Support).
Live scores can be found at https://worldcurling.org/live-scores/ and results at https://worldcurling.org/events/wwhcc2023?pageType=results.
There is free entry to watch the event live. The World Curling Federation will provide coverage of select games at the World Wheelchair and World Mixed Doubles Wheelchair Curling Championships. Watch live games on The Curling Channel in partnership with Recast.

For non-feature games, Curl BC will provide an international live stream of static camera footage on its YouTube channel. Canadians can watch feature games on the CBC Sports YouTube channel.