Clash of the Titans!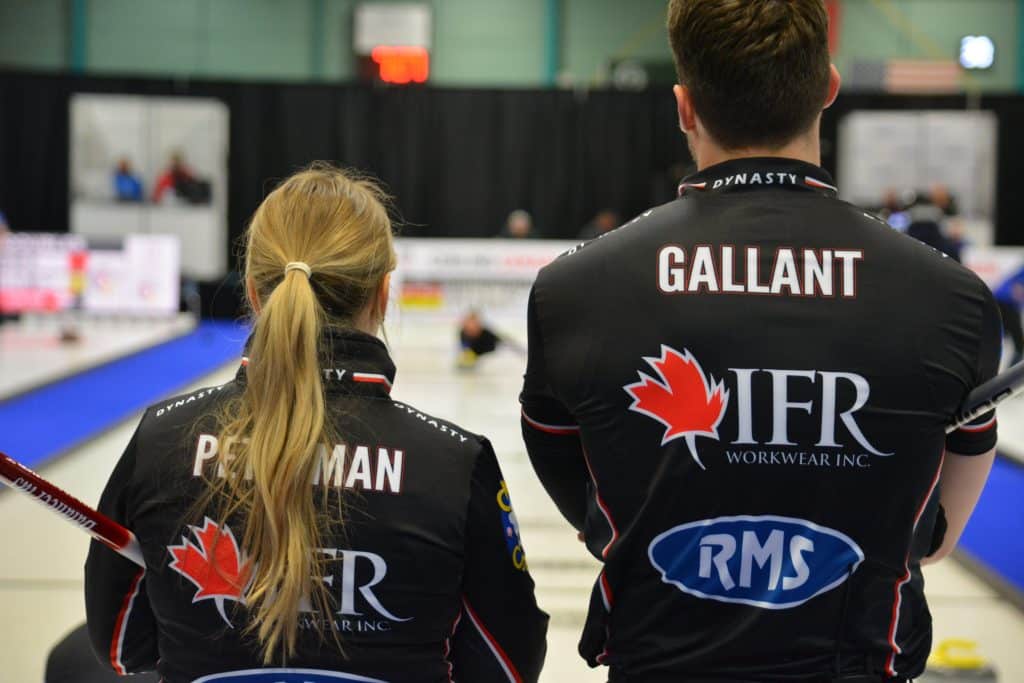 Peterman/Gallant outduels Homan/Tardi in opener at 2023 Canadian Mixed Doubles Curling Championship
A test of mettle cast sparks into the Sudbury skyline on Tuesday evening as two juggernauts of mixed doubles curling clashed in the opening draw of the 2023 Canadian Mixed Doubles Curling Championship.
Steel sharpens steel, and there are few with a more tempered sword than the two-time Canadian mixed doubles champions Jocelyn Peterman and Brett Gallant (Chestermere, Alta.), who vanquished the team of Rachel Homan and Tyler Tardi (Beaumont, Alta./Peachland, B.C.) by a 7-4 score at the Gerry McRory Countryside Sports Complex.
Peterman/Gallant knew they'd be tested early by a skilled Homan/Tardi team and came prepared for the unexpected.
"We knew that would be a big match up. It's a little tricky when it's the first game of the event and we're still figuring out the ice," said Peterman of the opening draw victory. "But both teams are in the same boat and yeah, it was a good game."
In a curling format where big ends match the swing of a claymore producing damage on the scoreboard, Homan/Tardi entered the game brandishing a dagger, electing for precision strikes and finding gaps in Peterman/Gallant's armour. Homan/Tardi's attack started successfully, scoring three consecutive singles; two via a steal in the second and third ends to go up 3-0 early.
It wouldn't be until the fourth end that Peterman/Gallant would parry Homan/Tardi's attack with a clutch double, scoring three and tying the game at three a piece at the break.
"Felt good," said Peterman of her double takeout which tied the game. "Nice to tie it up there with that shot and even up the game. It was nice to get back into that position."
The three would prove the biggest blow of the contest and the damage sustained would turn the tides of momentum in Perterman/Gallant's favour. The pair would maintain pressure with a steal of one in the fifth, only to force Homan/Tardi to a single in the sixth marking a 4-4 score.
With hammer in the seventh, Peterman/Gallant would make good on their upswing scoring a deuce and extending the lead to two before a final finishing strike came in the form of a steal of one in the eighth, marking a 7-4 final.
Though Peterman and Gallant know that win is significant, they won't rest on their laurels.
"We'll continue to learn the ice better," said Gallant of the team's projected path to success. "With two surfaces, that's a bit of a challenge but we liked it more and more as the game went on. We started brooming and adjusting to it."
Sudbury's curling fans were out in force on Tuesday evening, as a ruckus crown made for an exciting environment for the event's opening draw. It's an environment that the players thoroughly enjoyed.
"It's a great venue to play in and a great amount of fans in the building," said Gallant of the Sudbury attendance. "It's exciting for us to play in front of them, really."
In additional draw 1 action from the 2023 Canadian Mixed Doubles Curling Championship, the Yukon pairing of Wallingham/Robinson (Whitehorse) fell to Hersikorn/Laycock (Saskatoon) by a 7-6 score. Grandy/Morris (Coquitlam, B.C.) tripled up team Alberta's Kalk/MacAlpine (Edmonton) 6-2 while team British Columbia's tandem of Loken/Tanaka (White Rock/Richmond) started strong with a 7-4 win over Desjardins/Desjardins (Chicoutimi, Qué.).
On Ice pad B, team Newfoundland and Labrador's duo of Wiseman/Skanes (Torbay, N.L./St. John's) bested Tuck/Tuck (Strathroy, Ont.) 8-6. Team Nova Scotia's twosome of Everist/Everist (Bedford) defeated Cheal/Cheal (Sherbrooke, Qué.) by a 9-7 score while Martin/Griffith (Saskatoon/Kelowna B.C.) stymied Papley/Van Amsterdam (Leduc County, Alta./Edmonton) 8-5 and Kitz/Stewart (Saskatoon) made short work of team Ontario's Kreviazuk/Mathers (Ottawa) earning an 8-3 win.
In the late draw Tuesday evening on ice pad A, Team Bouchard/Charest (Chicoutimi, Qué.) collected a 7-6 win over team New Brunswick's Thompson/Sullivan (Quispamsis/Saint John, N.B.). The pairing of Armstrong/Jacobs (Saint John, N.B./Sault Ste. Marie, Ont.) turned back team Prince Edward Island's White/White combo (Summerside, P.E.I.) by an 8-2 score while Walker/Muyers (Edmonton/St. Gregor, Sask.) won an 8-7 nailbiter over Tran/Sluchinski (Calgary/Airdie, Alta.) and St-Georges/Asselin (Laval, Qué./Montréal) won the all Québec matchup by a score of 7-6 over team Québec's Riley/Mullen (Princourt, Qué./Jonquière, Qué.).
On ice pad B, the Northwest Territories' Flemming/Koe (Yellowknife) started strong with an 8-5 win over Wasylkiw/Konings (Stouffville, Ont.). The Adams/Robichaud tandem (Hanwell, N.B./Fredericton) cruised to a 9-5 win against team Saskatchewan's Bukurak/Bukurak (Regina) while the team Manitoba Lott/Lott lot (Winnipeg Beach, Man.) downed the Weagle/Epping collective (Ottawa/Toronto) by an 8-2 score and home cooking was not on the menu for Northern Ontario's Fleury/Horgan (Sudbury, Ont) as they fell to Jones/Laing (Horseshoe Valley, Ont.) by a 6-4 score.
Action from the 2023 Canadian Mixed Doubles Curling Championship resumes Wednesday at 10 a.m. (all times Eastern) with additional draws at 1 p.m., 4 p.m and 7 p.m.
Selected games from the 2023 Canadian Mixed Doubles Championship will be streamed live on Curling Canada's new streaming platform, Curling Canada+.
Schedule information can be found on the event website, www.curling.ca/2023mixeddoubles/.
For ticket information, CLICK HERE.