Home Cooking!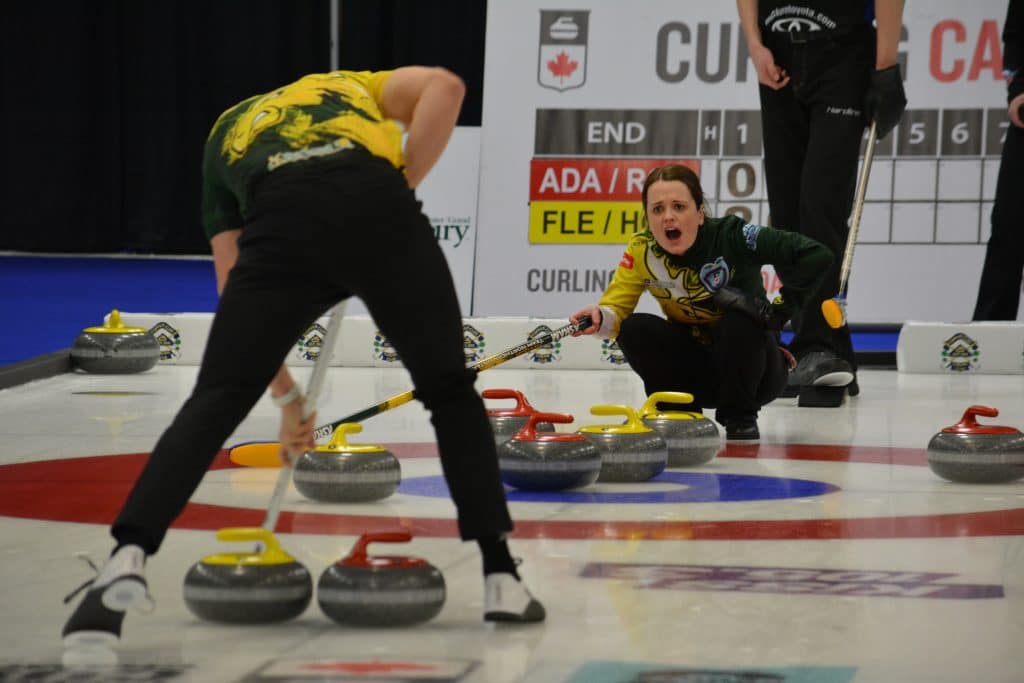 Sudbury natives Tracy Fleury and Jacob Horgan cozy on home ice at 2023 Canadian Mixed Doubles Curling Championship
While every national championship is a one of a kind experience for players and fans alike, the 2023 Canadian Mixed Doubles Curling Championship at the Gerry McCrory Countryside Sports Complex in Sudbury, Ont., is a remarkable one for team Northern Ontario.
Not only are the sibling duo of Tracy Fleury and Jacob Horgan from the Northern Credit Union Community Centre in Sudbury playing in front of friends and family, they're doing so in their home city.
So far, there's little doubt about who the fans are supporting this week. The paid attendance has been flecked with fans clad in Northern Ontario green and bearing moose calls.
And though having the ruckus of cheering fans in the stands can amplify the pressure for some players, Tracy Fleury is relishing the opportunity to put on a show for the home crowd.
"No extra pressure," said Fleury about performing as the hometown fan favourites. "It's nice to see people in the stands and hear people cheering. We're definitely feeling the home support this week."
Both players are already well acclimated to the bright lights of Canada's national curling stage and the pressures associated. Tracy Fleury is a six-time Scotties Tournament of Hearts participant and runner up at the 2021 Tim Hortons Canadian Olympic Curling Trials in Saskatoon while Jacob Horgan, at the tender age of 22, earned his first Brier berth in 2023 playing second stones for his other brother Tanner Horgan, representing Northern Ontario in London, Ont.
"We'll try to treat it like it's any other event," said Fleury about the prospects of maintaining focus while taking in the comforts of home. "But we're having a lot of fun out here. It's fun to play with family in the stands and we're just trying to enjoy the experience."
Pressure was a non-factor on Wednesday afternoon as the Fleury/Horgan duo were cucumber cool in a commanding 8-3 win over team Adams/Robichaud (1-1; Hanwell, N.B./Saint John) to improve their record to then interim 1-1.
The ever important first win was aided by a strong fourth end that saw the Northern Ontario pair score four in the fourth end, taking a 6-2 lead.
It's a lead they would never relinquish.
"We played a really solid end," said Jacob Horgan of the score of four. "We got a miss early and we jumped on them really well with a high, precise come-around."
Though the haymaker end for Northern Ontario began with a mess of rocks, it was the consistency of Fleury/Horgan's shotmaking that produced the damage on the scoreboard.
"The end got super open after that," remarked Horgan. "We made all of our open shots really well. We ended up getting another break, made another high precise shot and it turned into the four."
Pressure from the moose would continue in the form of a steal of one in the fifth before forcing Adams/Robichaud to a single in the sixth, marking a 7-3 lead. Fleury/Horgan would carry hammer into the seventh end, scoring a single before running their opposition out of rocks in the eighth to secure a comfortable 8-3 win.
Later, Northern Ontario would fall 6-4 to Weagle/Epping (2-1; Ottawa/Toronto) in their their Wednesday evening match but will continue its 2023 Canadian Mixed Doubles campaign Thursday against Wasylkiw/Konings (Stouffville, Ont.) and team Saskatchewan's Bukurak/Bukurak at 10 a.m. and 4 p.m. respectively (all times Eastern).
In additional Wednesday action on ice pad A, Peterman/Gallant (3-0; Chestermere, Alta.) stayed perfect besting team British Colubia's Loken/Tanaka (2-1; White Rock/Richmond) by a 7-2 score. Homan/Tardi (2-1; Beaumont, Alta./Peachland, B.C.) extended their winning streak to two games by defeating Desjardins/Desjardins (1-2; Chicoutimi, Qué.) 8-4 while Grandy/Morris (2-1; Coquitlam, B.C./Canmore, Alta.) earned an 8-1 win over team Yukon's Wallingham/Robinson (0-3; Whitehorse) and Hersikorn/Laycock (2-1; Saskatoon) were victorious over team Alberta's Kalk/MacAlpine (Edmonton) by a 7-3 score.
On ice pad B, team Ontario's Kreviazuk/Mathers (2-1; Ottawa) stayed hot with a 6-5 win over Martin/Griffith (2-1; Saskatoon/Kelowna, B.C.). Kitz/Stewart (2-1; Saskatoon) defeated Papley/Van Amsterdam (1-2; Leduc Valley, Alta/Edmonton) by a 6-5 score while Cheal/Cheal (1-2; Sherbrooke, Qué.) earned their first win 7-3 over Newfoundland and Labrador's Wiseman/Skanes (1-2; Torbay, N.L./St. John's) and Nova Scotia's pairing of Everist/Everist (2-1; Bedford) made short work of Tuck/Tuck (0-3; Strathroy, Ont.) winning a 7-2 contest.
Following the aforementioned matches on Wednesday evening, Walker/Muyers (3-0; Edmonton/St. Gregor, Sask.) maintained their unblemished record with a 10-5 win over team Québec's Riley/Mullen (0-3; Pincourt/Jonquière). Also staying perfect was St-Georges/Asselin (3-0; Laval/Montréal) with an 8-4 win over Tran/Sluchinski (1-2; Calgary, Alta./Airdrie, Alta.) while Armstrong/Jacobs (3-0; Saint John/ Sault Ste. Marie, Ont.) topped team New Brunswick's Thompson/Sullivan (0-3; Quispamsis/Saint John) with a 12-1 win and Bouchard/Charest (2-1; Chicoutimi, Qué) overcame the Prince Edward Island roster of White/White, marking an 11-4 win.
On ice pad B, the team Manitoba lot of Lott/Lott (2-1; Winnipeg Beach) fell to Jones/Laing (3-0; Horseshoe Valley, Ont.) by a 6-5 score. Adams/Robichaud (2-1; Hanwell, N.B./Saint John) did their best Dolly Parton impression beating the Northwest Territories' Flemming/Koe (1-2; Yellowknife) 9-5 and team Saskatchewan's Bukurak/Bukurak (1-2; Regina) tandem tripled up Wasylkiw/Konings (0-3; Stoufville, Ont.) by a 6-2 score.
Action from the 2023 Canadian Mixed Doubles Curling Championship resumes Thursday at 10 a.m. with additional draws at 1 p.m., 4 p.m and 7 p.m.
Selected games from the 2023 Canadian Mixed Doubles Championship will be streamed live on Curling Canada's new streaming platform, Curling Canada+.
Schedule information can be found on the event website, www.curling.ca/2023mixeddoubles/.
For ticket information, CLICK HERE.