Triple Threat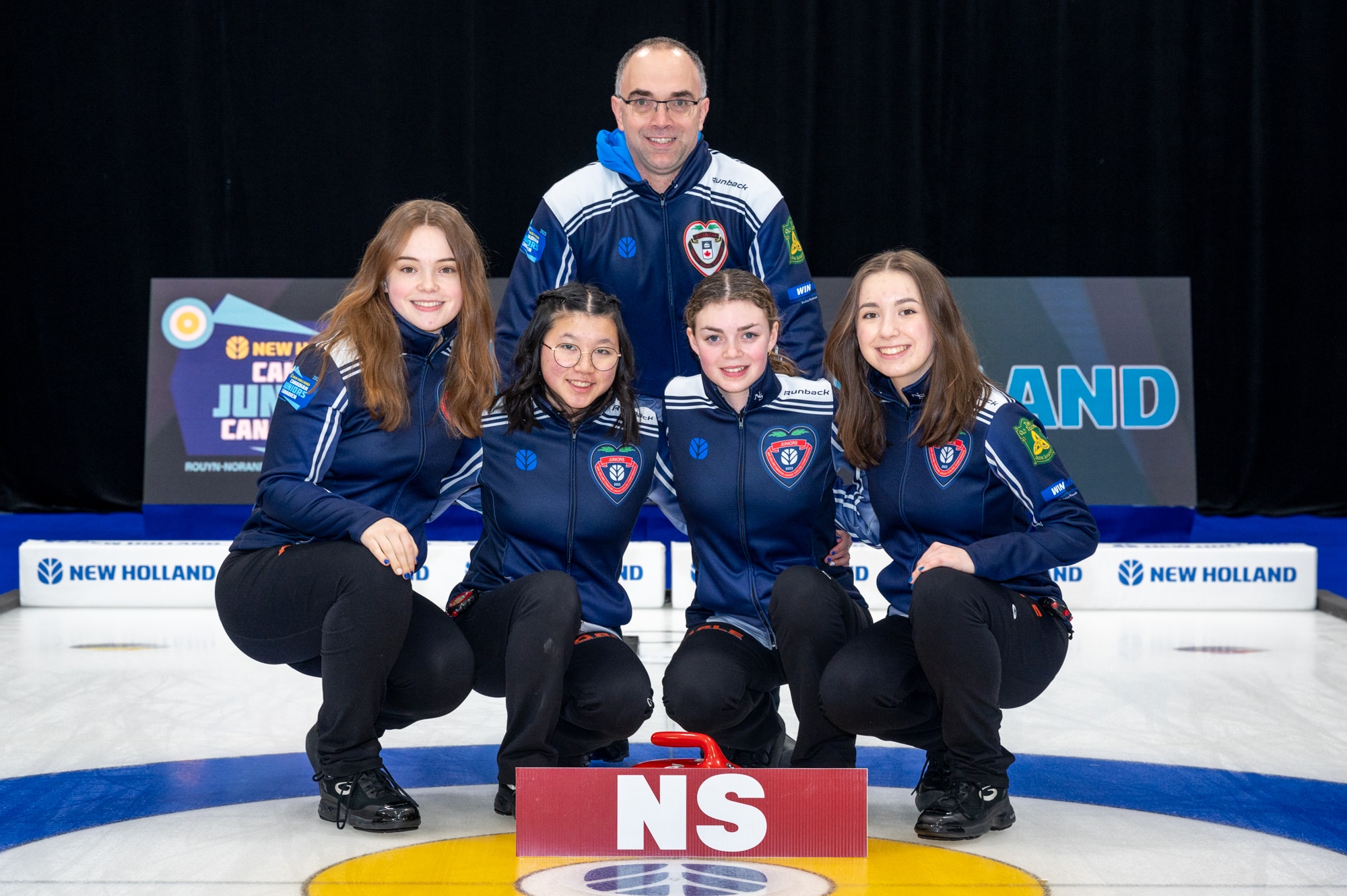 Canadian juniors play in three consecutive national championships
In a year full of curling successes, Nova Scotia's Sophie Blades is only thinking of the most recent one.
Although it was still just the second game of the round robin draw at the New Holland Canadian Junior Championships, Blades's tenth-end, 8-7 victory over Atlantic-Canada rival Melodie Forsythe of New Brunswick felt like a big one.
"It was a really big win for us," said Blades. "I know people don't talk about this sort of thing a lot, but our team has never beaten Melodie's team in all our time together. We're happy to finally have that monkey off our backs."
Forsythe won the silver medal at the U18 National Championship in early February, knocking Blades and her Chester, N.S rink out in the semifinal. Blades went on to win the Canada Winter Games later that month in Prince Edward Island – but lost to Forsythe in the Round Robin.
"We kept thinking 'This is the game that we'd beat them' or 'Maybe this one will be the time' but it never happened," said Blades. "We just came into this one level-headed, focused, and ready to play."
Blades and Forsythe are among a handful of athletes at the Rouyn-Noranda, Que. event who have been part of the two-month long traveling circus that is competitive youth curling. In February, it was the U18 Nationals in Timmins, Ont., followed by the two-week long Canada Winter Games. Now, many of the same athletes are participating in their third – or in some cases fourth – national championship of the season.
"It's been really tough," said Forsythe. "Not only the travel, and the practice, and getting ready for nationals, but also missing three weeks of university courses while I'm away. It's been a really busy month"
P.E.I. skip Ella Lenentine agrees – having played in all the same events, and the Mixed Doubles event in the Canada Games.
"It was a lot," she said. "Playing in four nationals in under two months isn't something that happens every often. But we'd been to a few nationals before, so we knew how to prepare for them. These just happened to come all at once."
Lenentine, a grade ten student, had the benefit of playing the Canada Games on home soil, and a break from school for the two weeks of the event.
All the experience, she said, was invaluable.
"We've played so many good teams," said Lenentine."We learned something every day…about myself, my tendencies, and our team in general. We've learned a lot."
"Nationals are always great opportunities to improve," said Forsythe. "It's good for my strategy, seeing lots of ends and situations. I know all these teams are really good, and it's fun to get out of your province, play good games, and get to know people."
"This whole year has really built us up for these events," said Blades. "We've been really excited just to get out and play… You always want to be at this level, and you're always looking ahead and trying to see how you're measuring up. So, it's nice that we can all go through that together and move forward as a team."
Blades (NS1) has started the event with two wins, while Forsythe (NB2) has dropped her first two. P.E.I.'s Lenentine had a bye on the first draw and lost her Monday afternoon game.
In the men's draw, Nathan Young (NL2 – St. John's), Jace Freeman (MB2 – Virden, Man.), and Jordan McDonald (MB1 – Winnipeg) lead Pool A with a 3-0 record through two days. In Pool B, Adam Fenton (BC1 – Vancouver) and Callan MacIsaac (NS1 – Truro, N.S.) are the only undefeated teams with two wins each.
Round robin play continues on Tuesday and will complete on Saturday morning before playoffs begin.
For event info, scores, and draws, please visit: https://www.curling.ca/2023under21/
For streaming information, visit: https://plus.curling.ca/schedule?competitionId=8135&idx=2