Leader of the Pack!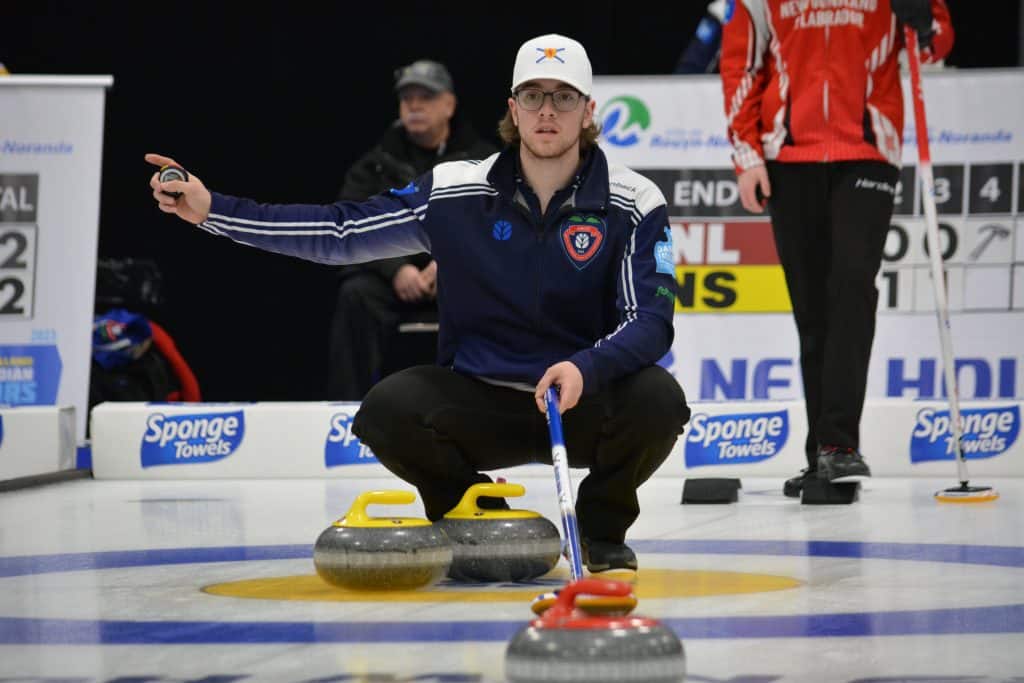 Nova Scotia's Calan MacIsaac rises to the top of pool B at 2023 New Holland Canadian Men's Under-21 Curling Championship
In 1964, the Shangri-Las released their hit pop single "Leader of the Pack", which landed critical acclaim and quickly skyrocketed to the top of the Billboard Hot 100 chart in North America.
Meanwhile in 2023, the Nova Scotia men's U-21 team captained by skip Calan MacIsaac has seen their collective curling careers taking the same trajectory upward as the classic track, with their meteoric rise to success being sharp and well documented.
And while the MacIsaac rink's success on the ice is a far cry thematically from the teenage drama-tragedy song, the 18 year old skip, alongside vice-skip Nathan Gray, second Owain Fisher, lead Christopher McCurdy and coach Craig Burgess, are becoming a perennial front runners at national curling events; embracing being the leader of the pack.
It's tough work staying at the top. MacIsaac's Truro Curling Club foursome is playing in their third national championship in eight weeks after earning bronze at the 2023 Canadian Under-18 Boys Championship at Timmins, Ont., and a gold medal at the 2023 Canada Winter Games at Summerside, P.E.I.
Despite the challenge, Nova Scotia is thoroughly undaunted by the rigorous schedule as they compete at these New Holland U-21s at Aréna Jacques Laperrière in Rouyn-Noranda, Qué.
"Feels good to be here," said MacIsaac of the opportunity to represent Nova Scotia at the 2023 New Holland U-21s. "We're one of the younger teams here and we're playing pretty good. Coming off the win a few weeks ago (at Canada Winter Games) and we're feeling pretty good."
Though the grind can be daunting, it was business as usual for MacIsaac and company on Tuesday afternoon as they earned a commanding 10-2 win over Newfoundland and Labrador's Simon Perry (2-2; St. John's). The win vaulted Nova Scotia to the top of pool B, maintaining a perfect 3-0 record at the 2023 New Holland Canadian Men's Under-21 Curling Championship.
Nova Scotia got out to an early 4-0 lead after three ends in the all east coast matchup with a score of two in the first end with hammer followed by back to back steals of singles in the second and third ends. It's a lead that would never be truly contested for the entire match's duration.
"Just keep it clean," said MacIsaac of his team's strategy when protecting an early lead. "Not too many rocks in play. We had one end there where we got a little too junky, but we still ended up scoring. So yeah, just keep it clean, really."
While it's still early in the round robin stages that will see teams play eight games versus their pool mates, MacIsaac feels his team has plenty left in the tank for the upcoming workload.
"Oh yeah, we're used to it by now. Three nationals this year." mentioned MacIsaac of his team's attrition. "We did a lot of off-ice training so I don't expect to cool off any. Got to keep the pedal down, keep going."
Meanwhile in women's play, Alberta #1's Myla Plett (4-0; Airdrie/Sherwood Park) needed an 10-6 win over British Columbia's Emily Bowles (0-3; Victoria) on Tuesday evening to separate from the pack and hold the interim lead in pool B.
Much like MacIsaac's team, Plett and her rink of vice-skip Alyssa Nedohin, second Chloe Fediuk, lead Allie Iskiw, and coach Blair Lenton have been more than busy this season capturing gold at the 2023 U-18s and silver at the 2023 Canada Winter Games.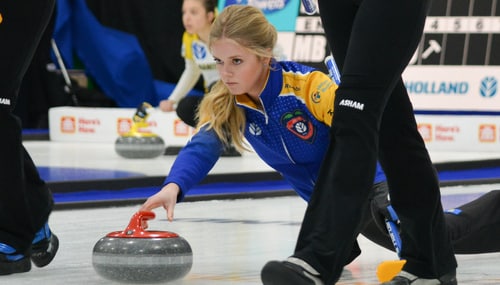 "Um, no," said vice-skip Alyssa Nedohin when asked if she ever tires of winning. "We always have fun, and we always play good when we have fun."
Though the scoreboard may have been lopsided in its conclusion, Alberta #1's match versus British Columbia was a hard fought come from behind win. Alberta #1 trailed British Columbia 5-2 after four ends.
"We were down three and we were like 'Ok guys, something needs to change.' And we said 'Let's do what we've been doing, keep our focus up.' Our communication was down, so we brought that higher and the results showed."
Showed it did as Alberta #1 would counter with a three in the fifth end, tying the match at the break.
From then on, Alberta #1 would keep the pressure up, scoring two in the seventh and eventually landing the game's biggest blow in the form of a steal of three in the eighth, marking a 10-5 lead for the wild rose province.
Nedohin knows her team has what it takes to compete and win at the U-21 level and offers her secret tips for success in curling:
"Eat lots, and have great fans."
In women's pool A, Newfoundland and Labrador's Mackenzie Mitchell (4-0; St. John's) and Nova Scotia's Sophie Blades (4-0; Chester) share the top spot with undefeated records with Ontario #1's Tori Zemmelink (3-0; Navan) close behind with a perfect record and a game in hand.
In men's pool A, both Manitoba #1's Jordon McDonald (4-0; Winnipeg) and Manitoba #2's Jace Freeman (4-0; Virden) share the interim pool lead with unblemished records while Newfoundland and Labrador #2's Nathan Young (3-0; St. John's) also boasts a lossless record with a game in hand.
Action from the 2023 New Holland Canadian Under-21 Curling Championships continues on Wednesday with draws at 9 a.m., 2 p.m. and 7 p.m. (all times Eastern).
For event info, scores, and draws, please visit: https://www.curling.ca/2023under21/
Select games will be streamed live on Curling Canada+. For streaming information, visit: https://plus.curling.ca/schedule?competitionId=8135&idx=2