Moving day!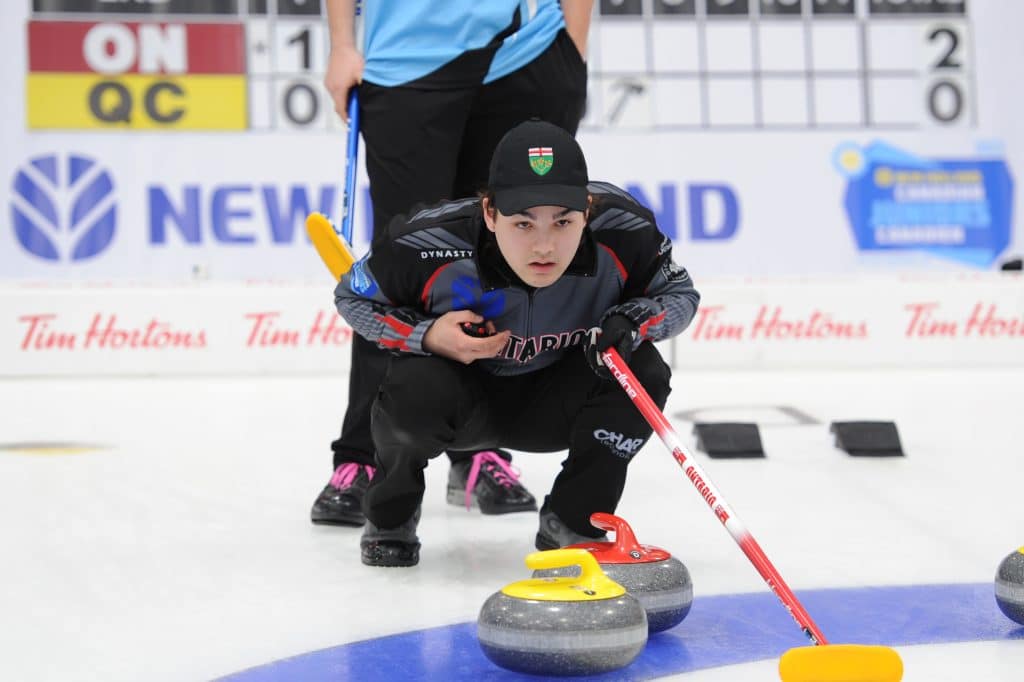 Late stage win earns Ontario #2's Landan Rooney a playoff berth at 2023 New Holland Canadian Under-21 Men's Curling Championship
Ladies and gentleman, start your matrices.
The potential playoff outcomes were frantically being drawn up by fans at Aréna Jacques Laperrière during the final draw of pool play from the 2023 New Holland Canadian Men's Curling Championship, as several teams remained in contention for the playoffs.
Alas, and it's a fickle but major detail, only three playoff slots were available in each pool with but a handful of teams meeting the requirements to be considered still alive in the race down to the final six.
Some needed help from other sheets to see a potential playoff competitor knocked down the rankings boards while others needed wins to climb up alongside a sprinkle of luck from the deities of curling.
But for Ontario #2 skip Landan Rooney, the playoff scenario wasn't complex at all: win and you're in.
Winning all but a single game seems easy on paper, but when your final pool play match up is facing the hometown favourites in Adam Bédard (2-6; Rouyn-Noranda) on a rowdy Friday evening at Rouyn-Noranda, Qué., things get tricky.
Nevermind the obvious skill of the competition. Fans dressed in les bleues de la belle province came out in droves to support the young Bédard rink from club de curling Rouyn and made their presence felt.
Rooney managed to play spoiler for the home team downing Adam Bédard's Québec #1 rink by a 6-1 score in nine ends. And though fans in the stands may not have gotten the results they wanted for the beloved home squadron, they were treated to a show of some of Canada's best curling.
"The crowd tonight was wild," said Ontario #2's Rooney of the ruckus in the crowd. "I love it. It's great for the sport. The Québec fans go crazy."
Great shots were applauded, hoots and hollers for all provinces in action caromed off the arena walls in a celebration of all things spirited about the roaring game.
The win for Rooney's Ontario #2 rink of vice-skip Daniel Hocevar, second Joel Matthews, lead Christopher Oka and coach Dave Rooney completed their moving day up the standings and cemented their spot as pool B's third place finisher.
"It's fantastic," celebrated Rooney after securing the playoff berth. "Sealing our spot in the playoffs is really good, especially in a field like this. Just feels great right now."
Rooney himself is championing a new crew who lack national level experience while his entire team is made up of players who are playing in their first even national level competition. Rooney himself, by contrast, has heaps of experience being skip of team Canada at the 2023 World Junior Men's Curling Championship and qualifying for the recently concluded 2023 Ontario Tankard Men's Provincial Curling Championship in Port Elgin, Ont.
It's experience he leans on when manning the wheel of his relatively green Ontario #2 ship into the playoffs, where he'll face Manitoba #2's Jace Freeman (6-2; Virden) in a quarterfinal match on Saturday at 1 p.m., (all times Eastern).
"It feels really good to be able to help them along," mentioned Rooney of his mentoring role. "Just helps them with anything they're not sure about."
Rooney says they're performing above expectations:
"They're awesome. Best event we've had all year."
Not to be left out of the moving day action was Alberta #2's Johnson Tao (7-1; Edmonton), who leapfrogged Nova Scotia's Calan MacIsaac (6-2; Truro) with an 8-7 win over Saskatchewan #2's Matthew Drewitz (3-5; Saskatoon).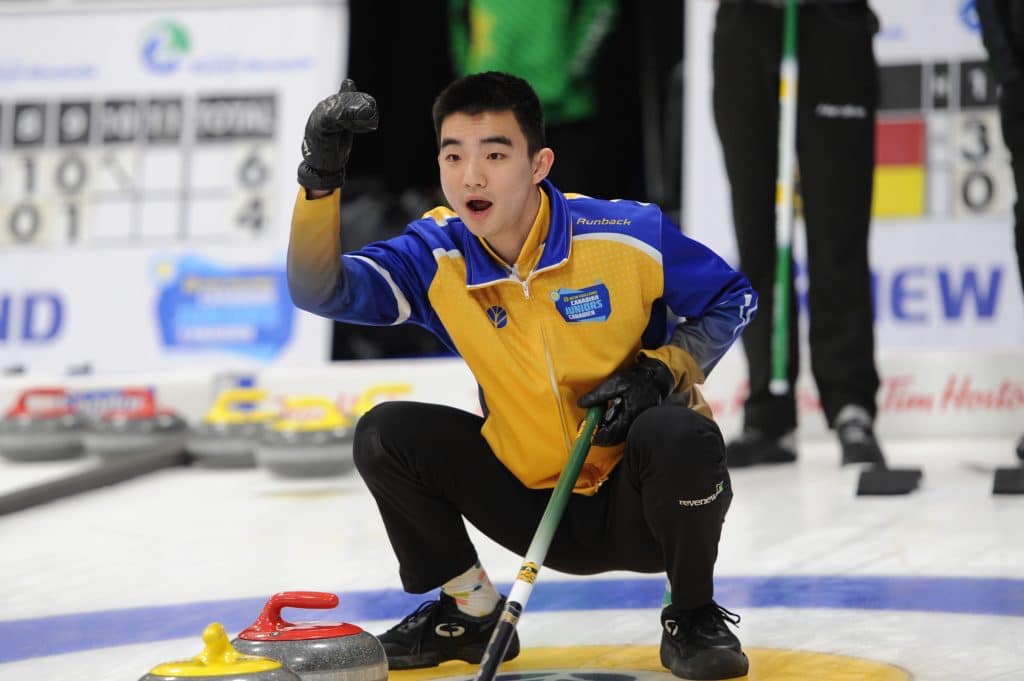 The win secures first place in pool B and a bye to a semifinal. Tao did his best to avoid any supplementary scoreboard watching during Friday evening's final pool play draw as he needed MacIsaac's Nova Scotia rink to be felled by Adam Fenton (4-4; Vancouver) to earn first.
"We knew that we had second place in the playoff slot for sure, but we wanted to take it one game at a time," remarked Tao. "We didn't want to look at what the other sheets were doing, though we knew how it might play out would be huge for us."
The first place finish earns Alberta #2 an extra game off, which Tao feels is incredibly valuable.
"It's massive," said Tao of his team's bypassing of a quarterfinal. "It's such a long week that any extra rest is huge. It's an opportunity to kind of study the sheet that we'll be playing on next. It's going to be big for us."
Pool A men's play concluded with Manitoba #1's Jordon McDonald (8-0; Winnipeg) perfect in first place followed by Manitoba #2's Jace Freeman and Northern Ontario's Dallas Burgess (5-2; Thunder Bay) rounding out the playoff picture.
Ontario #2's Rooney will face Manitoba #2's Freeman in a quarterfinal with Tao awaiting the winner in a semifinal. Nova Scotia's MacIsaac will square off in a quarterfinal versus Northern Ontario's Burgess with Manitoba #1's McDonald waiting in tow.
Men's quarterfinal action begins Saturday at 1 p.m., with semifinals following at 7 p.m. The gold medal final will go Sunday at 11 a.m.
Action from the 2023 New Holland Canadian Under-21 Curling Championships continues on Saturday with draws at 9 a.m., 2 p.m. and 7 p.m. (all times Eastern).
For event info, scores, and draws, please visit: https://www.curling.ca/2023under21/
Select games will be streamed live on Curling Canada+.For streaming information, visit: https://plus.curling.ca/schedule?competitionId=8135&idx=2