One that got away!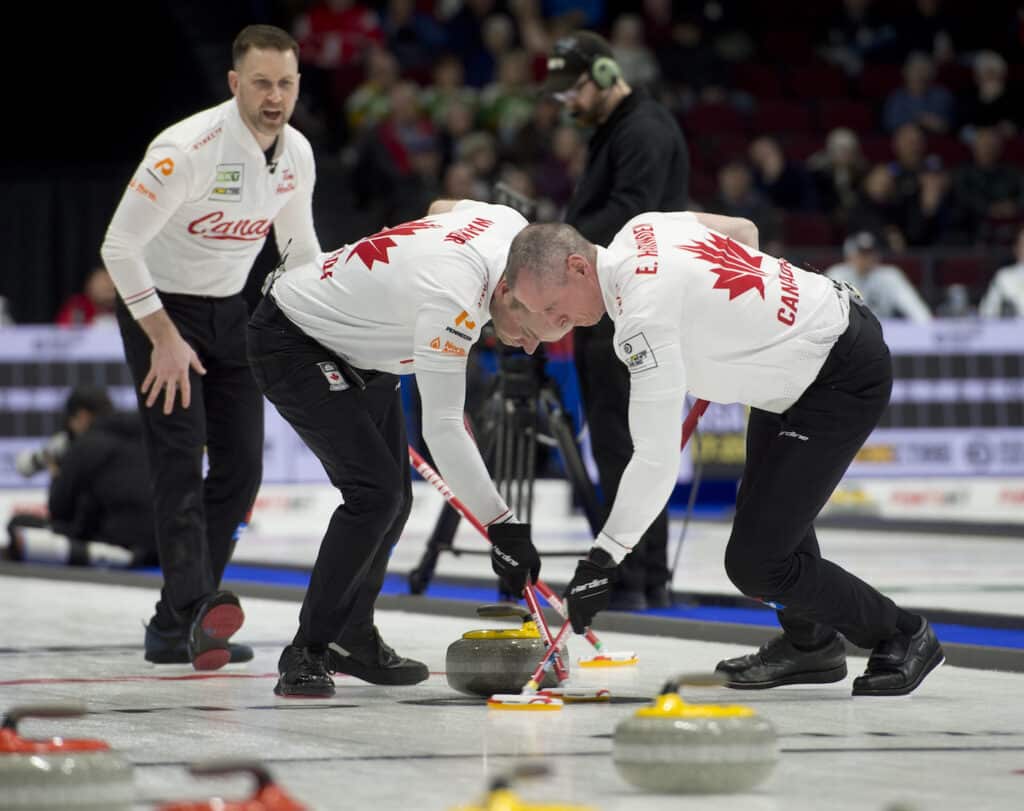 Team Canada lets early lead slip away in troubling loss
It's much too early in the 2023 BKT Tires & OK Tire World Men's Curling Championship to reach for the panic button, but Team Canada skip Brad Gushue is taking nothing for granted after a slow start.
The Canadians had a very unlike-Team Gushue letdown Sunday night at the TD Centre against skip Magnus Ramsfjell's Team Norway, and what looked like a certain 3-1 record after two days of play turned into a disappointing 2-2 performance.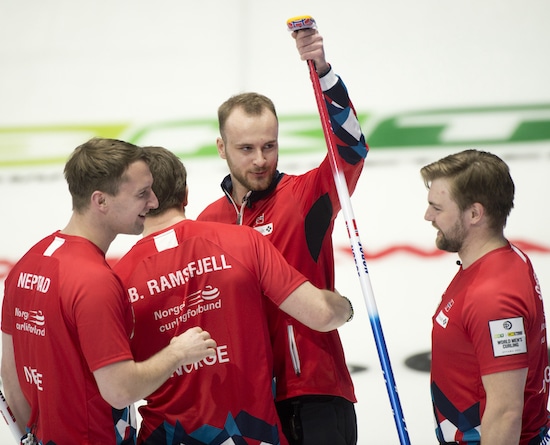 The 8-6 loss dropped the Canadian team, which includes third Mark Nichols, second E.J. Harnden, lead Geoff Walker, alternate Ryan Harnden, team coach Caleb Flaxey and national coach Jeff Stoughton, into the middle of the pack, and with the meat of the schedule coming up, there's clearly work to do.
The Norwegians, meanwhile, climbed to 3-0 and into a four-way tie for first place with teams Switzerland, Sweden and Japan.
"I'm disappointed being 2-2," said Gushue. "If we walked out of here 3-1 we'd be pretty content. But 2-2 puts us behind the 8-ball for sure, knowing we have some good teams still to play. It's going to be an uphill battle.
"He (Ramsfjell) made some really good shots. So you have to give them some credit. I thought they played very well. We just didn't execute as well as we needed to.
"It's disappointing but we'll just grind ourselves through the rest of the week."
The loss was doubly concerning for Team Canada because it was handed an early gift and let it slip away.
Ramsfjell, pumped up and ready to build on his quick 2-0 start, had a disastrous first two ends, during which heavy draws with his last rock led to back-to-back deuces for Canada.
Normally, that should be enough for Gushue. But not this time.
The Canadians needed the early cushion because the Norwegians clawed their way back. They outscored the Canadians 4-1 over the next five ends, settling up a hand-wringing finish.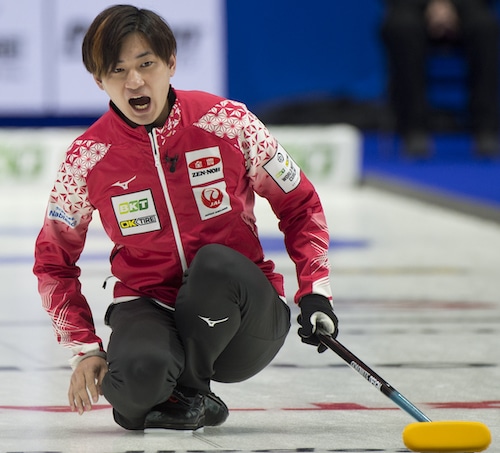 Gushue had a chance to take a tight grip on the game in the seventh with a double for two and a 7-4 lead, but missed it, leaving Team Norway a steal of one.
Fast forward to the 10th end, with teams tied 6-6, and all Gushue had left to win with last rock was a clockwise draw to a piece of the button. He came up heavy and the game was gone.
"I felt it was there," said Gushue. "I didn't think it was that bad, actually. We just happened to guess wrong on that path.
"We put ourselves in that situation. That's a shot I make more times than not."
Skip Niklas Edin of Team Sweden and Team Switzerland, skipped by Yannick Schwaller, were idle Sunday evening and watched from the sidelines as the Norwegians and Japanese, skipped by Riku Yanagisawa, moved into a tie with them at the top. Team Japan posted a 6-5 win over the United States (0-3) skipped by John Shuster.
Team Scotland is next in line with a 2-1 record followed by the Canadians.
It's bumper-to-bumper traffic after that with four teams tied with 1-2 records.
Team Czech Republic (1-2), skipped by Lukas Klima, had a chance to move into a tie with the Scots but were turned back 10-6 by skip Sixten Totzek's Team Germany (1-2).
In the only other game on the evening sked, Team Italy (1-2), skipped by Joel Retornaz, finally hit the win column despite a couple of tough losses. The Italians got the early jump and cruised to a 7-2 win over skip Ugurcan Karagoz's Team Turkey (0-3).
Team South Korea (1-2), skipped by Byeongjin Jeong, was idle.
Teams New Zealand, Turkey and the U.S. are all winless in three games.
The top six teams qualify for the playoff round, with the top two receiving a bye while the remaining four play in the first round. The medal games will be played Sunday, April 9.
The 2023 BKT Tires & OK Tire World Men's Curling Championship continues Monday with draws at 9 a.m., 2 p.m. and 7 p.m. (all times ET).
Live scoring, standings and statistics for the 2023 BKT Tires & OK Tire World Men's Curling Championship are available by CLICKING HERE.
TSN and RDS will provide coverage of the 2023 BKT Tires & OK Tire World Men's Curling Championship. CLICK HERE for the complete schedule.
For ticket information for the 2023 BKT Tires & OK Tire World Men's Curling Championship, go to www.curling.ca/2023worldmen/tickets/
This story will be available in French as soon as possible at www.curling.ca/2023worldmen/nouvelles/?lang=fr