A BIG PLUS!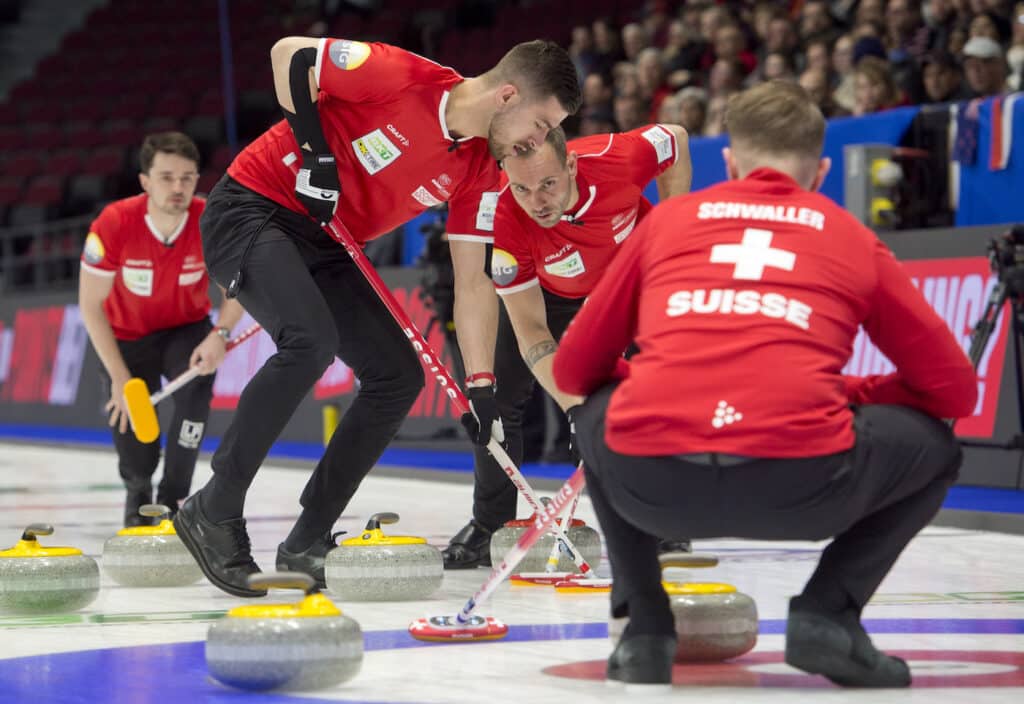 No flagging from Switzerland as it surges up world championship standings
Both Scotland and Switzerland entered Tuesday night's heavyweight tilt with a lone blip on their respective radars, but it was Swiss skip Yannick Schwaller who delivered the final blow in a 7-4 win.
Schwaller's key to success in this effort was his team's patience, as competition passed the midway mark of the 2023 BKT Tires & OK Tire World Men's Curling Championship at TD Place in Ottawa.
"We just had to hang in there and try to force them to make a mistake," said Schwaller, whose team is rounded out by vice-skip and last-rock thrower Benoit Schwarz, second Sven Michel, lead Pablo Lachat, team coach Haavard Vad Petersson and national coach Thomas Lips. "We wanted to generate as much as we could with hammer and it was a battle with lots of big shots. And yeah, in the end the patience and positivity helped pull things in our favour."
Schwaller, who has his sights set on his first medal at a world championship, hopes to carry that momentum forward for the remainder of the week.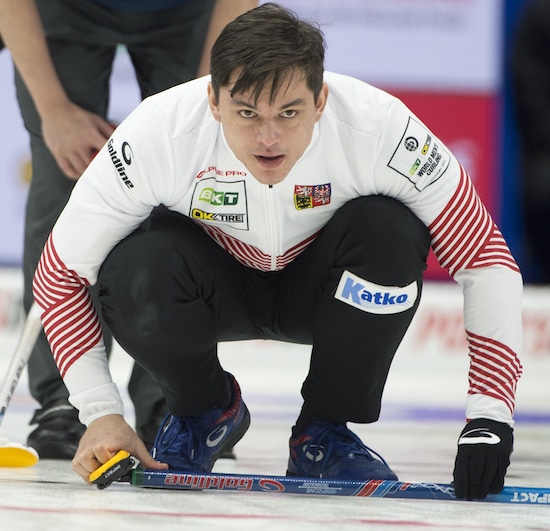 "We're just trying to stay in the moment, execute well, know the ice and get better every day," he said. "It was a big game so it's important that we calm down and refresh before tomorrow's two games. I guess we've got a good chance to make a good run with the way we're playing right now."
Scotland and Switzerland started by trading deuces in what could've become a high-scoring contest, but after a missed blank attempt from Schwaller in the third resulted in an unwanted single, Mouat slowed the tempo with back-to-back blanks.
From there, it was obvious this survival-of-the-fittest would go until the bitter end as shooting percentages soared and scoring opportunities sank.
But it was Schwaller's persistence that eventually resulted in a score of three in the ninth for his Swiss side.
Switzerland improves to 6-1 and moves into outright second, as Scotland dips to 4-2 and falls into a three-way tie for fourth with Canada and Japan. In between sits Norway, skipped by Magnus Ramsfjell, at 5-1.
Meanwhile, John Shuster and Co. from the United States (3-4) bounced back with a 10-4 victory against Turkey (0-7), skipped by Ugurcan Karagoz, after a tough loss to Scotland in Tuesday morning's game when Shuster's draw to win slid too far.
Lukas Klima, skip of Team Czech Republic (3-4), also avoided a fifth loss as he handed Byeongjin Jeong and the South Koreans (1-6) their sixth consecutive loss in an 8-3 rout.
Team Italy (4-3), skipped by Joel Retornaz, stayed at three losses after an 8-3 win over Anton Hood's winless but scrappy New Zealand team (0-6).
As for Canada (4-2), skipped by Brad Gushue, it had a bye tonight and will be back on the ice Wednesday morning versus South Korea.
Niklas Edin his team from Sweden (6-0) also had the night off, as Edin vies to defend his world title.
The top six teams qualify for the playoff round, with the top two receiving a bye while the remaining four play in the first round. The medal games will be played Sunday.
The 2023 BKT Tires & OK Tire World Men's Curling Championship continues Wednesday with draws at 9 a.m., 2 p.m. and 7 p.m. (all times ET).
Live scoring, standings and statistics for the 2023 BKT Tires & OK Tire World Men's Curling Championship are available by CLICKING HERE.
TSN and RDS will provide coverage of the 2023 BKT Tires & OK Tire World Men's Curling Championship. CLICK HERE for the complete schedule.
For ticket information for the 2023 BKT Tires & OK Tire World Men's Curling Championship, go to www.curling.ca/2023worldmen/tickets/
This story will be available in French as soon as possible at www.curling.ca/2023worldmen/nouvelles/?lang=fr