Hot streak ends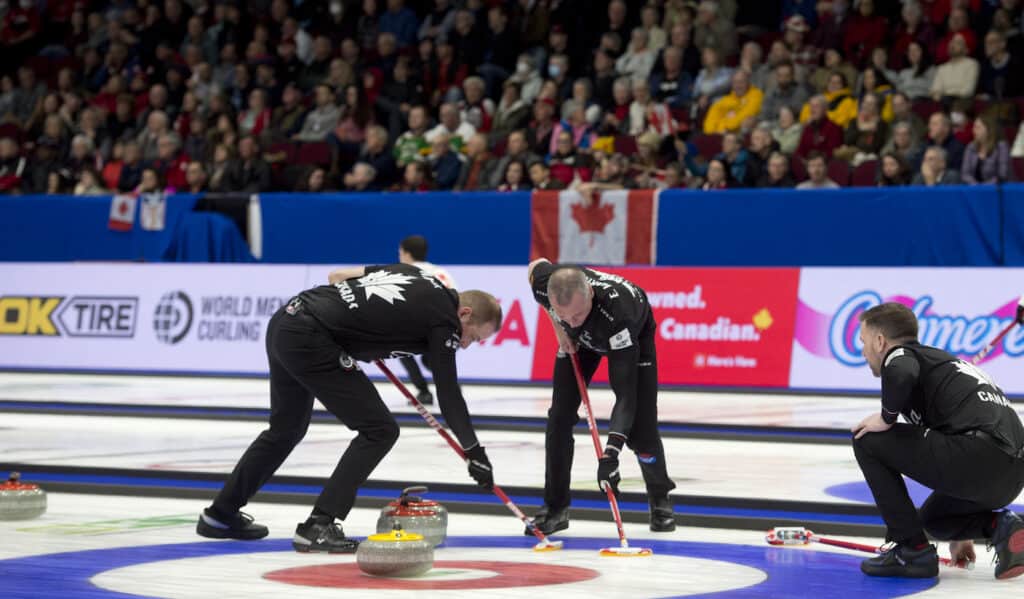 Canadians finally stumble in key game against Scots at worlds
Canada versus Scotland is always a marquee game anytime, but put them on the ice at the 2023 BKT Tires & OK Tire World Men's Curling Championship late in the week with plenty on the line and you have the makings of something special.
And special it was Thursday night as the two curling powerhouses collided at TD Place in Ottawa. It was certainly a treat for the pumped-up fans, but mostly for skip Bruce Mouat's Team Scotland, which won an important game against skip Brad Gushue and Team Canada.
The Canadians and Scots, tied for fourth place in the round-robin standings with identical 7-2 records heading into the tussle, collided with an eye towards earning a top-two placing in the standings, and after a two-and-a-half hours of rock-tossing, Mouat and Co. emerged with a well-earned 6-3 victory.
The win kept alive the Scots' hopes of finishing in the top two, which is so important in the run-up to the world title. The top two teams get a bye into the semifinals while the next four teams have to fight it out in the quarterfinals.
It was a tough loss for the Canadians, who dropped back into fifth place with a 7-3 mark and in need of some divine intervention to finish in the top two, although they did secure a playoff spot.
"We executed really poorly. A lot of bad rocks out there tonight," said Gushue, supported by third Mark Nichols, second E.J. Harnden, lead Geoff Walker, alternate Ryan Harnden, team coach Caleb Flaxey and national coach Jeff Stoughton. "There were at least a half a dozen, and I'm probably being kind, that were missed out of hand. I don't know why we came out as flat as we did."
The game wasn't what everybody expected. The two teams came in on a roll, playing some of their best curling of the week. Team Scotland had won three in a row and Team Canada was on a five-game tear.
But the Scots had the Canadians on the run right from the start. Only a couple of mental errors by Mouat kept things close. He rolled out on a hit for two in the first, then hit and stayed in the sixth in an attempt to blank the end.
Team Canada was still within striking distance after six but was never in position to generate any offence.
The dagger in the Canadians' hearts was delivered in the ninth when Mouat made a draw to bite the button for two to go up 6-3, sealing the deal.
Team Canada has lost its three games against Switzerland, Norway and now Scotland, and Gushue is at a loss why his team has struggled against the top teams.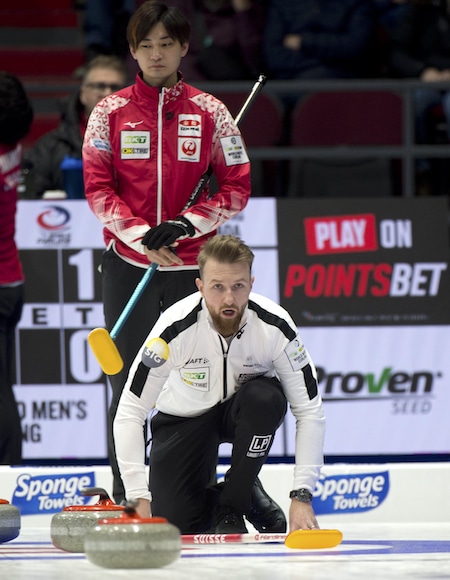 "If I could (explain it) we'd have it fixed by now," said Gushue. "Against some of the top teams we have not thrown the rocks as well as we typically do. What's causing that I'm not sure. It felt like we were fighting from behind right from the get-go."
Meanwhile, skip Yannick Schwaller's Team Switzerland, which had already qualified for the playoffs, inched one win closer to nailing down the top spot with a 7-6 win over Team Japan (5-5), skipped by 21-year-old Riku Yanagisawa. The Swiss needed a deuce in the 10th end to pull out the win.
The win lifted the Swiss to a 10-1 record and alone in first place, but they still haven't shaken skip Niklas Edin's defending champions Team Sweden, nipping at their heels and trying to win an unprecedented seventh world championship.
The Swedes ran their record to 9-1 with a 7-1 win over Team New Zealand (1-9, skipped by Anton Hood, setting up a huge game Friday when the two top teams collide. The Swedes stole five points en route to the win.
It will take Friday's final two draws for everything to shake out for the six positional placings. Teams Japan and Italy (6-4) are still alive for the sixth and final playoff spot, and will go head to head Friday in a game that may decide things.
In the only other game, Team Germany (3-7), skipped by Sixten Totzek, defeated skip Byeongjin Jeong's Team South Korea (1-10) 7-4.
The Canadians close out their round-robin schedule Friday with two games, including a huge matchup against Team Sweden in the evening.
The 2023 BKT Tires & OK Tire World Men's Curling Championship continues Friday with draws at 9 a.m., 2 p.m. and 7 p.m. (all times ET).
Live scoring, standings and statistics for the 2023 BKT Tires & OK Tire World Men's Curling Championship are available by CLICKING HERE.
TSN and RDS will provide coverage of the 2023 BKT Tires & OK Tire World Men's Curling Championship. CLICK HERE for the complete schedule.
For ticket information for the 2023 BKT Tires & OK Tire World Men's Curling Championship, go to www.curling.ca/2023worldmen/tickets/
This story will be available in French as soon as possible at www.curling.ca/2023worldmen/nouvelles/?lang=fr