Playoff bound!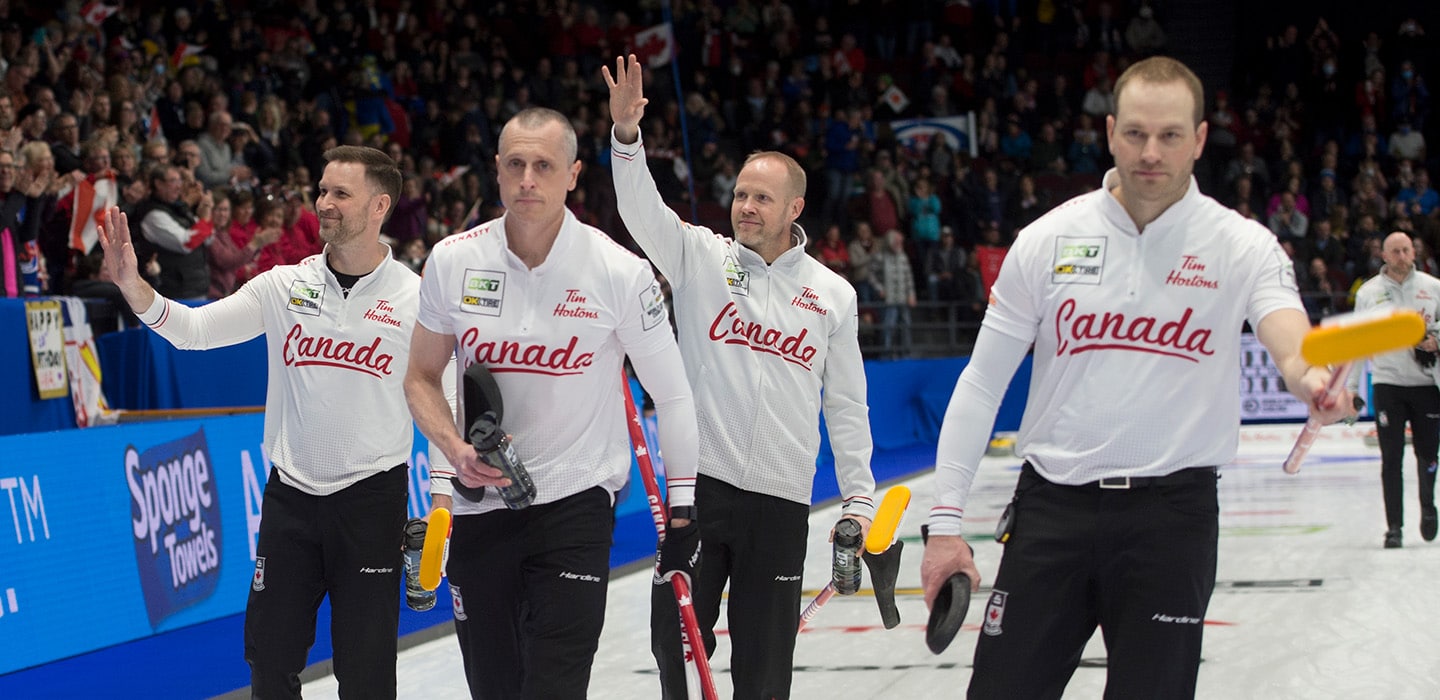 Canada-Sweden to square off in first round of playoffs at world men's
Team Canada will play Team Sweden in the first round of playoffs at the 2023 BKT Tires & OK Tire World Men's Curling Championship in Ottawa, and the good news for skip Brad Gushue is he's going in with a little momentum.
The Canadians, who struggled against the top teams in round-robin play this week, finally hooked a big one Friday night, and they don't come any bigger than skip Niklas Edin's Team Sweden, a six-time world gold-medal winner and defending champion.
And it just so happens they clash again in the first round of the playoffs, with Team Canada holding the hammer.
Momentum edge to Team Canada.
The 13-team round-robin came to a close Friday night, and when the dust had settled, Team Canada, thanks to its big 8-5 win, settled into fourth place in the six-team playoffs.
The top two teams earned the first-round byes while the next four teams — in order, Norway, Canada, Sweden and Italy — get to slug it out in qualification games on Saturday afternoon.
The Norwegians, skipped by Magnus Ramsfjell, knocked off Team Turkey (2-10), skipped by Ugurcan Karagoz, 6-4 and will square off against the Italians, skipped by Joel Retornaz, in the other qualification game.
Team Switzerland, skipped by Yannick Schwaller, earned the number one position and a direct spot in the semifinal with an impressive 11-1 record. Team Scotland, which finished tied with Norway's 10-2 record, was awarded second place and also get to enjoy the afternoon bye.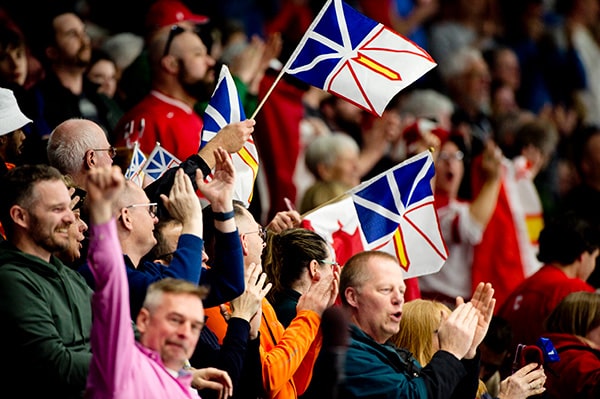 So it's Sweden or bust for Canada and it will be a reunion of sorts. Gushue and Edin have met in three world finals, and the Swedes have won two of them.
"We made some really big shots, placed some rocks in key spots," said Gushue. "We went 9-3 in a good field and we have hammer tomorrow which is a bonus, so we'll see what happens."
Gushue likes his chances in the rematch with Edin.
"I think any team knows that if we're playing our game we're going to be tough to beat," he said. "Hopefully, we're saving it up for the weekend."
The Canadians fell behind early, trailing 3-1 after four ends, but drew new life in the fifth when Gushue made a tremendous angle raise into the four-foot to kill Sweden's shot to score four.
The full house of mainly Canadian fans in TD Place reacted as if their taxes had just been cut.
Gushue, who is supported in Ottawa by vice-skip Mark Nichols, second E.J. Harnden, lead Geoff Walker, coach Caleb Flaxey and national coach Jeff Stoughton from the RE/MAX Centre, St. John's Curling Club, said the crowd was a definite boost to his team's performance.
"It was really loud, it was awesome," he said. "When I made a couple of those shots and they were chanting my name, I tried to take an extra moment and look up and enjoy it. I think that lead us up to freeing it up a bit.
"Thank you, Ottawa. There were some cool moments out there. To be honest, one of the most memorable moments in my curling career. It was fun."
The Canadians added another three in the seventh end to seal the deal.
Edin shrugged off the loss.
"Two losses. Not the end of the world," he said of his team's winless Friday. "We're in the playoffs and have to regroup a little bit."
Teams Norway and Scotland finished the round-robin with a bang. The Scots, skipped by Bruce Mouat, ran away to a 10-4 win over skip Anton Hood's Team New Zealand (1-11).
In the other game to close out the round robin, Team Germany skipped by Sixten Totzek (4-8) posted an 8-5 win over skip Riku Yanagisawa's Team Japan (5-7).
Saturday's qualifier games between Canada vs. Sweden and Norway vs. Italy are scheduled for 2 p.m. (all times ET). The winners advance to the semifinals at 7 p.m. with the winner of the Canada/Sweden game playing Switzerland and the winner of the Norway/Italy game playing Scotland.
Live scoring, standings and statistics for the 2023 BKT Tires & OK Tire World Men's Curling Championship are available by CLICKING HERE.
TSN and RDS will provide coverage of the 2023 BKT Tires & OK Tire World Men's Curling Championship. CLICK HERE for the complete schedule.
For ticket information for the 2023 BKT Tires & OK Tire World Men's Curling Championship, go to www.curling.ca/2023worldmen/tickets/
This story will be available in French as soon as possible at www.curling.ca/2023worldmen/nouvelles/?lang=fr