Three in a row!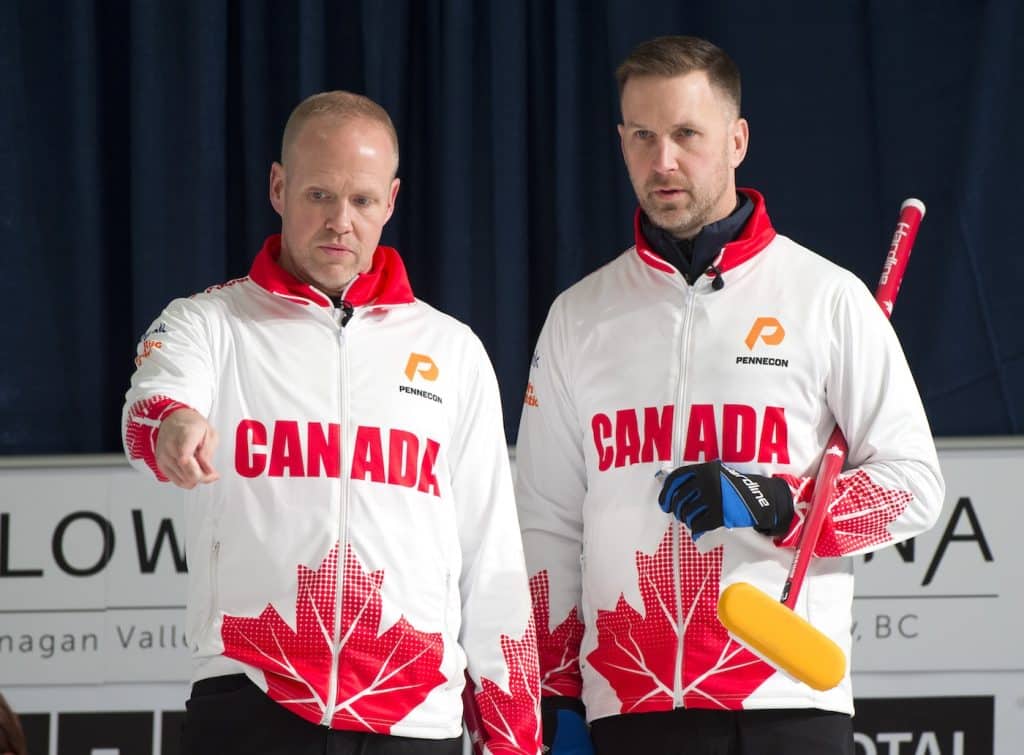 Canada's Team Gushue extends win streak at 2023 Pan Continental Championships
Two shots essentially were all that Canada's Team Brad Gushue needed to put them on the winning track Tuesday afternoon at the 2023 Pan Continental Curling Championships.
Those shots were thrown by — stop us if you've heard this before — five-time Brier champ Brad Gushue, and they turned the game around after an indifferent start the game as Canada doubled previously unbeaten Team Riku Yanagisawa of Japan (3-1) 6-3 at the Kelowna (B.C.) Curling Club.
Gushue — supported by vice-skip Mark Nichols, second E.J. Harnden, lead Geoff Walker, alternate Jim Cotter, team coach Caleb Flaxey and national coach Jeff Stoughton — made the shots in the fifth end to turn what looked like a sure Japanese steal of one, and possibly two, into a Canadian deuce.
"Slow start, and we didn't get rocks in spots we needed to early," admitted Nichols. "But Brad made those shots in five and turned the game around. We played really well the second half."
It was the definition of a skip's deuce. On his first, Gushue made a wonderful raise angle-tap to push a buried counting Japanese stone off the button.
And on his second, Gushue made a precise, no-margin-for-error, takeout through a tight port to score two and take a 3-2 lead.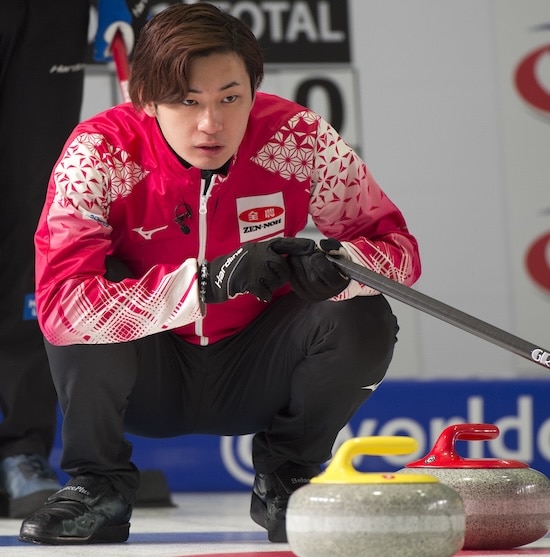 "We had to play something quiet to make sure we didn't lose the shooter, and we executed it perfectly," said Gushue. "They left me that hole, and I had a good idea that if I threw it well, it should track down there. I got a good image in my head and just executed it. It was nice; halfway down the sheet, I was pretty confident we had it made."
From there, it was sheer Canadian dominance; a steal of one followed two ends later, then a force of one for Japan in the eighth, and another Canadian deuce in the ninth put the win on ice.
"The last five ends were certainly a lot better than the first five ends," said Gushue. "I've been kind of complaining about our performance during the first three games, and to be honest, the first five ends we probably took a step back. But the last five ends were solid, and that's something we can talk about to see what we did to get ourselves to play the way we did in the last five. That's the way we need to play the rest of the event."
The Canadian men will have Halloween night off — no trick-or-treating in the plans — before returning Wednesday for a pair of games: at 9 a.m. (all times Pacific) against Chinese Taipei's Team Randy Shen (0-4) and at 7 p.m. against Australia's Team Jay Merchant (0-4).
In other men's action, New Zealand's Team Anton Hood (2-3) rolled past Chinese Taipei 10-3; Team Andrew Stopera of the U.S. was an 8-3 winner over Australia; and South Korea's Jongduk Park (4-0) downed Guyana's Rayad Husain (0-4) 6-4.
Kerri Einarson's Canadian women's team is in action Tuesday at 7 p.m. against Team Tabitha Peterson of the U.S. (4-0).
Live scoring, standings and statistics for the 2023 Pan Continental Curling Championships is available by CLICKING HERE.
TSN.ca and the TSN App will be carrying selected Canadian games from the 2023 Pan Continental Curling Championships. CLICK HERE for the full schedule.
Other games are being streamed live on World Curling TV. CLICK HERE for details.
Ticket information for the 2023 Pan Continental Curling Championships is available by CLICKING HERE.
This story will be posted in French as soon as possible at www.curling.ca/category-all-posts-fr/?lang=fr