Championship Pool Set!
Eight teams remain in contention at 2023 Canadian Mixed Curling Championship at Swift Current, Sask.
The Championship Pool was cemented in place on Wednesday evening at the 2023 Canadian Mixed Curling Championship at the Swift Current Curling Club in Saskatchewan after 11 action-packed draws of the best mixed curling Canada has to offer.
Now, only eight teams remain in contention for the Canadian mixed crown as the top four teams in each pool advance to the Championship Pool, where they will play four games against the teams from the opposite pool, carrying forward their full win-loss records.
Meanwhile, the bottom three teams in each pool will go to the Seeding Pool, where they will compete against the three teams from the opposite pool to determine the final standings and set up the seedings for the 2024 Canadian Mixed Championship.
Pool A offered a slightly chaotic Championship Pool picture, coming down to the final games of pool play on Wednesday evening.
Qualifying, in order, are Team Saskatchewan's Shaun Meachem (5-1; Swift Current), Ontario's Scott McDonald (5-1; St. Thomas), Nova Scotia's Paul Flemming (5-1; Halifax) and Prince Edward Island's Tyler Smith (2-4; Crapaud). With three teams tied at a 5-1 record and head-to-head unable to break the ties, Last Stone Draw standings settled the final placements.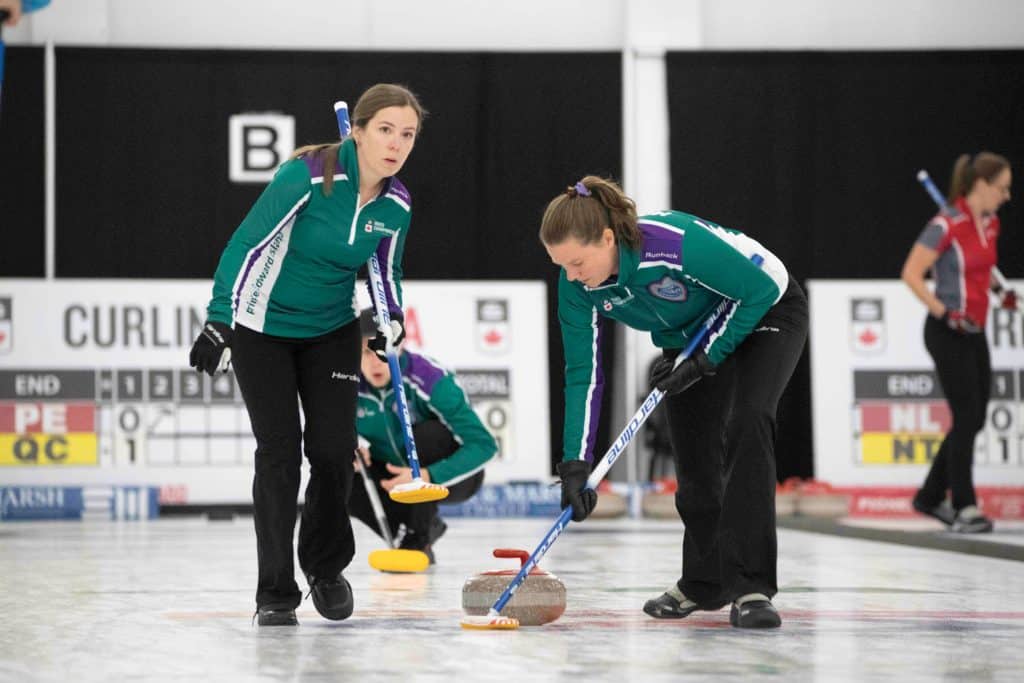 Swift Current's Shaun Meachem is enjoying the home cooking, carrying a full head of steam for Team Saskatchewan, who have run off five straight wins after opening its 2023 Canadian mixed campaign with an 8-6 loss to Pool A third-place finisher Paul Flemming of Nova Scotia.
"Other than that first game, and the team played great that first game, I struggled, and since that reset, that was a good reset for me," said Meachem of his team's momentum. "Get settled into the event and get shooting. It's been feeling better every game now."
It's a special event for Team Saskatchewan, who hail from the host Swift Current Curling Club, and one with perhaps just a sprinkle of destiny along with it.
"That's been really special," said Meachem of playing in front of the home crowd. "We've got a ton of great fans in here and this place is packed for every draw. My old skip (Rob) Armitage used to say that every spiel that you win, you look back on one of those games that you look back and you're like 'Aw man, we probably shouldn't have won that one' and it launches you on the right track with some momentum. Hopefully we can keep building on that and bring it home."
Also finishing pool play strong was Ontario's Scott McDonald, who had plenty to play for Wednesday evening despite an impressive 4-1 record entering draw 11. The team did not falter, marking a 6-4 win over Québec's Pierre-Luc Morrisette (2-4; Jacques-Cartier), thereby locking up second-place in Pool A.
Ontario had lost its morning match to Pool A winners Saskatchewan after missing a draw to win on McDonald's final stone.
"Earlier today, I had a draw to win, and I feel like I let my team down," said McDonald. "We positioned ourselves to win that game and that's not a shot I miss very often. So, I took a few minutes to sulk, and then came back ready for tonight. The team was ready to play."
Ontario's McDonald isn't letting a single blemish on its record be a point of contention, however.
"Every game is important now," McDonald said. "So, we're going to have to go out, continue playing well, and stay with the pack because there's a lot of teams that are closely bunched right now."
Pool B, conversely, offered more clarity as all four qualifying teams had clinched a Championship Pool berth before Wednesday evening, but their order had yet to be determined, save for Manitoba's Kyle Kurz (6-0; Winnipeg). His Fort Rouge Curling Club squadron already had the top spot locked up and finished undefeated through pool play.
"Feeling good," said Kurz of his team's perfect performance. "It's a long week. We're only, hopefully, halfway through and we want to play all twelve games and be at the end and in that final. We're just going one day at a time, one game at a time and trying to peak at the end."
Team Northwest Territories (5-1; Yellowknife), skipped by Jamie Koe, needed a 7-4 win over New Brunswick's Charles Sullivan (3-3; Saint John) to secure a second-place finish in Pool B. The loss bumps Team New Brunswick to the fourth and final qualifying spot, while Alberta's Evan Van Amsterdam (4-2; Edmonton) was not in action Wednesday evening but claimed Pool B's third overall spot.
Action from the 2023 Canadian Mixed Curling Championship will continue Thursday morning, with Seeding Pool play scheduled for 9 a.m. (all times Central), followed by Championship Pool play at 12:30 p.m.
Live-streaming coverage of the 2023 Canadian Mixed Curling Championship will be available on Curling Canada's streaming platform, Curling Canada +. All sheets will be available to stream, with select draws to feature commentary.
For the event, team and draw information, visit the event website.
Draws and live scores are available on Curling Canada's scores page.