Parkhill, Albert
Year Inducted / Année Intronisé:
1976
Province / Province:
Ontario
Category / Catégorie:
Builder, President
Biography / Biographie:
Albert J. Parkhill of Oshawa, Ontario was a president of the Canadian Dominion Curling Association and was inducted into the Hall of Fame in 1976. Albert was CCA President from 1969 to 1970.
Albert 'Parky' Parkhill was born on December 26, 1898 in Burford County.  He was educated in Paris, Ontario, and at the University of Toronto, Osgoode Hall.  He came to Oshawa in 1924 and served this community diligently as a lawyer and Alderman (1933).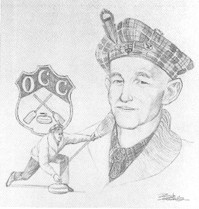 'Parky' was a sports enthusiast, a supporter of many sports and an outstanding participant in curling.  He was a life member of the Oshawa Curling Club where he was president in 1938-39, president of the Ontario Curling Association in 1960-61, president of the Canadian Curling Association in 1969, and vice-president of the Royal Caledonia Curling Club in Edinburgh, Scotland in 1969.  He threw the opening stone at the World's Championship in Perth in 1969.
In 1951 his Oshawa Curling Club rink were winners of the Provincial Silver Tankard with 'Parky' as Skip.
In 1968 he led a group of Canadian Curlers to mainland Europe and Scandinavia to promote the game.  He was awarded the Governor General's Honours the same year.
'Parky' was honoured by the Ontario Curling Association in 1969 when they designated the Intermediate Competition Trophy in his name; and to demonstrate his worthiness, in 1976 he was elected to the Curling Hall of Fame.
[source: http://www.oshawasportshalloffame.com/inductees_view.php?category=17]