What we do
You've seen our events live or on television like the Tim Hortons Brier and Scotties Tournament of Hearts. But who are we? What do we do? Find out more about the governing body for the sport of curling in Canada.
Safe Sport
The Canadian Sport Helpline is here to ensure that Canadian sport participants of all levels compete in a safe and welcoming environment.
Policies
In order to ensure that all of its policies are current to the most recent standards, Curling Canada mandated the Sport Law and Strategy Group (SLSG) to conduct an independent review. As a result of this review, Curling Canada has adopted the policies that can be found on this webpage. Curling Canada is committed to reviewing and updating these policies as often as necessary in order to ensure that they consistently satisfy the highest standards.
Curling Canada Foundation – For the Love of Curling
Wouldn't it be amazing if kids across the country were begging their parents for curling lessons and curling clubs were lively every night? And what if you made that happen?
The Curling Canada Foundation is the philanthropic program of Curling Canada under the Chartable Registration No. 10684 5035 RR0001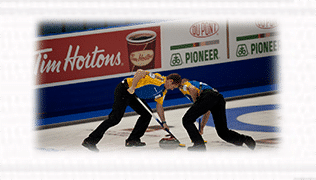 Sponsorship and Corporate Partners
As Curling Canada moves into another season, we would like to take this chance to thank our wonderful corporate partners who support the sport of curling and the championship events we operate.
Canadian Curling Hall of Fame
Nominations to the Canadian Curling Hall of Fame are submitted to the Hall of Fame and Awards Committee, which meets annually to select inductees it feels meet the criteria in one of four categories — curler, builder, curler/builder and team.