Wood Sr., Daniel John Howard "Pappy"
Year Inducted / Année Intronisé:
1974
Province / Province:
Manitoba
Category / Catégorie:
Curler
Biography / Biographie:
Daniel John Howard "Pappy" Wood, Sr.
Date of Birth: August 29, 1888
Place of Birth: Winnipeg, Manitoba
Date of Passing: December 28, 1978
Career Highlights
1908-1972: competed in 65 consecutive Manitoba Bonspiels, a mark recognized by the Guinness Book of World Records
1911-1940: Eight Manitoba Curling Association Grand Aggregate titles
1925: Played in first national curling competition
1930,32,40: Winner, Canadian Brier
1947: Winner, first Nipawin Automobile Bonspiel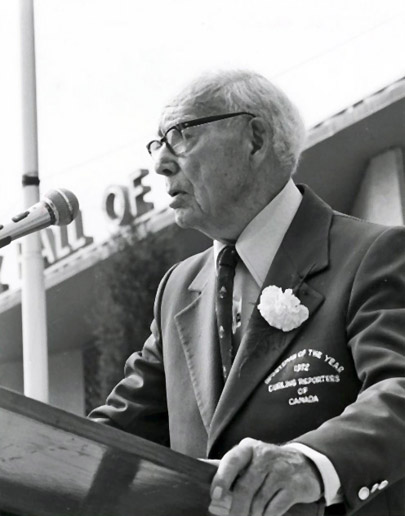 For Howard "Pappy" Wood, curling was not just a sport but a lifelong activity, intimately tied to his everyday being. He was active on the rink throughout his life, competing in the Manitoba Bonspiel every single year between 1908 and 1972. This 65-year string of participation was so monumental that it earned him mention in the Guinness Book of World Records. Wood's curling career began at the turn of the century in the backyard of his Winnipeg home.
His father, a prominent contractor with a passion for the sport, created a backyard curling sheet, making curling stones fashioned from wooden blocks with bent spikes for handles, and then draw rings on the ice using a special coloured powder obtained from his business' construction materials. It's no wonder that Howard and his brothers were ace curlers by the time they were teenagers.
A member of Winnipeg's Granite Curling Club, Wood curled his first bonspiel in 1908. He won his first Grand Aggregate in 1911 and went on to collect seven more by 1940. By 1915, he had collected eleven cups and, by 1916, he was skipping his own rink. Nineteen-twenty-five was a year that Wood would never forget. This was the first year that Canadian curling reached the national level of competition, and Wood was there to witness "the birth of the Brier."
A victory in the British Consols earned him an all expenses paid trip to the eastern provinces and parts of the United States where he skipped Western Canada's representative rink. Wood skipped Brier winners in 1930 and 1940 and was third in Jim Congalton's 1932 championship rink.
Wood won his first Brier in 1930, skipping the Manitoba rink which consisted of his brothers Vic (at second) and Lionel (at lead) and third Jim Congalton. The team finished the round robin at a 7–2 record, tied with Alberta. They defeated Alberta, skipped by Bob Munro in the final to claim the Brier.
Wood would win the Brier in 1932, throwing third stones for Congalton. Once again, the team finished tied for first with Alberta after the round robin. Once again, Manitoba prevailed, this time defeating Art Hallonquist's rink.
His 1940 triumph was particularly poignant as this marked the first time that the Brier, emblematic of the Canadian curling championships, was held outside of Toronto. Wood won his final Brier in 1940, skipping the rink consisting of third Ernie Pollard, his son at second, Howie Wood, Jr., and lead Roy Enman. In his hometown of Winnipeg, Wood skipped his rink to victory in front of a sold out crowd of 5,000, a clear indication that curling was well on its way to becoming a successful "spectator sport" across the country. This gave Wood his third Brier trophy, the first person to do so.
Wood would have skipped in his last Brier in 1945, but it was cancelled due to World War II.
Wood is a member of the Canadian Sports Hall of Fame, the Manitoba Sports Hall of Fame and the Canadian Curling Hall of Fame.
(courtesy of Canada Sports Hall of Fame)
www.sportshall.ca/stories.html?proID=302&catID=all