HOMETOWN HEROES!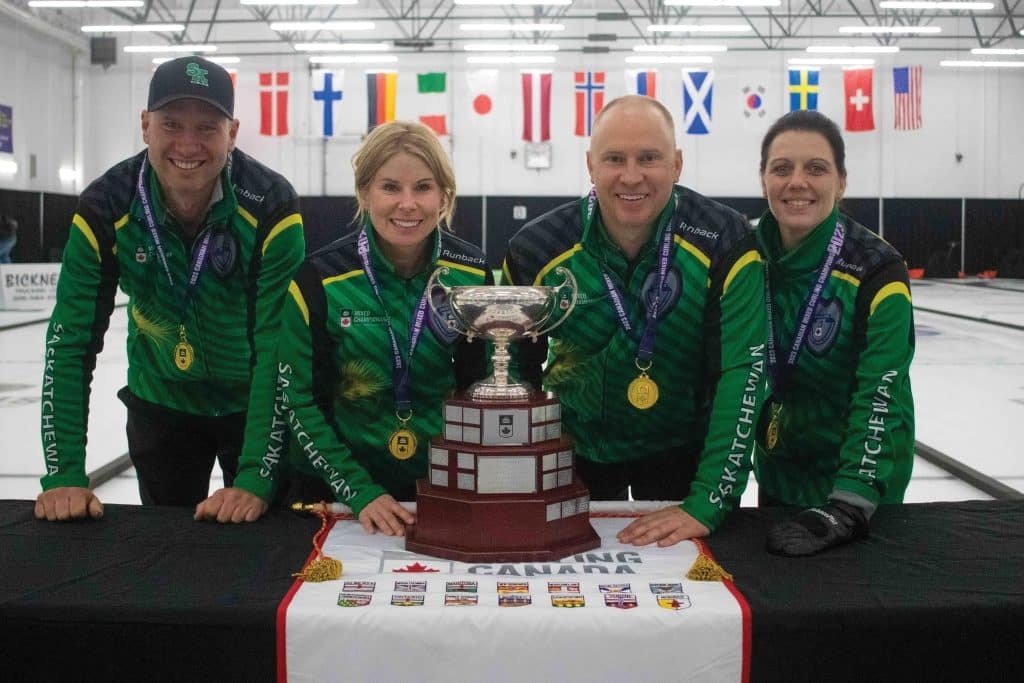 Saskatchewan downs Manitoba 6-4 in gold medal final at 2023 Canadian Mixed Curling Championship
It was a storybook run complete with a fairytale ending for Team Saskatchewan on Saturday, as it defeated prairie rival Team Manitoba's Kyle Kurz (10-2; Winnipeg) 6-4 to win the gold medal in front of a hometown crowd at the 2023 Canadian Mixed Curling Championship, at Swift Current, Sask. 
Now, the Swift Current Curling Club collective of skip Shaun Meachem, vice-skip Kelly Schafer, second Chris Haichert and lead Teejay Haichert, will trade in its Saskatchewan green jackets for the red and white of the Maple Leaf, earning the right to represent Canada at the upcoming 2024 World Mixed Curling Championship Oct. 12-19, 2024, at Aberdeen, Scotland.
The gold medal win is an exclamation point on an incredible run at the Canadian mixed championship for Team Saskatchewan. After dropping its opening match 8-4 to Nova Scotia's Paul Flemming (7-5; Halifax), Meachem and company would go on to win eleven straight games, finishing first overall in the Championship pool before marching through to the eventual top podium finish.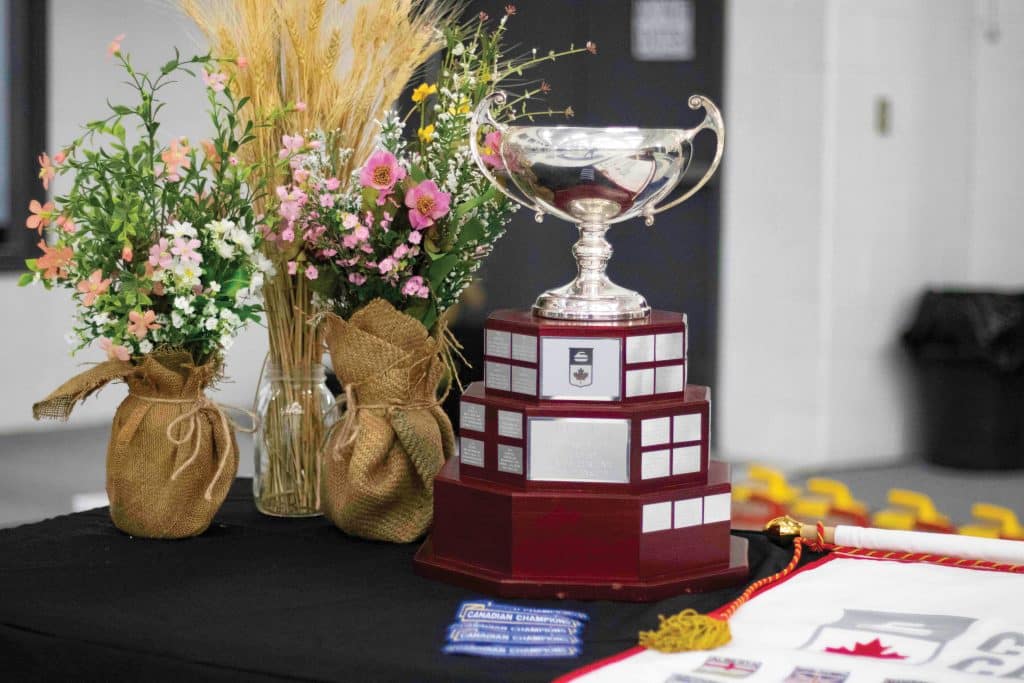 The final was a nailbiter that saw both teams tied 4-4 headed into the eighth end. Manitoba, without hammer, managed to create rocks in play in an effort to steal, but ultimately missed its final hit and roll attempt to leave Saskatchewan sitting two. Saskatchewan would not need to throw its final stone.
"Super intense game and an intense week," said skip Shaun Meachem after winning the Canadian mixed gold. "It was a ton of fun. High energy the whole way and started off, personally, a little slow out of the gate, and just sort of managed to ramp things up through the week. Felt really good going into the final."
Winning a Canadian championship is already a feat unto itself, but to win it on home ice is special, says Meachem.
"You don't get a chance every day to represent your province, and to now represent your country, is pretty cool." Meachem said. "It was a little different than what it is when we play club (play) here for sure. But our head ice maker does the ice for provincials and it's the same ice. It's best ice we play on all year long and they did this up just the same."
The 2023 Canadian mixed champions are brimming with national and international experience. Vice-skip Kelly Schafer has world and Olympic experience under her belt, having represented both Scotland and Great Britain in international play.
Schafer, who is born and raised in Scotland and now dual Scottish-Canadian citizen, will have her first chance to wear the Maple Leaf in her native country.
"It's just so special, especially since it's so close to my hometown," said a teary-eyed Schafer after the win. "It seems like it's been a long time coming. I'll be proud to represent Team Canada and that'll be a new thing for me. The first Canada jacket I've had since all the other ones are Scottish."
After several years of being ineligible to represent Canada without proper citizenship, Schafer is elated to wear the Maple Leaf in the mixed curling format that she originally started with when she immigrated to Canada.
"It's pretty exciting," Schafer said. "I've played with these guys since I came here. They're my first mixed team and it was the only thing I was allowed to play. For ten years or something, Shaun and I have been playing skip and third and now with Teejay and Chris, yeah, it's cool."
It will be the second time sporting a Maple Leaf for the front end of second Chris Haichert and lead Teejay Haichert, who were members of the last Saskatchewan rink to win a Canadian mixed crown in 2015 with skip Max Kirkpatrick at North Bay, Ont. Team Canada would go on to be a quarterfinal finisher at the 2015 World Mixed Curling Championship at Bern, Switzerland.
"They've been there before," said skip Shaun Meachem of his front-end players. "They've got some business to take care of at the world, so yeah, really excited for that."
Meachem and company become the tenth team in Canadian mixed curling history to win the championship as the host province, joining Québec's Jean-Sebastien Roy (2020 at Saguenay, Qué.), Manitoba's Colin Kurz (2019 at Winnipeg), Alberta's Dean Ross (2008 at Calgary), Nova Scotia's Mark Dacey (2002 at Halifax), Alberta's Kevin Koe (2000 at Lethbridge, Alta.), Alberta's Kurt Balderston (1992 at Grand Prairie, Alta.), Prince Edward Island's Peter Gallant (1987 at Summerside, P.E.I.), Saskatchewan's Randy Woytowich (1984 at Prince Albert, Sask.), and Saskatchewan's Bernie Yuzdepski (1978 at Saskatoon).
The 2023 Canadian Mixed Curling Championship win is Saskatchewan's 11th Canadian mixed title.
This event marks the second time Swift Current has hosted the Canadian Mixed Curling Championship. The last instance was in 1993 where Nova Scotia skip Scott Saunders took gold.
In the bronze medal match, Team Ontario's Scott McDonald (8-4; St. Thomas) defeated Team Nova Scotia's Paul Flemming by an 8-3 score to land the final podium spot.
Archived matches of the 2023 Canadian Mixed Curling Championship will be available on Curling Canada's streaming platform, Curling Canada +.
For the event, team and draw information, visit the event website.