Raise funds for charity with The Men of Curling 2018 calendar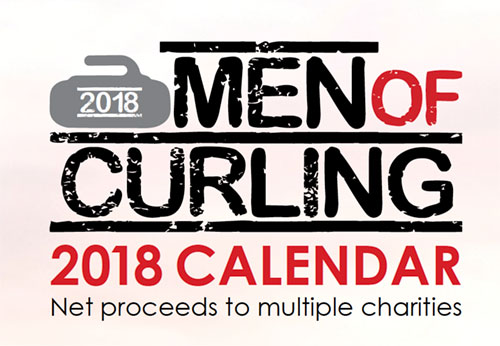 The Men of Curling calendar is back, and the 15 athlete-models from five countries are doing their part to raise funds for a variety of charitable organizations—including the Curling Canada Foundation, which is a major benefactor of this initiative.
"We are incredibly appreciative of the collaborative effort, driven by co-producers The Community Fundraiser and The Curling News, and supported by the athlete models and their volunteer photographers, to create this unique annual fundraising opportunity," says Brodie Bazinet, Manager of the Curling Canada Foundation. "It's great for the curling community to know that each calendar purchased will help ensure that youth curling programs are offered and supported in every province and territory across Canada."
Men of Curling calendar model Colin Hodgson knows the benefits of getting kids into curling.
"Curling undoubtedly has changed my life," says Hodgson, who plays lead on Team Reid Carruthers. "I'm very fortunate that I was able to share the sport with my family and grow a passion for it at a young age so that it kept me participating for practically my entire life. The development of youth curling programs is integral in creating passion for the future participants of our sport."
Hodgson's sales of the calendar will also support a charity close to his heart, the Smiles Thru Lindsey Endowment Fund.
"Smiles Thru Lindsey Endowment Fund was created in memory of a close friend of mine, Lindsey More," he says. "To help keep Lindsey's legacy of love and laughter alive, Smiles Thru Lindsey was created to support those suffering in silence."
Other athletes joining Hodgson in the Men of Curling calendar project include fellow Canadians Brett Gallant, Braeden Moskowy, Tyrel Griffith, Kirk Muyres, Ryan Fry, Ryan Harnden and Marc Kennedy, as well as international curlers Chris Plys (United States), Kyle Smith (Scotland), Benoît Schwarz (Switzerland) and the entire Norwegian team of Thomas Ulsrud, Torger Nergård, Christoffer Svae and Håvard Vad Petersson.
"The curling community is unlike any that I've experienced," says Hodgson. "The camaraderie among the curlers from not only Canada but throughout the entire world is incredible to see in practice. The Men of Curling Calendar is just one example of many efforts to create a larger imprint of positivity throughout the world."
That inclusiveness and generosity is exactly what the Curling Canada Foundation strives to engender in its programs.
"Supporting youth curling programs is critical to the growth of our sport, but more importantly it is a way for donors to give a child the chance to experience the friendships, life-changing opportunities and sense of community that are so deep-rooted in our sport," says Bazinet.
---
The calendars are on sale now at menofcurling.com for CDN $29.95 (U.S.$34.95). Free shipping is also available to curling facilities that wish to sell the product to their members.