Posts Tagged 'Reid Carruthers'
---
Charleswood Curling Club, Winnipeg, MB
skip: Jeff STOUGHTON
third: Jon MEAD
second: Mark NICHOLS
lead: Reid CARRUTHERS
alternate: Garth SMITH
coach: Rob MEAKIN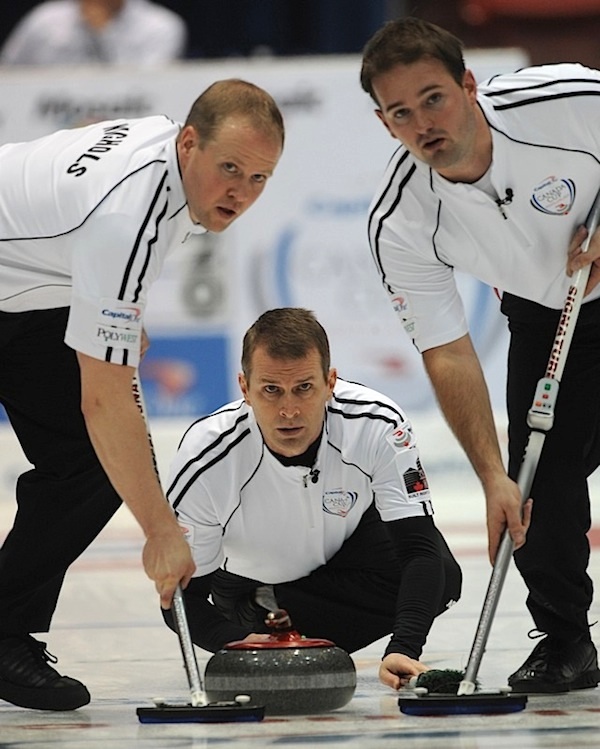 Jeff Stoughton will be making his fifth appearance at the Canadian Curling Trials, Dec. 1-8, when Winnipeg welcomes the very best teams in the country to the 2013 Tim Hortons Roar of the Rings, presented by Monsanto.
Jeff Stoughton earned a record tenth Manitoba title with a victory over Sean Grassie in the final of the men's provincial curling playdowns, Feb. 10 in Neepawa.
In a curling career that is unquestionably the envy of the majority of serious competitors in the game there are at least two championships Jeff Stoughton would still love to add to his resume.
Big-name curlers are unfailingly generous with their time both on and off the ice, especially when it comes to supporting a good cause. Many fans of our sport are familiar with the CCA's Charity of Choice, the Sandra Schmirler Foundation, and have recognized high-profile athletes on TSN Telethons over the years, raising hundreds of thousands of dollars to support the care of premature and critically ill babies in hospitals across Canada.
---