Promotional Posters for Curling Centres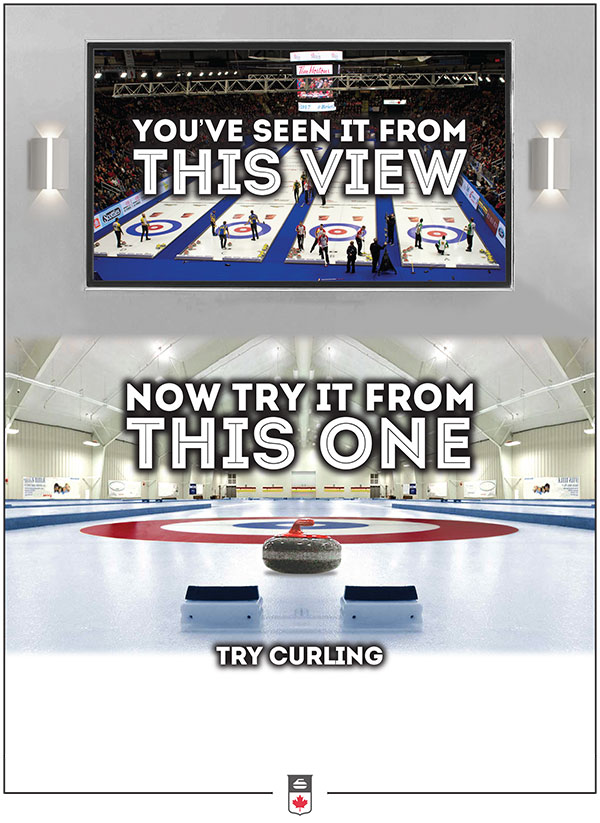 You've seen it from this view. Now try it from this one! Try curling.
Curling Canada has developed a promotional poster to help your curling centre recruit new customers for the upcoming season.
It's very simple by downloading the size of poster you would like to use. The posters are print ready so depending on your connection it could take a few seconds or a few minutes to download.
The image of the poster to the right shows an outlined box at the bottom of each poster. The box is shown here to distinguish a editable, designated blank area that curling rinks can use to customize a message tailored to potential new members.
If you're promoting an event with the poster, simply edit the text and print the new poster. You can use the poster multiple times. Use these posters to promote all your upcoming events!
Whether you want to use this to promote a specific beginners' event or just let new members know where to inquire for more info, don't miss this opportunity to use this designated area to encourage and increase curling participation at your rink!
Note: You'll need a computer program such as Adobe Acrobat or InDesign in order to make these edits. If you don't have these programs, consider getting your local printer to download and add text/images for you. A local printer is the only option for getting the larger sizes printed.
Adding Text/Images to the Designated Area with Adobe Acrobat
Open PDF in Adobe Acrobat
Click on Menu > View > Tools > Content Editing
Content Editing with options will appear to the right side of the window.
Use the "Add Text" option to add text to the designated area of the poster. Helvetica is a commonly-used font that will suit the style of the poster. Choose the font-size so readers of all ages can read the text clearly.
Use the "Add Image" option to add a JPEG or GIF logo/photo to the designated area of the poster.
Professional Printer Option
Send the PDF file or the link to the file from our website to your area printer and ask them to add the text and/or images to the designated area and they'll take care of the rest (for a fee of course).
A reputable print shop should have one of many desktop publishing programs (Acrobat, InDesign, Illustrator, Photoshop, QuarkXpress) that can easily add your text/images edits to the PDF file. Get an estimate of what it will cost so there won't be any surprises.
Good luck & good curling!