Islanders move on!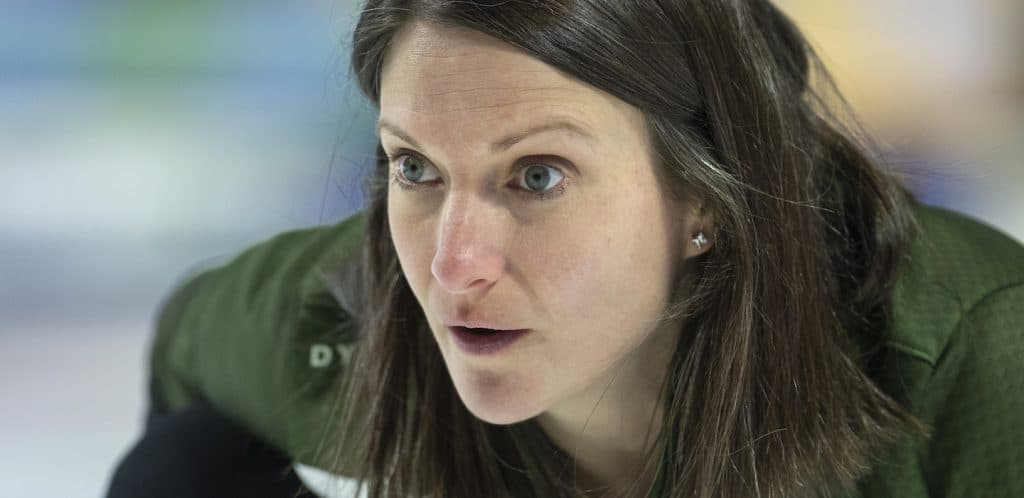 P.E.I. CLINCHES CHAMPIONSHIP POOL BERTH; NOVA SCOTIA, B.C. IN TIEBREAKER AT SCOTTIES
MOOSE JAW, Sask. – Suzanne Birt and her P.E.I. team get to sleep in Thursday morning while Mary-Anne Arsenault of Nova Scotia and Corryn Brown of B.C. will be up early for a rematch to determine the final team from Pool B that moves on at the 2020 Scotties Tournament of Hearts.
Jo-Ann Rizzo's final shot for Northwest Territories (Yellowknife, 2-5) came up short, giving Birt an 8-7-win Wednesday at Mosaic Place, good for a 5-2 record that advances her team to the Championship Pool, which begins play Thursday.
Before that play begins, however, Nova Scotia (Halifax, 4-3) will play B.C. (Kamloops, 4-3) to determine the fourth and final team to advance out of the pool. That rematch comes after Nova Scotia beat B.C. 10-4 Wednesday afternoon to leave the teams tied in fourth place. The top four teams from each of the two round-robin pools advance.
"We were really hoping for the Territories to pull that one out so we would get third, but it didn't happen," said Arsenault after her team scored four in the ninth end to take the win that kept them alive. "So looks like a long day for us tomorrow."
Backed by third Christina Black, second Jennifer Baxter, lead Emma Logan, alternate Kristin Clarke and coach Stuart MacLean, Arsenault scored two in the third end for an early 3-1 lead. They escaped a couple of difficult situations thanks to B.C. misses before they broke the game open in the ninth.
"I think it was my misses that were key, not necessarily ones that she made," Brown said of the inability of her team, that includes third Erin Pincott, second Dezaray Hawes, lead Ashley Klymchuk, Dailene Pewarchuk (who played in place of Hawes, who was under the weather) and coach Allison MacInnes, to capitalize on chances to score multiple points in a couple of ends. "Me missing led to her having the opportunities that she did, so that was the key, misses on my part.
"Obviously it would have been nice to finish her today but we're glad we have another chance so we're going to focus on that game."
Neither skip sees much of an advantage playing a rematch so soon, but both are confident of their team's abilities to win that game.
"I think they probably play better than they did today, but we played a strong game and I think if we bring that out again tomorrow we'll be fine," said Arsenault. "That was probably our best game as a team."
"We left a lot out there," said Brown. "I think they're definitely beatable, we can definitely play better when we get out there. I'm not too particular who we play, we're not too concerned."
With third Marie Christianson, second Meaghan Hughes, lead Michelle McQuaid and coach Mitch O'Shea backing her, Birt, from the Montague Curling Club, almost created a three-way tie but escaped with the key victory to avoid a tiebreaker.
"We had to come out with a win, it was huge to be able to do that," Birt said. "You don't want to put yourself in that situation of going through a tiebreaker and having the best record possible going forward is important."
In two other afternoon games, Rachel Homan of Ontario (Ottawa, 6-1) scored three in the sixth end and stole two in the seventh to beat Hailey Birnie of Yukon (Whitehorse, 0-7) while six-time Scotties champion Jennifer Jones and Team Wild Card (Winnipeg, 6-1) scored three in the eighth to sneak past Erica Curtis of Newfoundland/Labrador (St. John's 1-6) 7-4.
Ontario and Team Wild Card had secured their berths in the championship pool on Tuesday, with Ontario finishing first by virtue of its head-to-head win on Saturday.
Pool A teams play in the evening draw to determine if there are tiebreakers there or which other three teams will advance along with Kerri Einarson of Manitoba (Gimli, 5-1), who has already secured her berth and first place in the pool.
The 2020 Scotties Tournament of Hearts continues with the final round-robin draw today at 6:30 p.m. CST.
Live scoring, standings and statistics for the 2020 Scotties Tournament of Hearts are available at www.curling.ca/scoreboard/
TSN and RDS2 (streamed on ESPN3 in the United States) will provide complete coverage of the 2020 Scotties Tournament of Hearts. CLICK HERE for the complete schedule.
For ticket information for the 2020 Scotties Tournament of Hearts, go to www.curling.ca/2020scotties/tickets/
This story will be available in French as soon as possible at www.curling.ca/2020scotties/nouvelles/?lang=fr