Semifinal Bound!
Canadian women and men both secure semifinal berths at 2020 world junior curling championships
Canada's playoff aspirations have come to fruition at the 2020 World Junior Curling Championships from Krasnoyarsk, Russia as both the women's and men's representatives have earned their way into official medal contention.

The Altona Curling Club's Mackenzie Zacharias downed Denmark's Mathilde Halse in women's session 7 by a score of 7-4. The Canadian women now sit firmly in second place in the round robin pool at 6-1 trailing only Korea's Minji Kim, who are a perfect 7-0.

While playoff qualification is certainly worth celebrating for the Zacharias rink, they know there's still more work to be done.

"There's another couple of games left to play so we're trying to get lots of momentum into those games and then on into the play-offs. We had a couple of unlucky breaks in the first half, but it was a really good last half for our team, so we're really happy with that," said Zacharias.
The Canadian women are still in pursuit of the first overall round robin spot as they have yet to face Korea and will do so in women's session 9 on February 20 at 7 a.m. (all times eastern). The overall round robin winner receives a higher seated slot in the semifinals (1 vs 4, 2 vs 3), so there is still plenty of incentive to win.
Before they face Korea, Canada will face Latvia's Evalina Barone on February 19 at 9 p.m in women's session 8.
On the men's side, Jacques Gauthier's Assiniboine Memorial Curling Club foursome remain on a roll as they collected two wins in men's session 7 and 8; an 8-5 victory over Germany's Sixten Totzek and a 6-1 win downing host nation Russia's Andrey Dudov.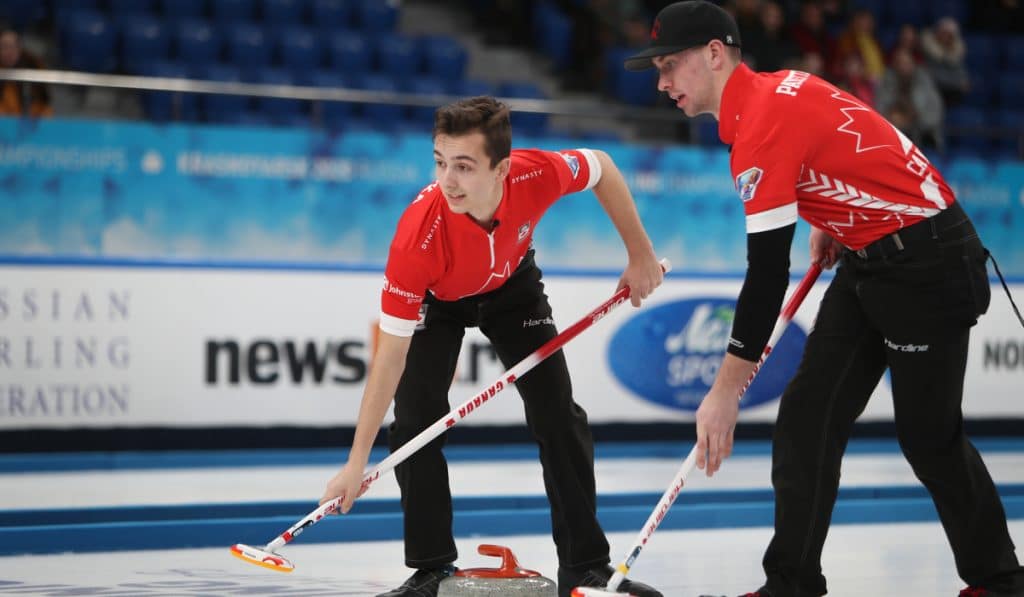 These victories are extra special for Canadian lead Zachary Bilawka as he celebrated his birthday on the 19th. The emcee of the event and crowd sang him happy birthday before their session 7 match versus Germany.
"It's unbelievable. I couldn't believe what they did before the game, I was not expecting that at all," said Bilawka.
Even with all the distractions and fanfare, Bilwaka remained focused on the task at hand.
"Germany is obviously a really good team and it's a tough field so to get a big win like this in a game that matters so much for the standings, it feels awesome, but today it feels a little more sweet. It's still late at night back home, so it's not actually my birthday in Canada yet, so it's like I get a birthday for two days," said Bilwaka.
The wins secure at minimum a second place finish for the Canadian men, who currently lead the round robin pool standings with a 7-1 record with a single match remaining versus Scotland's James Craik.
Coincidentally, that match will decide the top spot in the round robin. Scotland, who currently sit at 6-2, is the only team who can catch Canada and hamper their aspirations for a first place round robin finish.
Gauthier and company remain vigilant but also are taking in every moment.
"We're not going to change anything – absolutely not, we're just going to play it loose. We're having fun here and that's a big part of it," said Gauthier.
Men's semifinals begin February 21st at 2 a.m while the women's semifinals are slated for 7 a.m.Draws, scores and additional reports are available here from the World Curling Federation event website.