Einarson Wins!
Manitoba's extra-end redemption draw secures Scotties win
MOOSE JAW, SASK. – Tears. In the remembering, the 2020 Scotties Tournament of Hearts final was all about tears.
Tears of anguish.
Tears of joy.
But here's the twist: Both from the winner.
"This,'' stammered Manitoba's Kerri Einarson, a wake turned into a wedding with one extra-end redemptive shot, "means absolutely the world to me. I really wanted to do this for myself and my teammates. Especially Val (Sweeting), who lost two big finals.
"We really put it together. I'm so proud of everyone."
Somehow gathering herself, exorcising grinning ghosts of only fifteen minutes before, after a draw in the 10th for the win sailed by its intended target and providing Ontario's Rachel Homan with a steal of two, tying the game seven apiece.
Einarson of the Gimli Curling Club, with third Sweeting, second Shannon Birchard, lead Briane Meilleur, alternate Jennifer Clark-Rouire and coach Patti Wuthrich, nailed a second chance draw in the extra end, stapling her shot to the button.
The lady may be Winona Ryder willowy but don't be fooled – there's tungsten steel in her spine.
"I knew I was gonna be close,'' said Einarson, named the Sandra Schmirler Award recipient as playoff MVP. "I threw a draw with the out-turn. I knew my weight. I took my time.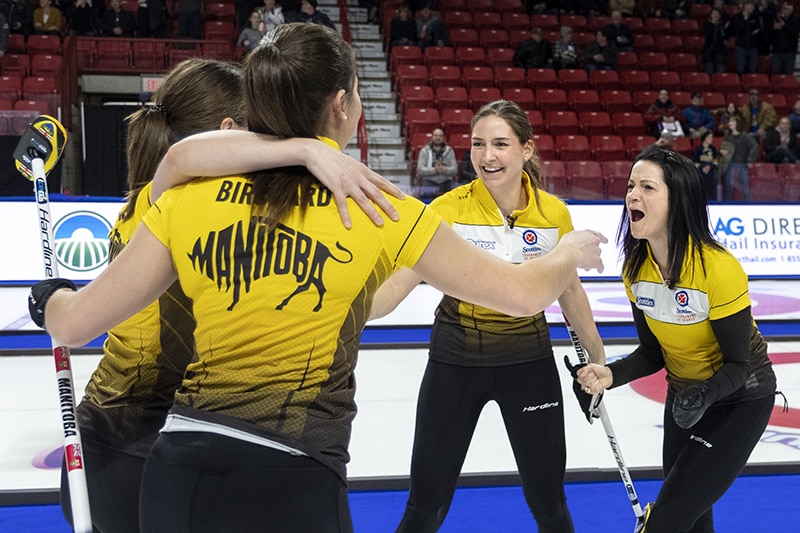 "I took a deep breath and just focused on what I needed to do. I wanted to bring my sweepers into play and for it to be more of a team shot rather than just throwing it down there and praying that it stops – like I did on the first one.
"The team judged it well and put it right on the button."
So the Bison rules the trillium.
Via an utterly compelling 8-7 triumph over Rachel Homan's Ontario team at Mosaic Place, Einarson notched Manitoba's 11th Canadian women's curling championship, tying Saskatchewan for top spot.
So an immensely profitable week for Einarson and Co., starting with a Scotties stipend of $105,000, followed by a trip to Prince George, B.C., next month and the honour of donning the Maple Leaf at the Women's World Curling Championship, presented by Nature's Bounty Vitamins.
Also included in their prize bundle: a spot at the 2021 Scotties in Thunder Bay, Ont., as Team Canada along with an invite to the Tim Hortons Roar of the Rings in Saskatoon – the event that determines the Canadian four-player team reps for the 2022 Olympic Winter Games in Beijing.
As her final rock in 10 sailed long, Einarson, her emotions written on her face, nearly crumpled in frustration.
"She wasn't far off,'' reminded second Birchard, a Scotties winner with Jennifer Jones back in 2018. "She just needed to take off a couple feet. She'd thrown (the same shot) essentially on her first shot of the extra so we knew she was going to be close. If anything, Briane (Meilleur) and I were afraid we were going to misjudge it. But it worked out.
Homan and her gang didn't come off badly either, collecting $65,000, and earned every penny for spirited fightback. Trailing 7-3 after eight, they fought back with a deuce in the ninth and the steal of two in 10, thanks to Einarson's heavy-handed miss.
"It sucks to lose, but we lost to a great team and they're going to be great representatives for Canada,'' said Homan, her quest for a fourth national title put on hold. "Good luck to them.
"We fought right to the end. And in the end she made a good shot.
"We're right there. That's curling. It's a game of inches. A shot here or there and we can be the next ones to wear the Maple Leaf on our back. So happy with our performance this week. There's a lot of teams that wanted to be in that final."
After two previous Tournament of Hearts appearances – one representing Manitoba, one as Wild Card – that ended in defeats to Krista McCarville in 2016 during the Page 3-4 game and Jennifer Jones in the final during 2018, Einarson can call herself a national champion.
Typical of Einarson's precision on the day, and all the week, was an exquisite final stone in the sixth-end.
GPS-ing the rock outside, she oh-so-lightly kissed one of her own sitting third, nudging it to snare a piece of the button and count a deuce for what seemed like an insurmountable 6-2 cushion.
The emotional catalyst for the richly-deserved celebrations, as the skip mentioned, had to be Sweeting who lost gold-medal games skipping Alberta in 2014 and '15.
"It's just an honour to be Team Canada,'' Sweeting said, dabbing at moistened tear-ducts. "I've had quite a few heartbreaking final losses so I definitely needed that. But we did it."
Yes, they most certainly did.
"I'm so incredibly proud of my teammates,'' said Einarson. "If it wasn't for them … all those shots I made out there was because of them. With their sweeping, their line calling.
"I love them.
"My God, this is so amazing."