Canada cruising!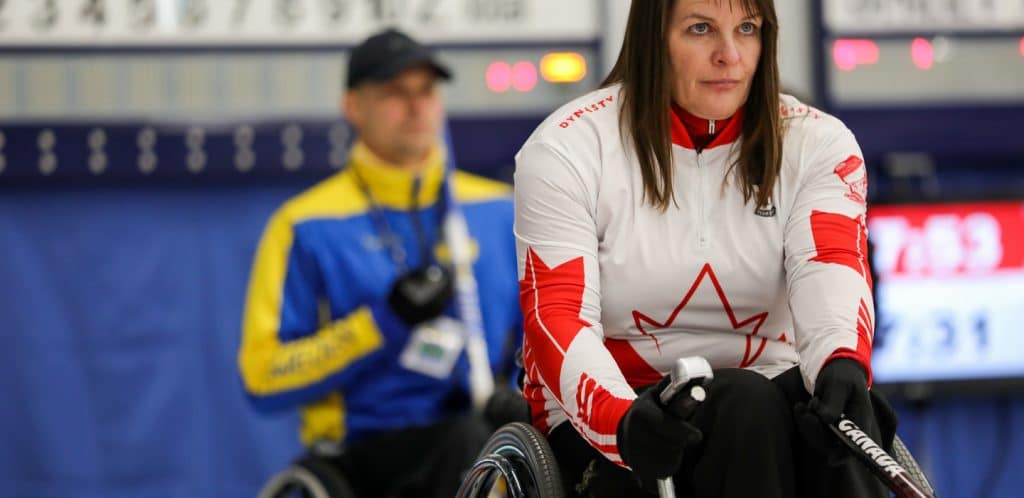 playoff aspirations remain high for canada at 2020 world wheelchair curling championship
Day five at the 2020 World Wheelchair Curling Championship saw Canada split a two game day with a session 12 extra end loss to the Czech Republic's Dana Selnekovicova by a score of 5-4 and a session 13 9-4 win over Sweden's Viljo Petersson-Dahl.

The single win maintains Canada's playoff hopes with a 7-2 record with two games remaining in round robin play.

Despite the relative success of a 1-1 day, it could have easily gone worse for team Canada. Versus Sweden, Canada surrendered four points in the first four ends to find themselves in an early deficit. Canada would then find the scoreboard in the fifth end scoring a single with hammer.

Then, in the sixth end and facing a 4-1 score, Canada would mount a massive steal of five points to jump out to a 6-4 lead. They would then add an additional steal of three points in the seventh end followed by running Sweden out of rocks in the eighth end to secure the 9-4 win.

Jon Thurston, Canada's fourth, said, "They played well against us the first half. We stuck with the shots and had a really good sixth end."
Thurston knows that quality shot making and good fortune often come hand in hand.
"It (the steal of five) organically came. We just made a couple of shots and the other team missed and that's how quickly things can happen," said Thurston.
Canada's win over Sweden was crucial as the two now remain tied in the standings for second place overall. China, who has a perfect 8-0 record thus far, remains in first place and has clinched a playoff berth.

Canada will face Estonia's Andrei Koitmae next in session 15 on March 5 at 3 a.m. (all times Eastern) followed by China's Haitao Wang in session 17 at 1 p.m.

The top six teams from the 12-team field qualify for the playoffs. The first- and second-place teams will go straight to the semifinals, while No. 6 plays No. 3, and No. 5 plays No. 4 in the qualification round.
The qualification round and semifinals are on Friday, March 6, with the bronze- and gold-medal games on Saturday, March 7.
There are 12 total teams in the event, including Canada, 2019 champions China, Czech Republic, Estonia, Korea, Latvia, Norway, Russia, Scotland, Slovakia, Sweden and hosts Switzerland.
For additional details about the 2020 World Wheelchair Curling Championships, including schedules and team rosters, visit the World Curling Federation's event website here.
Select matches will be streamed live. Click here for the stream and more.