Triples format incoming!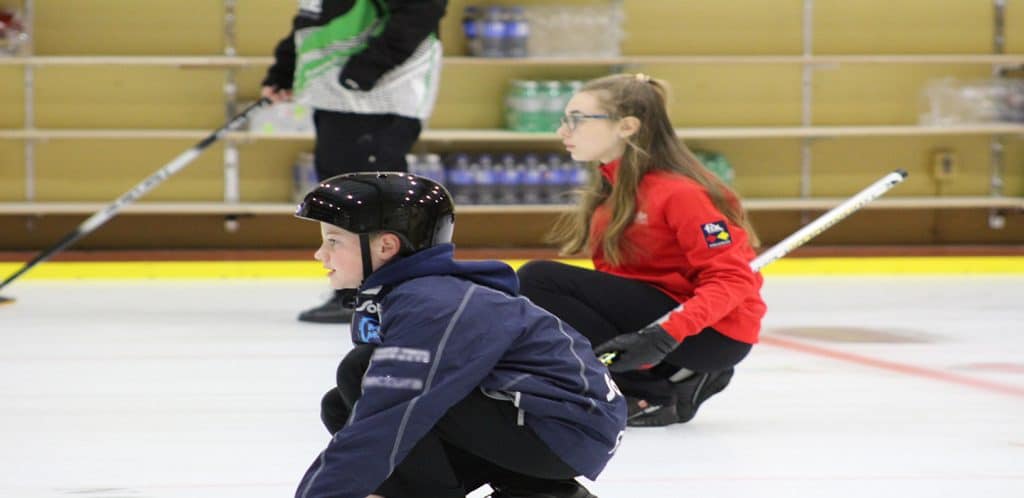 Exciting new format promotes growth of sport and curling centres alike
Curling has seen a measurable spike in popularity in the past decade as interest in the roaring game climbs alongside accessibility to the sport. Getting Started programs, Rookie Leagues and instructional rental sessions have all been proven as creative ways to bring new athletes into your local curling centre, allowing the sport to grow and flourish.

With the prospect of new curlers, curling centres across Canada strive to create lifelong registrants to secure sustainable, long-term revenue sources as curling maintains the luxury of being a sport that can be engaging and fun well into your golden years.

And yet, often overlooked in a curling centre's arsenal are programs that cater specifically to youth curlers as well as adult curlers.

Thankfully, new programming is emerging that caters to youth and adult curlers of all experience levels.

Introducing triples curling. As its name suggests, curlers compete in teams of three when playing triples, but that's where the lineage to classic curling rules ends.

In the exciting new format, triples games consist of three 'sets' of two ends each, similar in scoring to tennis. Each set can be seen as a two-end 'mini-game', with each team playing with the hammer for one of these ends and without the hammer for the other. You can read the rules of triples curling in its entirety at this link.

One of the unique features of the triples discipline is that curlers play each of the three positions (i.e., Lead, Middle, and Skip) for one set of the game. Teams can determine which player starts in each position during the first set. However, from that point onward the rotation of players must be in a fixed rotation. This positional rotations allows youth curlers to fully immerse themselves in every position, thereby honing the skills required to successfully execute

The triples format allows for one sweeper at a time up until the far hogline, which not only encourages players to take ownership of their shot making results, but also complies with social distancing procedures amid COVID-19 adaptations.

Rob Krepps, Head Coach at Curling Canada's National Curling Centre in Edmonton and the mastermind behind the powerful University of Alberta curling program, has been an integral part of the triples format development. He believes that expansion will fuel curling's expansion for future athletes.

"I've always felt that our sport would benefit from different formats, first and foremost to keep things fresh and fun. Having more formats also has the potential to make more medals available at the Olympics. Just look at sports like speed skating, swimming, or gymnastics, where there are literally dozens of medals available. If we were to add triples and singles to the established formats of fours and doubles, and if we were to have separate men's and women's competitions in each, there would instantly be eight sets of curling medals up for grabs," said Krepps.

Krepps certainly did not work alone in the creation of the Triples format.

"Like everything that is developed at National Training Centre-Edmonton, there were a number of different people involved," he said. "I came up with the initial concept and rules, but after that people like Garry Coderre, Jeff Hoffart, Mick Lizmore, and Dana Ferguson got involved. Mick and Dana in particular used it extensively within our youth programming at the Saville Centre, and that process gave us the opportunity to fine-tune a few things.

"From there Curling Canada incorporated it into our U15 Challenge Cups, which were piloted by Helen Radford in the Maritimes, Jen Ferris in Ontario, and myself here in Alberta," added Krepps. "Since then a number of U15 Challenge Cups have taken place across the country. So, we now have a competition-tested format that's ready to be played much more broadly."
While new formats in curling do have a learning curve, Krepps is confident that triples will be embraced by the community, thanks in large part to youth leadership, similarly to how the curling community has embraced mixed doubles.
"In my opinion, triples is already having a positive impact on the youth side of our sport, and that impact will only increase over the next few years," said Krepps. "I'm already seeing kids with a broader range of skills, and who are more confident in playing different positions. So, that's really exciting. Now we just need to get older curlers playing triples, which has a chance to happen organically as U15's age up to U18, U21 and so on."
Triples is an ideal youth curling format for both individual and community development at local curling centres. The newly minted format not only allows youth curlers to re-approach the sport of curling, it stimulates newer ways of thinking on the ice in both tactics and camaraderie. Once implemented, it allows your curling centre's youth base to be leaders in bridging the program at your facility to adult and senior participants, granting your youth membership a sense of belonging through positive community contributions. Engaged youth members, who feel they belong and contribute accordingly, become the future board members, staffers and leaders at your local curling centre.

Not only does the triples format bolster the overall curling ability of all participants who will be required to throw a myriad of shots, it especially develops youth curling's "soft skills", including problem-solving, adaptation, communication and teamwork.
Developing innovative and engaging youth curling programs, like the creation of the triples format, is only possible thanks to the generosity of the Canada-wide curling community. Without their contributions to Curling Canada's philanthropic program, For the Love of Curling, creating new age and stage appropriate programs would not be possible.

"The curling community can be quite traditional at times, so it wasn't surprising that we encountered a little bit of resistance from a few coaches and administrators out there. But, once they saw it in action, and realized why some of the rules were the way they were, I'm pleased to say that they jumped on board," said Krepps. "I don't see any reason why triples couldn't have at least the same popularity as mixed doubles. It's really just a matter of people giving it an honest try. Now I realize might be a little biased here, but of all the formats (i.e., fours, doubles, and singles), Triples is the one that requires the most well-rounded curling skills. You can't just specialize in one position. To be a good triples player you need a wide range of shots and positional skills."

Curling centres who wish to engage their memberships with new programming, like the new triples format, can contact their Provincial or Territorial Member Associations, who are available to aid and dispatch these newly created resources.

If you'd like to positively contribute to the future of curling in Canada, please consider making a donation to support the sport you love at curling.ca/foundation.