Big win for Northern Ontario!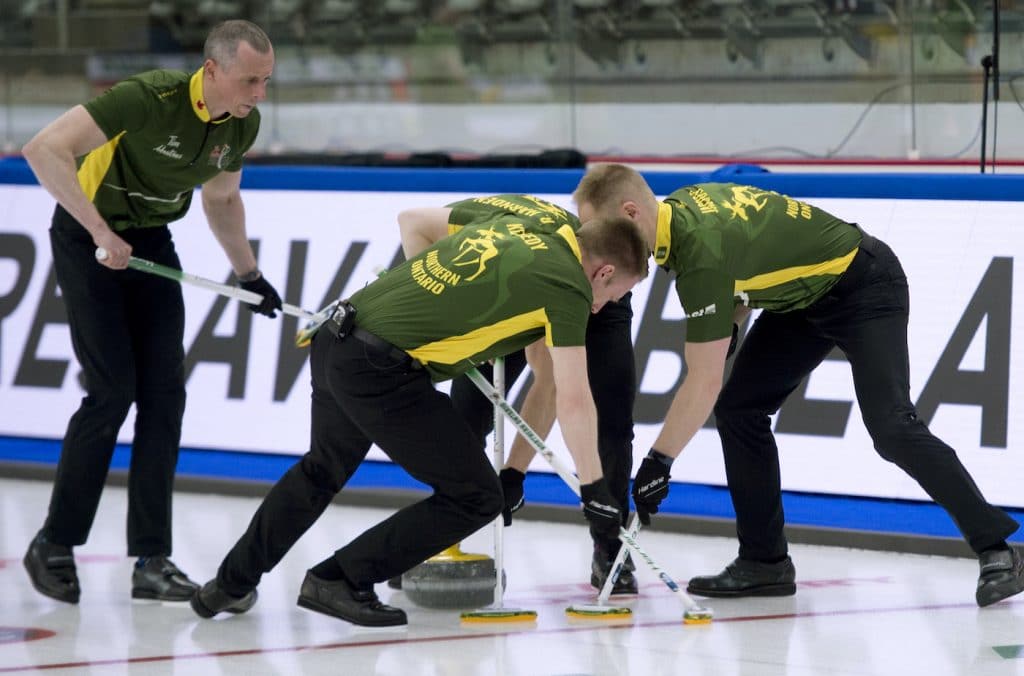 Northern Ontario stays alive in Tim Hortons Brier playoff race
On a magnificent afternoon of curling to open the Championship Pool, 2013 Tim Hortons Brier champion and 2014 Olympic gold-medallist Brad Jacobs had to remind everyone that there is still a long road ahead.
Coming off the ice at WinSport Arena at Canada Olympic Park in Calgary with an emphatic 7-2, eight-end win over defending champions Brad Gushue and Team Canada (St. John's, N.L.), the Northern Ontario skip scoffed at a question about taking a significant step toward Sunday's three-team playoffs.
"Playoffs? We're talking about playoffs??? Oh, man, we're so far from that," said Jacobs after the win, which left both teams with 6-3 records. "We need to put together three more performances like that and see where we fall. That's really where my mindset is at. That was our best game of the week there, and I think that's something really important at this stage. We're just excited to still be in this thing, and we know what we have to do. Our destiny is in our own hands, our backs are against the wall, and we're just going to keep playing hard and fighting for everything."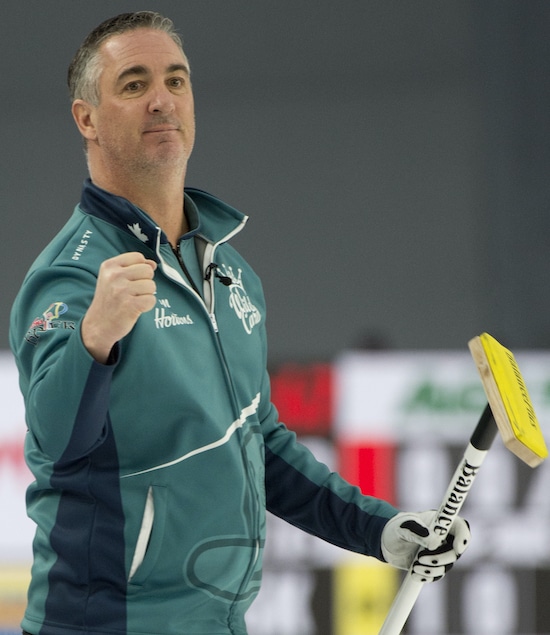 And yet, based on Thursday's performances by Jacobs (92 per cent), vice-skip Marc Kennedy (94), second E.J. Harnden (92) and lead Ryan Harnden (95), there's a reason to believe this Northern Ontario team from Sault Ste. Marie has the horses to be playing Sunday.
Northern Ontario (the team is rounded out by alternate Lee Toner and coach Rick Lang) never gave Gushue, vice-skip Mark Nichols, second Brett Gallant, lead Geoff Walker, alternate Ryan McNeil Lamswood and coach Jules Owchar a sniff on Friday. Deuces in the first and fifth ends, and air-tight defence, were all that was needed, and after surrendering three in the eighth end, Team Canada conceded defeat.
"That's been the best team in the world for a few years now, so we caught them in a little bit of an off-game," said Kennedy. "But our front end played great and put them in some tough positions all game long. Credit to those guys — we'll take Brad being off for a game because it doesn't happen very often."
They'll need to, as three tough games remain for Northern Ontario, which finds itself in a five-way tie for fourth place at 6-3 with Team Canada, Saskatchewan's Matt Dunstone (Wadena), Manitoba's Jason Gunnlaugson (Morris) and Ontario's John Epping (Toronto).
A win in Friday's evening draw against Team Wild Card #2's Kevin Koe (7-2; Calgary) will be crucial.
"Backs against the wall, you really have to dig deep and play well," said Kennedy. "We've gotten pretty comfortable with that. But huge credit to Rick Lang; that's why we have him with us, to make sure we're focusing on the important stuff out there as opposed to just strictly intensity. It really worked out for us out there today, and hopefully we can keep that going."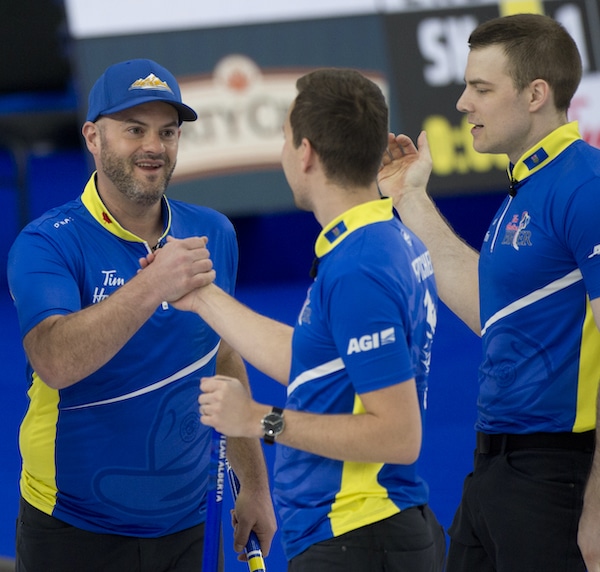 Team Wild Card #2 will coming in off a loss, after bowing 8-7 in an extra end to Alberta's Brendan Bottcher (Edmonton), leaving both teams tied for second place with 7-2 records. Alberta scored four in the second end on a Bottcher in-off before Team Wild Card #2 fought back to tie it with a spectacular 10th-end game-tying deuce on an angle double-raise by Koe. In the 11th, though Bottcher just needed a draw to the full four-foot for the win.
Meanwhile, Team Wild Card #3's Wayne Middaugh (Penetanguishene, Ont.) took sole possession of first place at 8-1 with a 9-5 win over Saskatchewan. Middaugh's extremely thin double takeout (reminiscent of Al Hackner's thin double to force extra ends in the 1985 Brier final) to score four in the third end set the tone.
In the other game Thursday, Manitoba shaded Ontario 7-6.
The 2021 Tim Hortons Brier continues with Friday's late draw at 8:30 p.m.. (all times Eastern).
Live scoring, standings and statistics for the 2021 Tim Hortons Brier are available at www.curling.ca/scoreboard/
TSN and RDS2 (streamed on ESPN3 in the United States) will provide complete coverage of the 2021 Tim Hortons Brier. CLICK HERE for the complete schedule.
This story will be available in French as soon as possible at www.curling.ca/2021brier/nouvelles.