Einarson-Gushue grind out victory!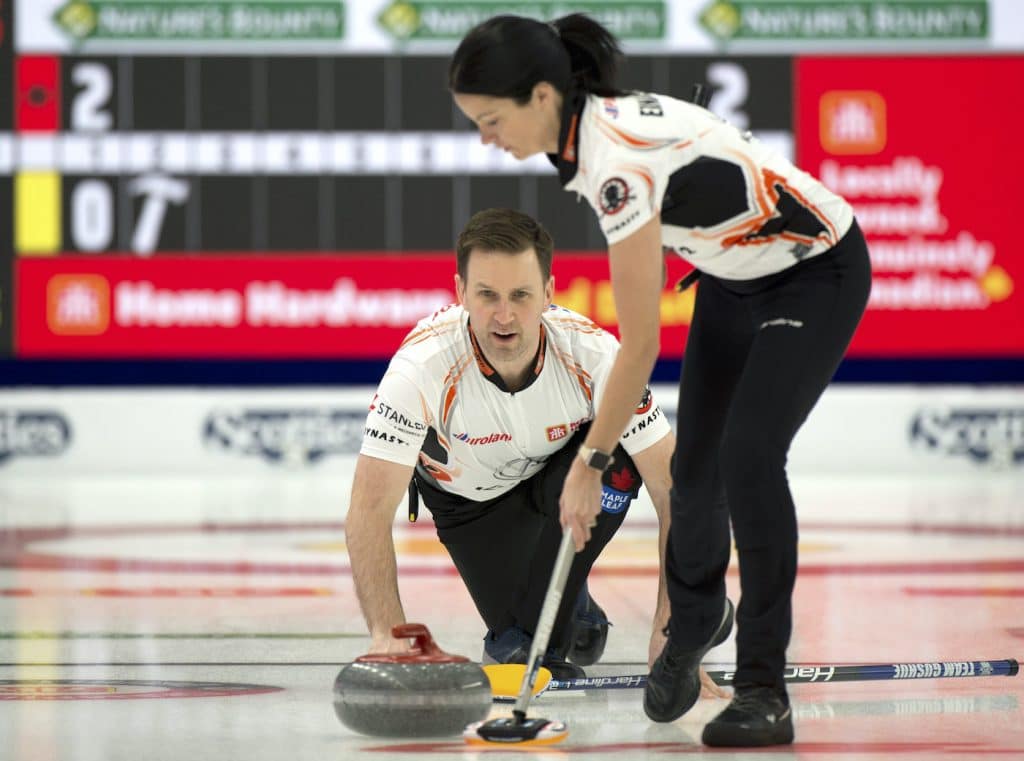 Star skips hang tough for win at Home Hardware Mixed Doubles
Ask Kerri Einarson and Brad Gushue to make a game-winning shot with a championship on the line, a national TV audience watching and a sold-out crowd holding its breath, you have to like their chances.
But ask them to sweep a rock from end to end, and judge it perfectly to get it to a spot with no margin of error? Well, as they'll admit with a smile, they're not exactly "Broom Goes the Dynamite" as a sweeping tandem.
But with a combined five Canadian four-player championships as skips between them, they obviously are a team to be contended with at the 2021 Home Hardware Canadian Mixed Doubles Championship, presented by Nature's Bounty.
Einarson and Gushue (Gimli, Man./St. John's, N.L.) picked up their third win in four outings Saturday at WinSport Arena at Canada Olympic Park, defeating Lauren Wasylkiw and Shane Konings (1-2; Unionville, Ont.).
"That game could have gone the other way, where we found a way to lose, so getting a win, when I don't think either one of us was as sharp as we would have liked to have been, was good," said Gushue, who with partner Val Sweeting (vice-skip for Einarson's two-time defending Scotties Tournament of Hearts champs) finished second at the 2017 Mixed Doubles Olympic Trials. "They're obviously a good team, they got through Ontario, which is a tough province, so they can play. They made some shots, and a couple ends Kerri had to make some really nice last rocks when I didn't really leave her much."
Now, don't be under the assumption that neither player can sweep; Einarson, for instance, has played at four Canadian mixed (four-player) championships as a third, and knows her way around a broom and a stopwatch.
"I think I'm doing an OK job!" she said with a laugh. "Maybe overswept one or two — sometimes I get sweeper-happy, just head down and go, but I think I'm doing all right."
"And I look like I'm working hard," chimed in Gushue. "That's about it."
Well, not really — Gushue clearly has the fundamentals of sweeping in his arsenal, but also knows the team doesn't match up in the sweeping area with some of the other teams playing in Calgary.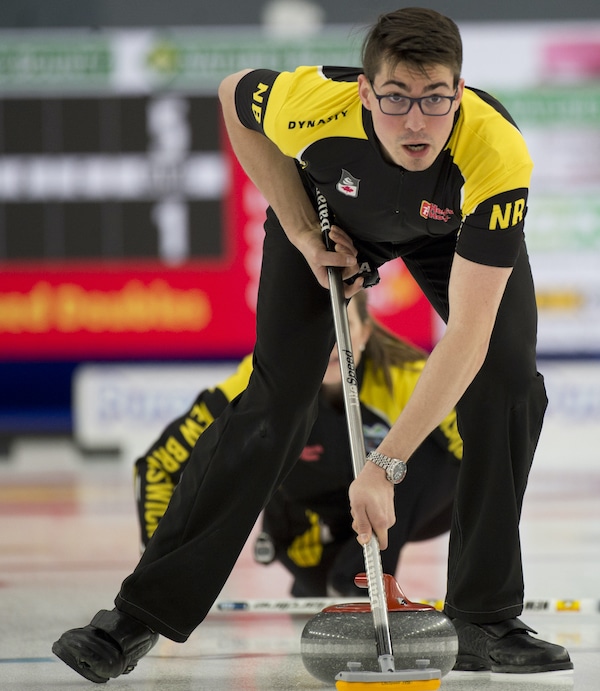 "If you look at the top teams in the mixed doubles over the last couple of years, there are a lot of front-end players and I think that kind of leads you to believe that sweeping is a big part of it," he said. "Look at Brett (Gallant) and Geoff (Walker) on my team — two great mixed doubles players. Good shooters but also great sweepers, and it goes hand in hand. We're very good at throwing the rock, but you need help from sweepers to make it precise."
On the other side of the coin, though, is that both Einarson and Gushue are blessed with a skip's mentality — the ability to plan many shots, or even many ends, ahead and strategize accordingly.
That came in handy against Wasylkiw and Konings, who took an early 3-2 lead with a stolen deuce in the third end.
"When we gave up the steal of two, I just looked at Brad and I was like, 'Ah, shoot. Let's stay patient and wait for our opportunities,' " said Einarson. "And we did and came back with a three. It's definitely a game of patience and getting our rocks in some really good spots."
In other games Saturday afternoon, Laurie St-Georges and Félix Asselin (3-0; Montreal) remained unbeaten with an 8-5 win over Kim Tuck and Wayne Tuck (0-3; St. Thomas, Ont.); Melissa Adams and Alex Robichaud (1-2; Fredericton) turned back Angela Dale and Peter Van Strien (0-3; Iqaluit) 12-2; and Brittany Tran and Aaron Sluchinski (2-1; Calgary/Airdrie, Alta.) scored an eighth-end deuce for an 8-6 win over Clancy Grandy and Patrick Janssen (1-3; Oshawa, Ont.).
The 2021 Home Hardware Canadian Mixed Doubles Championship continues with draws at 7:30 p.m. and 10:30 p.m. (all times Eastern).
Live scoring, standings and statistics for the 2021 Home Hardware Canadian Mixed Doubles Championship are available at www.curling.ca/scoreboard/
TSN and RDS2 (streamed on ESPN3 in the United States) will provide complete coverage of the 2021 Home Hardware Canadian Mixed Doubles Championship. CLICK HERE for the complete schedule.
This story will be available in French as soon as possible at www.curling.ca/2021mixeddoubles/nouvelles