Two wins in the bank!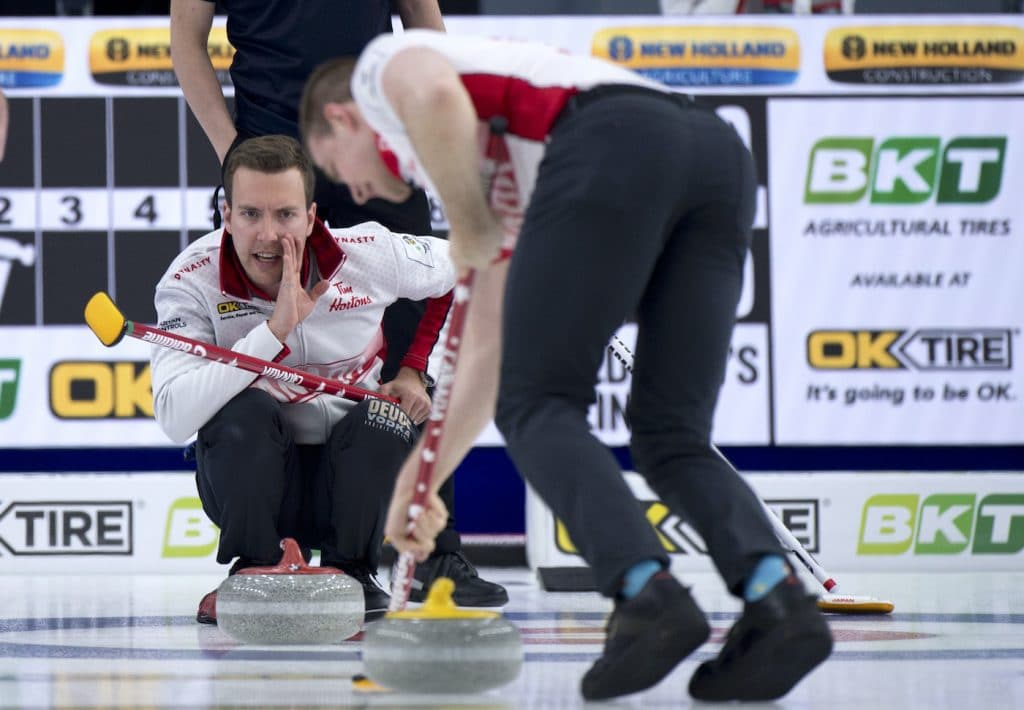 Team Canada caps perfect opening day in the bubble by beating Japan
Any opening-day jitters have been dealt with, and now Brendan Bottcher's Canadian team can focus on the rest of the week at the 2021 BKT Tires & OK Tire World Men's Curling Championship, presented by New Holland.
The Tim Hortons Brier champs from Edmonton — Bottcher is backed up by vice-skip Darren Moulding, second Brad Thiessen, lead Karrick Martin, alternate Marc Kennedy, team support Patrick Janssen, team coach Don Bartlett and national coach Jeff Stoughton — completed a perfect opening day Friday at WinSport Arena at Canada Olympic Park with an 8-5 win over Japan's Yuta Matsumura (1-1).
The nerves that naturally would have accompanied being Canada's representative at a world men's championship for the first time have been left in the rear-view mirror, said Thiessen.
"First game (a 9-6 win over Scotland's Bruce Mouat), definitely felt some jitters, for sure," admitted the strapping southpaw. "I wasn't sure what to expect, but that first game, the first couple ends, I definitely felt nervous. It's different representing Canada, but the second game in, it felt a lot better. Felt like we're ready to go, and definitely more used to it now, so that's good."
After a tight first five ends of action, Canada broke the game open in the sixth. In a 2-2 tie after the fifth-end break, the Canadians engineered a big four in the sixth with a series of draws into the four-foot, and when Matsumura's last-gasp freeze attempt into a pocket appeared to catch debris and wreck on a guard, Bottcher was left with a draw to the four-foot to put the big number on the scoreboard.
"I think patience is huge. This event is even longer than the Brier, so there are a lot of games," said Bottcher. "There's going to be some high moments, there's going to be some low moments, and I think what really separates the top teams that will be around on the weekend is that they find a way to win some of those games where they're not playing their absolute best. I think we did a really good job of that tonight; we battled. It wasn't easy. Even into the last end, we got tricked a couple times. But we're doing what we can; I thought it was a really good team game and luckily we were patient enough to hang on until we popped that four."
The teams traded deuces the next two ends, and Japan conceded after the ninth end when Matsumura came up light on his draw for two.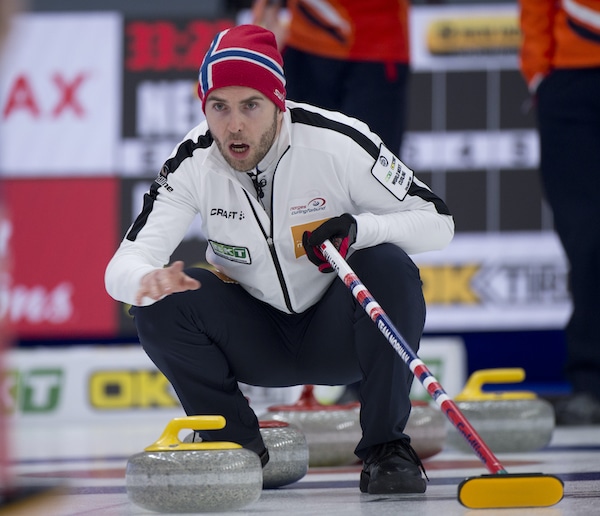 "Wins today are just as valuable as they are three, four, five, six days from now," said Bottcher of the perfect opening day. "So, definitely happy that we got a couple wins in the column today, and got feeling comfortable out there. I think that was key for us. But I think we have to build on today. I wouldn't say we brought our absolute best today, but we ground out a couple of tough wins and I'm proud of the guys for that."
In other action on Friday night in the bubble, the Scots bounced back from their loss to Canada with a 7-2 win over Denmark's Mads Nørgaard (0-2); Italy's Joel Retornaz (2-0) also capped an unblemished opening day, beating China's Qiang Zou (0-2) 7-4; and Norway's Steffen Walstad also was perfect on Friday with a 7-4 victory over Jaap van Dorp of the Netherlands (0-2).
RCF's Sergey Glukhov (2-0), Switzerland's Peter de Cruz (1-0), John Shuster of the U.S. (1-0), Germany's Sixten Totzek (0-1), Sweden's Niklas Edin (0-1) and South Korea's Yeong Seok Jeong (0-2) all had byes.
The 2021 BKT Tires & OK Tire World Men's Curling Championship continues on Saturday with draws at 11 a.m., 4 p.m. and 9 p.m. (all times Eastern).
Live scoring, standings and statistics for the 2021 BKT Tires & OK Tire World Men's Curling Championship are available at worldcurling.org/events/wmcc2021?pageType=results
TSN and RDS2 will provide complete coverage of all Team Canada games at the 22021 BKT Tires & OK Tire World Men's Curling Championship. CLICK HERE for the complete schedule.
This story will be available in French as soon as possible at www.curling.ca/2021worldmen/nouvelles/?lang=fr