Early playoff exit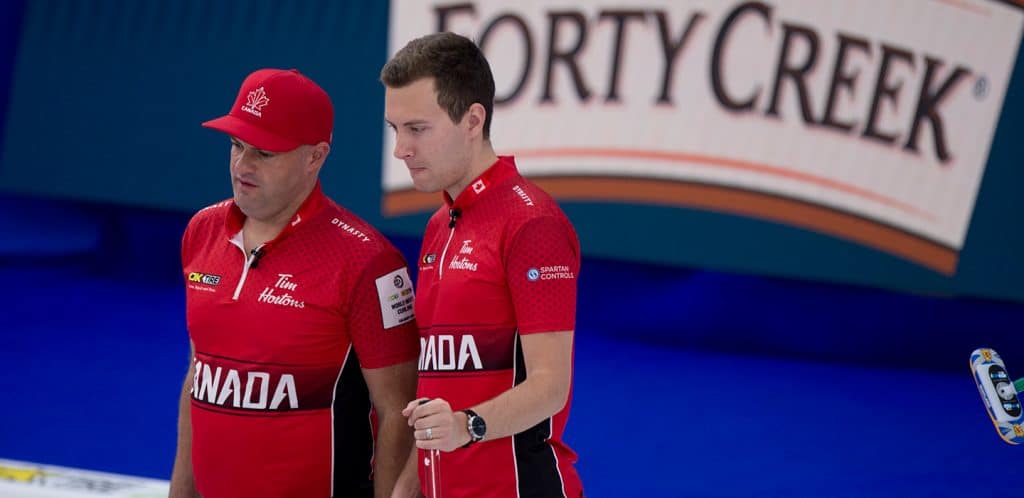 Scotland defeats Canada to move on in playoffs at world men's
Canada's run for a gold medal at the 2021 BKT Tires & OK Tire World Men's Curling Championship, presented by New Holland, has come to an end on Friday night.
Canada's Brendan Bottcher (Edmonton) bookended his debut appearance at the world men's championship with games against Scotland's Bruce Mouat. But unlike the first game of the event – a win for Canada during the round robin – this elimination game didn't end the way Canada hoped.
Scotland's Mouat defeated Bottcher 5-3 in the Qualification Game and has eliminated Canada from the playoffs.
"I'm really proud of the guys. There have been a lot of highs, a lot of lows. I think we battled as hard as we could; I really do feel that way. Even the game out there tonight, they outplayed us. I think plain and simple that's what happened, but I think we battled right until the end," Bottcher said.
Bottcher, vice-skip Darren Moulding, second Brad Thiessen, lead Karrick Martin, alternate Marc Kennedy, team support Patrick Janssen, coach Don Bartlett and national coach Jeff Stoughton trailed by two with the hammer in the 10th end, but couldn't manage a score for two. Scotland ran Canada out of rocks by making a double takeout and clinched the win.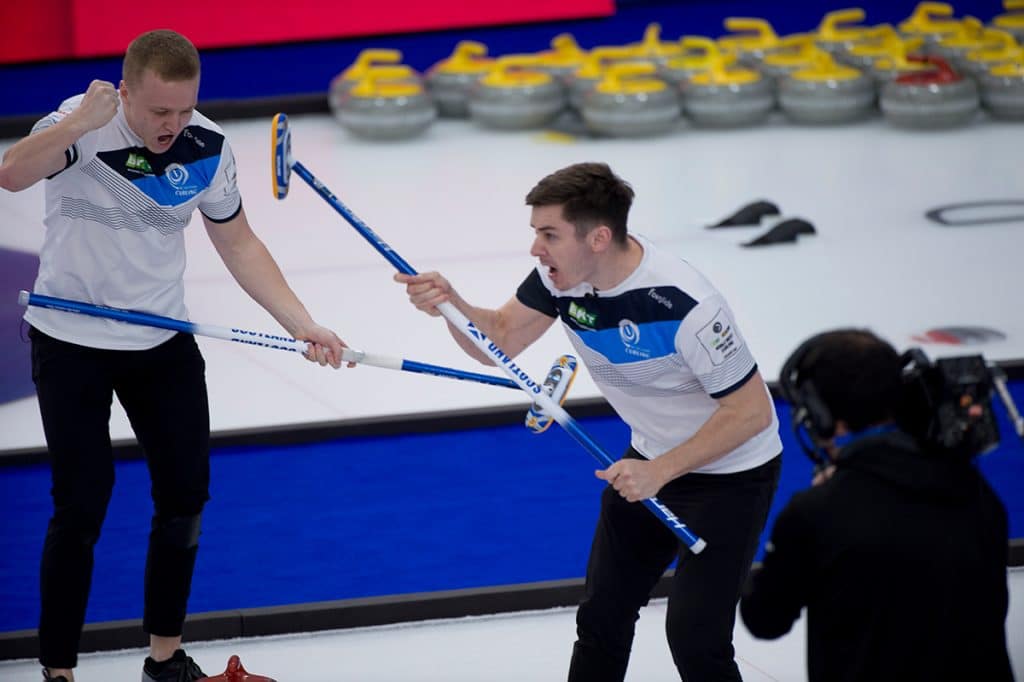 Mouat's team, to its credit, played light's out curling at WinSport Arena at Canada Olympic Park in Calgary. All four players threw over 90 per cent with Mouat at 96 per cent, vice-skip Grant Hardie at 91 per cent, second Bobby Lammie throwing 90 per cent and lead Hammy McMillan threw a near-perfect game at 98 per cent. The team is rounded out by alternate Ross Whyte, coach Alan Hannah and national coach David Murdoch.
The victory held extra significance for Team Mouat. It had been eliminated from the playoffs by a Canadian team at the past two world championships – by Kevin Koe in 2018 and Brad Gushue in 2018.
"It feels like we've kind of gotten over a hill, I suppose. If we play like that going forward we'll be a tough team to beat, I'm sure," Mouat said following the win.
Canada and Scotland tested the waters early, exchanging hits throughout the first couple ends, leading to blanked first and second ends. 
Neither team could seize any opportunity until the seventh end when Scotland took advantage of back-to-back misses from Moulding. Scotland potentially could have scored three, but a double takeout by Bottcher limited the damage to two points for Scotland and its first lead of the game at 3-2.
Scotland maintained control from that point on, forcing Canada into a hit for one in the eighth end and dealt a final blow in the ninth end. A complete team shot, a draw to the button, earned Scotland two points and the 5-3 lead heading into the 10th.
"Every loss in here was on last rock. It just goes to show that even when we don't have our best stuff like today…we still found a way to take a team throwing probably 95 per cent to last rock," Moulding said. "That's just how we are. We always find a way to make it interesting – sometimes in good ways and sometimes in bad – but I wouldn't trade my teammates for anybody. It was a dream come true to represent Canada and I hope I get another chance to do it again."
The early exit in the playoffs is a disappointment. However, Canada's performance at the event was good enough to earn the nation a spot in the men's event at the 2022 Olympic Winter Games in Beijing. Bottcher has seen firsthand the quality of curling across the world and knows Canada will be in for a tough test at the upcoming Games.
"Anyone that thinks that Canada is going to come into these kinds of events and just steamroll their way through to the podium really hasn't been watching that much curling in the last, you know, decade," Bottcher said. "Even the teams this week that finished in the bottom of the standings, they were just as likely to knock you off if you played your B-game and I think you're going to see that at worlds in the future, I think you're going to see it at the Olympics. Team Canada has to come ready to play their absolute best and if they don't, we're simply not going to win."
Live scoring, standings and statistics for the 2021 BKT Tires & OK Tire World Men's Curling Championship are available at worldcurling.org/events/wmcc2021?pageType=results
This story will be available in French as soon as possible at www.curling.ca/2021worldmen/nouvelles/?lang=fr