Riding off into the sunset!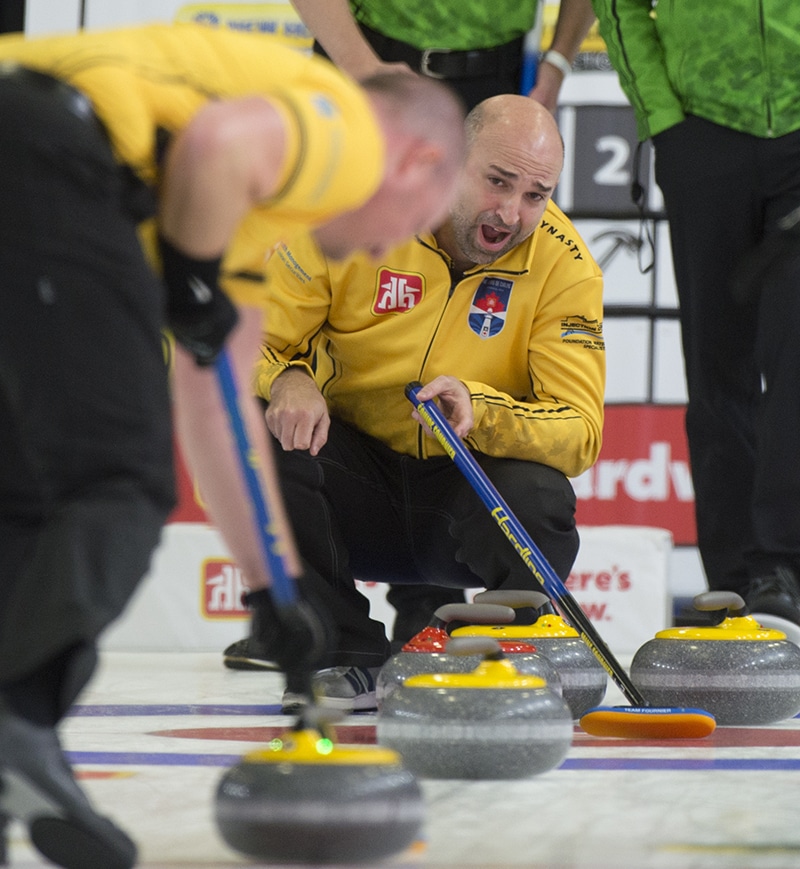 Team Fournier bounces back with a win at 2021 Home Hardware Curling Pre-Trials
There comes a time in every player's career where it becomes time to hang up the teflon shoes. Some players ride off into the sunset, and others come to terms begrudgingly. For Michael Fournier, the decision lies somewhere in the middle. Bittersweet.
He's coming off some of the most successful seasons he's ever played as a curler, representing Quebec at the Tim Hortons Brier in 2018 and 2021. The pride of wearing the fleur des lis on his back will always remain imprinted in his mind and greatly cherished. But a combination of age and a new job in Toronto made the decision a little easier.
"I'm pushing 50 now, and I think it was time. I look around, and there's me and Glenn [Howard] and Paul Flemming," Fournier said of the veterans on the ice at Queens Emera Place in Liverpool, N.S., on Tuesday evening. "It's not the game it was, and just the energy and commitment it takes to practice and stay at that level that I need to be at is just something I couldn't commit to anymore. Absolutely, I'm going to miss it and absolutely, I'm going to be nostalgic this week. This is a great way to end a run this week for sure. It's something that I've never played in, so for us, I'm happy to be here and see what we can do."
The event in question? The 2021 Home Hardware Curling Pre-Trials, presented by New Holland. It's the event that will determine the final two men's and women's teams that will qualify for the 2021 Tim Hortons Canadian Curling Trials, presented by AGI. Fournier would love for himself, fourth Félix Asselin, third Martin Crête, lead Jean-François Trépanier and coach Benoit Forget to be among the final nine men's teams with a shot at representing Canada at the Olympic Winter Games in Beijing.
Team Fournier took another step towards that goal with a vital bounce-back win following a loss earlier in the day. Team Fournier (1-1; Dollard-des-Ormeaux, Que.) doubled Team Jeremy Harty (0-2; Calgary) 10-5 during draw five of the event.
A pair of three-enders set the tone, specifically the one nailed by Asselin in the fourth end of the game; a long and delicate angle raise tap with the raised rock settling nicely into the four-foot. Team Fournier took advantage of a missed draw by Harty fourth Kyler Kleibrink in the sixth end for another three-ender, and the rest was history.
Asselin, 26, is cutting his teeth, and learning what it takes to win big games in big moments on big stages. He played second for Fournier at the 2018 and 2021 Tim Hortons Briers, repped Quebec at four New Holland Canadian Juniors and led his province to a bronze medal at the 2019 Canadian Mixed Curling Championship. It was time for him to step up and be the fourth thrower for a competitive men's team, and the team's decision to have Asselin throw last rocks was made before Fournier decided to step back from the game.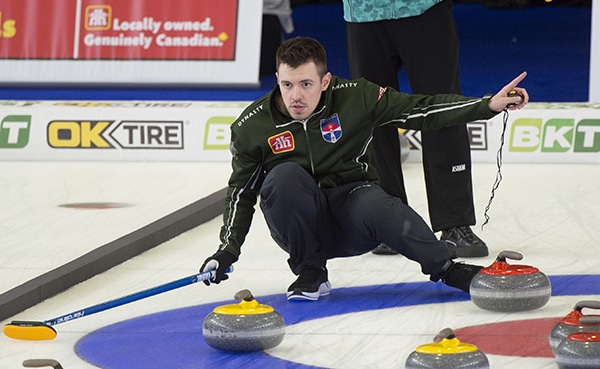 "He is light's out good when he's on. He's technically the best curler I've ever played with," Fournier said.
But he couldn't resist a slight dig towards his teammate/mentee.
"And to be honest, not the best sweeper I've ever played with," Fournier joked. "It was kind of a double win because he's not sweeping my out-turn anymore, and we have him throwing the big rocks. I think he's got to find his groove and when he does, look out. That guy can win games by himself."
Fournier doesn't plan to step back from the game completely. He played in a seniors event last week and is undefeated in his career so far with a perfect 4-0 record. But for the time being, the focus remains on qualifying for the Tim Hortons Canadian Curling Trials and a trip to Beijing before he'll take a step back.
"We're going for the 2005-06 Brad Gushue-Russ Howard vibe," Fournier said. "It's worked once before, so we're going to give that a try."
In other men's action during the draw, Team Glenn Howard (1-1; Penetanguishene, Ont.) edged Paul Flemming (1-1; Halifax) 7-6; Tyler Tardi (2-0; Langley, B.C.) trounced Sean Grassie (0-1; Winnipeg) in eight ends by a score of 9-2; Jason Gunnlaugson (2-0; Morris, Man.) remained flawless after battling Team Vincent Roberge (0-1; Saint-Romuald, Que.) into defeat with a 9-8 extra-end win; and Team Tanner Horgan (2-0; Kingston, Ont.) is off to a great start following its 7-6 win against Team Pat Simmons (0-2; Winnipeg Beach, Man.).
The 2021 Home Hardware Pre-Trials will continue Tuesday with draws at 4 p.m. and 8 p.m. (all times Atlantic).
Live scoring, standings and statistics for the 2021 Home Hardware Pre-Trials are available at www.curling.ca/scoreboard/
Round-robin games are being streamed on Curling Canada's YouTube channel, while TSN/RDS2 will cover the closing weekend. CLICK HERE for the broadcast schedule.
This story will be available in French as soon as possible at www.curling.ca/2021pretrials/nouvelles/?lang=fr