Team Birt bounces back!
Team Birt hits win column at 2021 Home Hardware Curling Pre-Trials
A veteran of 12 Scotties Tournament of Hearts, and a former world junior champion to boot, there's not much that can faze Suzanne Birt any more.
But as battle-tested as the veteran skip from Charlottetown is, even she'll admit that this week at the 2021 Home Hardware Canadian Curling Pre-Trials, presented by New Holland, is a definite change of pace.
"I guess it's a little bit different," admitted Birt after her team, representing the Montague and Cornwall Curling Clubs in P.E.I., improved to 1-1 at Queens Place Emera Centre in Liverpool, N.S., with a 7-5 win over Team Sherry Anderson (1-1; Martensville, Sask. "It's my first time here at a Pre-Trials, but it's been a good experience. I've taken a few years off (from competitive curling) here and there, and just didn't qualify (for past Pre-Trials). The stakes are high and you know you want to be the last two teams at the end. So far, so good."
Birt, curling with vice-skip Marie Christianson, second Meaghan Hughes, lead Michelle McQuaid and coach Kathy O'Rourke, essentially stole her way to victory against Team Anderson; a second-end steal of two, combined with a stolen single in the seventh end, provided the margin of victory and a little insurance.
Anderson, who finished second to Team Kelley Law at the 2001 Tim Hortons Curling Trials in Regina, still had a chance to tie it at the end, but her difficult-looking last-rock outturn tap didn't curl enough, and instead of a tying, she settled for a single to prompt fist-bumps.
Even though Anderson's shot looked next to impossible, Birt was taking nothing for granted against one of Canada's most gifted shotmakers.
"You have to expect that every team is going to make every shot," said Birt. "It's a hard game out there sometimes, so you have to be right in it, right to the end. Absolutely it was important (to win). You can't afford too many losses, and that was a big win for us."
That's the mindset that teams need if they have legitimate aspirations of representing Canada at the 2022 Winter Olympics in Beijing in less than four months' time. Not that Team Birt is even entertaining thoughts of wearing Team Canada gear in China; it's too early for that, she said.
"Oh, absolutely not," she protested. "We had a good warmup for this; we were at the Direct-Entry event in Ottawa, and we've had those big games under pressure from the best teams in the world. So we're prepared for this week and enjoying the process."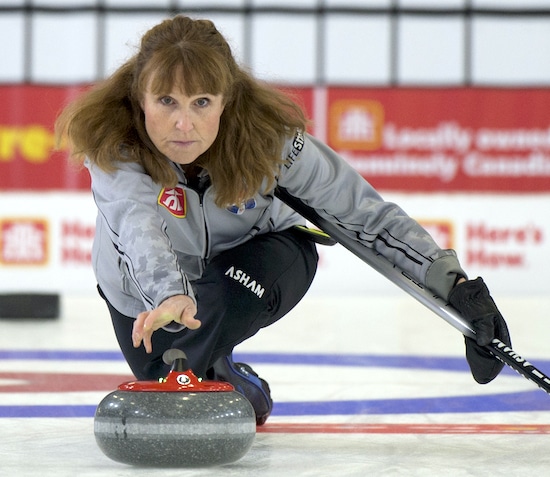 Not just the process; with fans in attendance at Queens Place Emera Centre, there's a sense of that long-awaited normalcy that the curling community has craved for a year and a half.
"It is nice," said Birt. "We really appreciate the fans so much, and when they're not there, you kind of realize how lonely it can be (on the ice). Just seeing some people that we know in the stands, it means a lot to us."
In other Tuesday afternoon women's games (the men had the afternoon off), Team Hollie Duncan (1-1; Woodstock, Ont.) scored five in the first end and hung on for a 9-7 win over Team Danielle Inglis (1-1; Mississauga, Ont.); Team Krista McCarville (2-0; Thunder Bay, Ont.) rallied from a 5-2 deficit with steals of one in the seventh and two in the eighth en route to an 8-7 victory over Team Jacqueline Harrison (1-1; Dundas, Ont.); Team Penny Barker (1-1; Moose Jaw, Sask.) cruised to a 10-4 win over Team Beth Peterson (0-2; Winnipeg); and Team Darcy Robertson (1-1; Winnipeg) scored three in the 10th end to shade Team Jill Brothers (0-1; Halifax) 8-7.
In the lone morning women's game, Team Corryn Brown (2-0; Kamloops, B.C.) turned back Team Kerry Galusha (0-1; Yellowknife) 9-6.
In men's action Tuesday morning, Team Karsten Sturmay (1-0; Edmonton) stole single points in the eighth, ninth and 10th ends for an 8-6 win over Team Mike Roberge (0-1; Etchemin, Que.); Team Colton Flasch (1-0; Saskatoon) shaded Team Glenn Howard (0-1; Penetanguishene, Ont.) 7-6; Team Paul Flemming (1-0; Halifax) was an 11-6 winner over Team Pat Ferris (0-1; Grimsby, Ont.); and Team Tyler Tardi (1-0; Langley, B.C.) knocked off Team Braden Calvert (0-1; Winnipeg) 8-6.
The 2021 Home Hardware Pre-Trials will continue Tuesday with draws at 4 p.m. and 8 p.m. (all times Atlantic).
Live scoring, standings and statistics for the 2021 Home Hardware Pre-Trials are available at www.curling.ca/scoreboard/
Round-robin games are being streamed on Curling Canada's YouTube channel, while TSN/RDS2 will cover the closing weekend. CLICK HERE for the broadcast schedule.
This story will be available in French as soon as possible at www.curling.ca/2021pretrials/nouvelles/?lang=fr