Next stop: Beijing!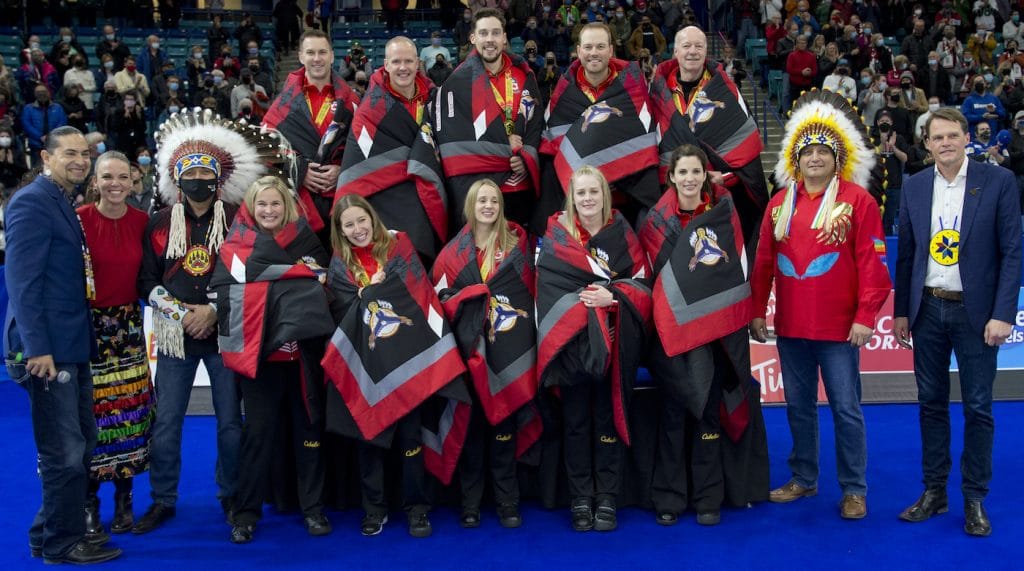 Team Gushue puts on clinic to win Tim Hortons Trials men's title
What's the secret to winning the 2021 Tim Hortons Curling Trials, presented by AGI, and getting to the Winter Olympic Games?
Shooting the lights out for a week is a good plan, but also while wearing a bullet-proof vest.
Team Brad Gushue is going back to the Winter Olympics as Canada's men's four-player team after holding off the rat-tat-tat shooting machine of Team Brad Jacobs of Sault Ste. Marie, Ont., 4-3 Sunday in the final at SaskTel Centre in Saskatoon.
If it was precision curling you wanted to see, you came to the right place. Team Gushue put on a clinic of rock placement, the soft tapback and the come-around game, and it was good enough against some heavy artillery to win the biggest prize in Canadian curling.
"Boy oh boy did we play good," said Gushue, who will be taking his team from the RE/MAX Centre, St. John's Curling Club to Beijing, China, in a bid to put Canada back on the podium in men's curling at the Olympics. "I thought we managed the game."
He's already shown once he can get the job done at the Olympics. The 41-year-old business owner skipped his Canadian team, which included Nichols, Russ Howard and Jamie Korab, to Olympic gold in 2006 in Turin, Italy.
Now he gets another chance with a different front end — his Tim Hortons Trials-winning team was rounded out by vice-skip Mark Nichols, second Brett Gallant, lead Geoff Walker, alternate Jeff Thomas and coach Jules Owchar.
"The special part is Brett and Geoff now get that opportunity," said Gushue. "They've been two of the best players in the world and have stories from myself and Mark for years and now they'll get to develop their own memories."
The final was just what was advertised. A battle between two superb teams with contrasting styles, both in their prime, both with 7-1 records in the round robin, and both yearning for a trip to the biggest stage in sports and another shot at glory.
Team Jacobs came into the final as the week's top shooting machine, and fans — and opponents — could only drop their jaws in admiration. It was actually scary to watch as Team Jacobs dismantled Calgary's Team Kevin Koe 8-3 in Saturday's semifinal, a game in which the winners shot an astonishing 94 per cent and made some 'highlight of the week' shots.
But Team Gushue, which enjoyed the bye, set the tone in the final, turning it into a strategic, cat-and-mouse game that it plays so well, and giving Team Jacobs only a few bare peeks at setting up an end.
The game turned in the ninth end when Team Jacobs missed a line call, setting up the only deuce of the game for Team Gushue. It was the difference in the game.
"I kept saying, patience, patience don't be pushing it too much," said Gushue. "We had a one-point lead, I felt he had to come to us. He was pretty patient, too. They were the one team that really scares us. We knew one shot was going to make the difference out there today. We had a couple of half shots but we didn't have any zeros and that's the key against those guys."
Points, as it turned out, were as rare as clean forks in a cheap diner. It was a record-scoring low for points in the history of a Tim Hortons Trials final.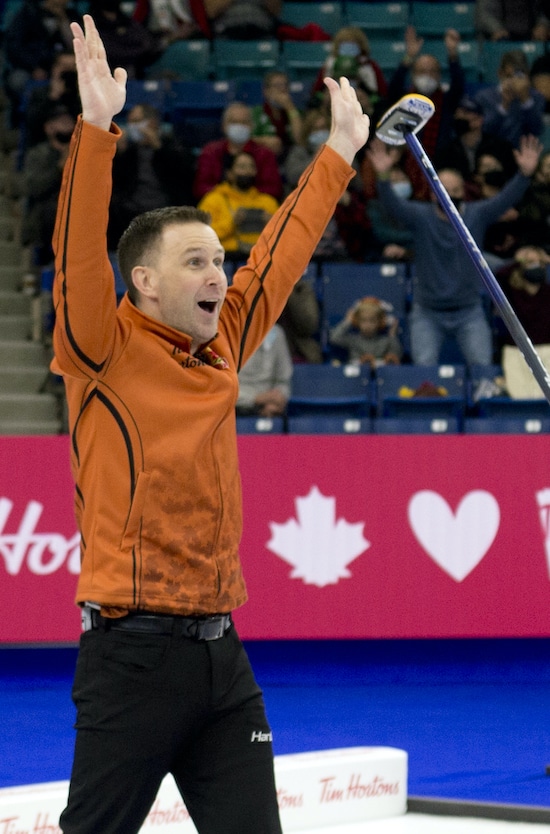 The Tim Hortons Trials win was a thrilling present for Walker who was celebrating his 37th birthday Sunday.
"I didn't get him a present," said Gushue, the 2017 world champion and three-time Tim Hortons Brier winner (2017, 2018 and 2020). "I told him this was the best present I could give him. And the best present he could give me for his birthday.
"He played incredible this week. He set us up so well."
It was a crushing loss for Jacobs and his outstanding team from the Soo Curling Association — third Marc Kennedy, second E.J. Harnden, lead Ryan Harnden and coach Caleb Flaxey. They were all looking for a return to the Olympics and another shot at gold. Jacobs and the Harnden brothers were together when they won in gold in 2014 in Sochi, Russia. Kennedy, who joined the team last season, won gold in 2010 playing second for Edmonton's Kevin Martin.
"We didn't have our best tonight, definitely could have played a bit better as a team," he said. "It was hard to get anything going, even energy wise. Not our best and as a result not the outcome we wanted. Like I said yesterday, we needed to be near perfect today to win this game and we weren't.
"But the Gushue team is one heck of a team and Canada has a great representative. Hats off to them they played great today and well deserved."
This story will be available in French as soon as possible at www.curling.ca/2021trials/nouvelles/?lang=fr