Playoff quest realized!
Galusha wins tiebreaker to qualify Team Northwest Territories for Scotties playoffs 
It was a long, exhausting week of play, but skip Kerry Galusha finally reached the Promised Land Friday at the Scotties Tournament of Hearts.
Galusha not only qualified for the six-team playoffs but also became the first skip to guide a northern team solely from the Northwest Territories to the Scotties playoffs. It's been her passion for several years and her quest took on new importance lately as retirement from the game drew near.
"This is pretty exciting for the north," said Galusha, who defeated Team Manitoba, skipped by 22-year-old Mackenzie Zacharias, 8-6 in a Friday morning tiebreaker. "We're really proud to represent the Northwest Territories. We've gotten so much support from home."
The game was required when the two teams remained deadlocked for the third and final playoff spot in Pool B round-robin play with 5-3 records. In the end, Galusha – who skips and throws lead stones – fourth Jo-Anne Rizzo, third Sarah Koltun, second Margot Flemming, alternate Megan Koehler and coach Shona Barbour prevailed.
"I wasn't sure how we would come out today," said Galusha, "but we came out strong. We're feeling it, we're loving the ice and Jo-Ann is making everything. It's kind of unbelievable, we didn't get a lot of sleep last night."
The Polars were off and running in the second end, grabbing a 3-0 lead. The dagger was thrust when Rizzo made a spectacular around-the-horn shot in the eighth end, ricocheting her stone up and back into the button area to score three and an 8-3 lead.
The loss meant the end of the line for Team Manitoba, the youngest team in the field and destined to make some noise in future Scotties.
"There's a lot going through our heads right now," said Zacharias. "Unfortunately it wasn't our game. It was a bit of a struggle all week for us. We wanted to go a little farther but we're pretty proud of ourselves."
The win advances Team Northwest Territories into this afternoon's opening round of the six-team playoffs and a date with skip Andrea Crawford's Team New Brunswick (Fredericton). Hometown favourite Team Northern Ontario (Thunder Bay), skipped by Krista McCarville, faces off against skip Christina Black's Team Nova Scotia (Dartmouth) in the other first-round game.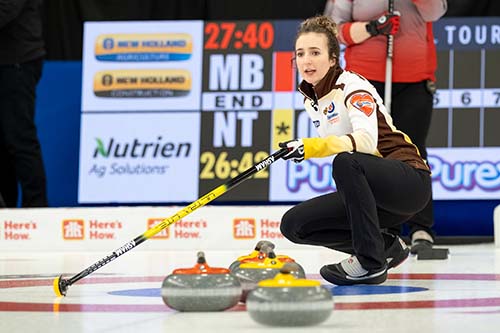 The winners advance to the next round to face a pool winner while the losers go home. Two pools of nine teams started round-robin play last Friday, with the number one teams in each pool — defending two-time champions Team Canada (8-0, Gimli) skipped by Kerri Einarson, and skip Tracy Fleury's Team Wild Card 1 (7-1, East St. Paul, Man.) — earning byes in the first round.
The Scotties champion will represent Canada at the 2022 BKT Tires & OK Tire World Women's Curling Championship in Prince George, B.C., from March 19-27.
Live scoring, standings and statistics for the 2021 Scotties Tournament of Hearts are available at www.curling.ca/scoreboard/
TSN and RDS2 (streamed on ESPN3 in the United States) will provide complete coverage of the 2021 Scotties Tournament of Hearts. CLICK HERE for the complete schedule.
This story will be available in French as soon as possible at https://www.curling.ca/2022scotties/nouvelles/?lang=fr