Underway in Stratford!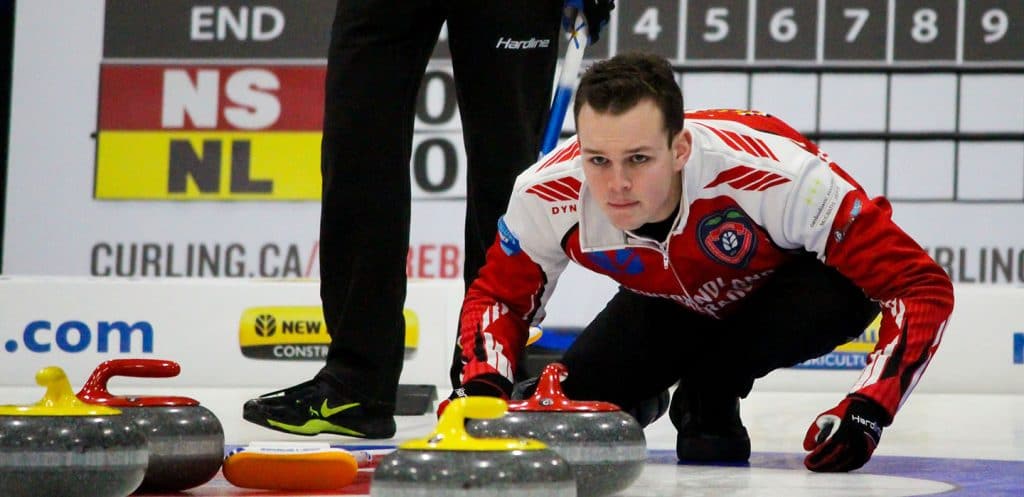 2022 New Holland Canadian U21 Curling Championships kick off from Stratford, Ont.
It took two long years to resume after the COVID-19 pandemic wreaked havoc on events worldwide, but the granite was roaring once more at the 2022 New Holland Canadian Under-21 Curling Championships from the Stratford Rotary Complex in Stratford, Ont., on Saturday.

It will be the largest field of men's and women's teams to ever play at the New Holland Canadian Juniors, with 18 teams in both junior men's and junior women's competition.
And on the line at the end of the week are the men's and women's spots as Team Canada at the 2023 World Junior Curling Championships to be held next season (date and location TBC).
Draw 1 saw the men's teams take to the ice first where Newfoundland and Labrador's Nathan Young (1-0; St. John's) showed no rust in a 5-3 win over Nova Scotia's Owen Mosher (0-1; Halifax).
Young, who is fresh off representing Newfoundland and Labrador at the 2022 Tim Hortons Brier just two short weeks ago, has been keen to get started.
"We've been waiting a long time to play our first game at this event, so it's great to have it under our belt," said Young. "Nova Scotia put a lot of pressure on us, especially in the later ends, so I'm glad we were able to stick together and pull it out."

With a March schedule inundated with high profile curling events, balance remained at the forefront for Young and his team.

"We got home and it was right back at it with school work. We had to get ahead for this event. At the beginning of the season, this event was our main focus so we're really excited to be here. The crowds here are loud and we got to experience that at the Brier as well, so it's been great."

In additional Draw 1 action, Saskatchewan #1's Daymond Bernath (1-0; Saskatoon) defeated British Columbia #2's Adam Fenton (0-1; New Westminster) 8-6 while Manitoba #2's Aaron Van Ryssel (1-0; Dugald) cruised to a 10-1 victory over New Brunswick's Rajan Dalrymple (0-1; Oromocto) and Alberta #1's Johnson Tao (1-0; Edmonton) won a close contest over Prince Edward Island's Mitchell Schut (0-1; Cornwall) by a score of 5-4.

British Columbia #1's Connor Dean (1-0; New Westminster) opened their campaign with a 6-3 win over Saskatchewan #2's Nathen Pomedli (0-1; Saskatoon). Manitoba #1's Jordon McDonald (1-0; Winnipeg) won decisively over the Northwest Territories' Mason MacNeil (0-1; Inuvik) by a 15-3 score while Northern Ontario's Dallas Burgess (1-0; Kakabeka Falls) followed suit with a big 13-2 win over Newfoundland and Labrador #2's Sean O'Leary (0-1; St. John's) and Alberta #2's Justin Runciman (1-0; Edmonton) downed Québec's Audibert Dimitri (0-1; Riverbend/Trois-Rivière) by an 11-5 score.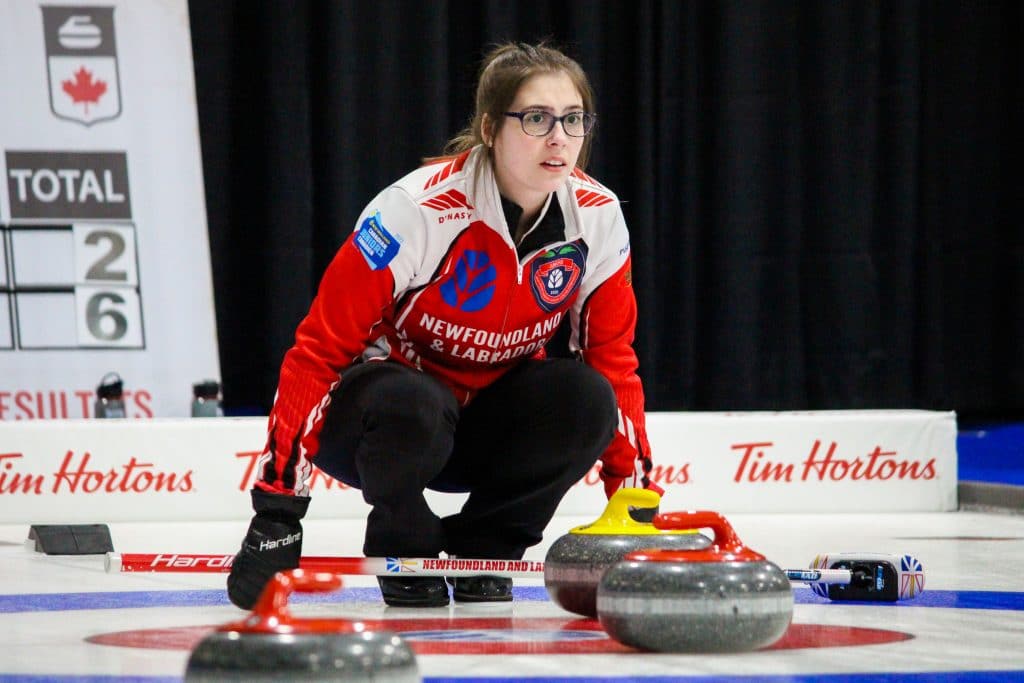 Experience paying off
On the women's side, Newfoundland and Labrador is equally well represented in the likes of Mackenzie Mitchell's rink (1-0; St. John's), who collectively bring valuable national level experience to this event.
"We know what to expect," said Mitchell of her team's national level experience. "We've played in front of crowds before and most of the teams here are newer teams. We're the vets this year."
Mitchell's rink of vice-skip Katie Follet and second Sarah Chaytor also represented the rock at the 2020 iteration of the New Holland U21 women's championship in Langley, B.C., where they went 4-6. Lead Kate Pearson is the only member who wasn't at the 2020 event, being a new addition to the rink.
Mitchell isn't concerned and remains confident in her lead, as Pearson herself wore a Newfoundland and Labrador crest at the recently past 2021 New Holland World Junior Qualifier event.

"We've prepared her and we support her. She knows what to expect too. She's played mixed doubles on arena ice before so it's just about getting out there and being a team."

The preparation paid off Saturday afternoon for the Mitchell rink as they opened their 2022 New Holland U21 Championship campaign with a decisive 9-3 victory over New Brunswick's Celia Evans (0-1; Oromocto).
"We were playing it open for the first little while just to make sure we didn't get caught and give up a big end," said Mitchell. "We definitely have the ice down now and we don't mind getting some rocks in play."
In other Draw 2 women's action, Alberta #1's Serena Gray-Withers (1-0; Edmonton defeated Québec #2's Jolianne Fortin (0-1; Kénogami) 13-3 while Nova Scotia #2's Sophie Blades (1-0; Chester) drew first blood with a win over the Northwest Territories' Cassie Rogers (0-1; Yellowknife) and Northern Ontario's Katy Lukowich (1-0; Sudbury) downed Manitoba #1's Tansy Tober (0-1; Winnipeg) 8-4.

On the other ice pad of the dual arena setup, Alberta #2's Claire Booth (1-0; Calgary) claimed a 7-3 victory over Québec #1's Lauren Cheal (0-1; Lennoxville/Rivière-du-Loup) and Nova Scotia #1's Taylour Stevens (1-0; Halifax) cruised to a decisive 11-3 win over the Yukon's Bayly Scoffin (0-1; Whitehorse). Saskatchewan 's Madison Kleiter (1-0; Saskatoon) prevailed in an all prairie matchup, defeating Manitoba #2's Morgan Maguet (0-1; East St. Paul) and Ontario #1's Emily Deschenes (1-0; Ottawa) defeated British Columbia's Holly Hafeli (0-1; Kamloops) 11-8.

The 2022 New Holland Canadian U21 Curling Championships continue this afternoon with draws at 4 p.m. and 8 p.m. (all times Eastern) and will be live streamed on Curling Canada's Youtube page, available here.

For teams, live scoring, results and event information from the 2022 New Holland Canadian U21 Curling Championships, click here.
This story will be available in french as soon as possible at https://www.curling.ca/2022under21/nouvelles/?lang=fr