Streak comes to an end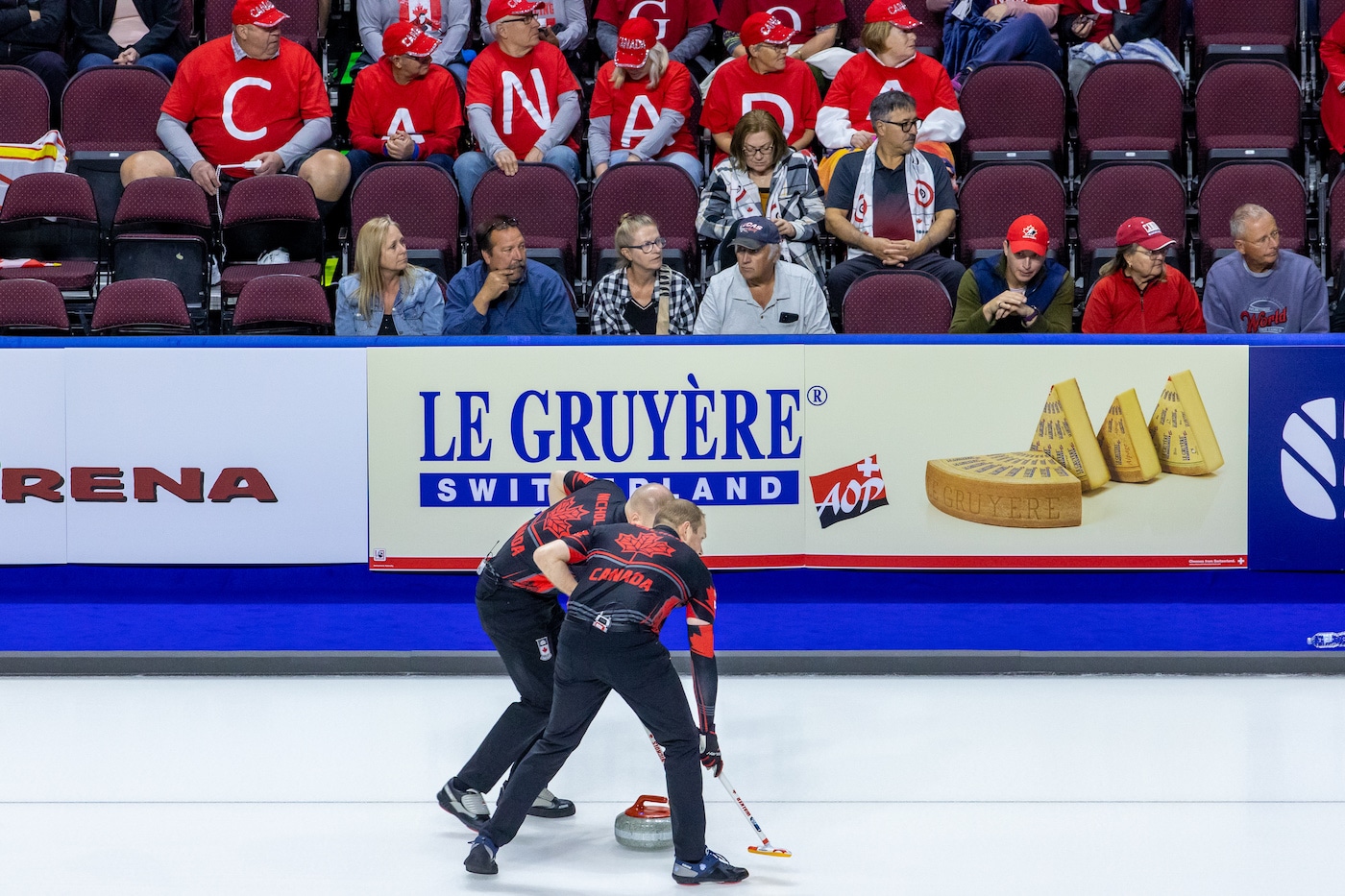 Sweden hands Team Canada first loss at LGT World Men's Championship
Team Canada's bid for a perfect round-robin record at the 2022 LGT World Men's Curling Championship, presented by New Holland, came to an end Wednesday morning at Orleans Arena in Las Vegas.
Playing against the three-time defending world champions from Sweden, Team Niklas Edin, Brad Gushue's Canadian crew 10 ends.
The game came down to Edin's last stone of the 10th end as he made an open hit on a partially frozen Canadian shot stone to score two.
Despite the loss, Gushue, vice-skip Mark Nichols, second Brett Gallant, lead Geoff Walker, alternate E.J. Harnden, team coach Jules Owchar and national coach Jeff Stoughton still have the best record in the 13-team round-robin field at 6-1; Sweden is next best at 6-2.
"We've done ourselves a good service by going 6-and-0 and giving ourselves a two-game cushion," said Gushue, whose team returns to the ice later Wednesday against Finland's Team Kalle Kiiskinen (3-4). "If we win out, we still get first place, which is kind of the goal at this point."
Despite Canada making two shots that covered the pin in the pre-game draw for first-end hammer, Sweden did it even better to leave Canada shooting first for the sixth time in seven games.
But after a first-end blank, Canada was able to open the scoring with a second-end steal, and followed up by forcing the Swedes to one in the third.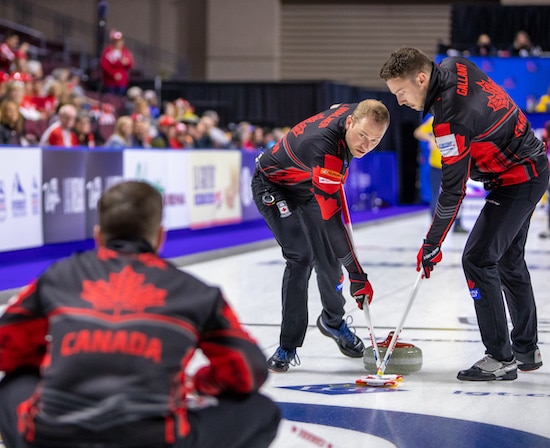 The teams would trade singles in the fourth and fifth, and Canada had a big end brewing in the sixth. Gushue had a runback double takeout to score a possible three, but was just wide to leave Sweden with a go-ahead steal of one.
In the wildly entertaining seventh end, though, Canada would put the game's first deuce on the board. Gushue made a slash double takeout on his first, then coolly drew to the four-foot to score two.
In the eighth, though, Sweden responded with a deuce of its own, and it could have been more were it not for a raise double takeout from Gushue on his final throw.
Gushue had draw for two in the ninth, only to come up a couple of centimetres shy and settle for a game-tying single and give last rock in the 10th to Edin, vice-skip Oskar Eriksson, second Rasmus Wranaa, lead Christoffer Sundgren, alternate Daniel Magnusson and coach Fredrik Lindberg.
"I thought that was one of our better games that we've played," said Gushue. "I had two misses there — tough draw in nine where we played down a new path and it was just a little slower than we all anticipated. And the big miss was in six — I need to make contact with that back one and get two or three. That certainly switched the momentum of the game.
"There were a couple ends where we were in a bit of heat there, so we're not firing on all cylinders yet. But certainly I thought that was our best 10 ends of curling. We still have a ways to go; we're not quite where we want to be."
After taking on Finland Wednesday night, Canada closes out round-robin play with two-game days on Thursday and Friday.
"I like the way we're trending in terms of rock placement and communication," said Nichols. "Let's hope we keep getting better."
In other Wednesday morning games, Switzerland's Team Yannick Schwaller (5-2) cruised to a 7-0 win over Denmark's Team Tobias Thune (1-6); South Korea's Team Soo-Hyuk Kim (4-3) stayed in the playoff race by doubling Italy's Team Joel Retornaz (3-4) 10-5; and Team Korey Dropkin (4-3) of the U.S. was an 8-3 winner over Team Wouter Goesgens (1-6) of the Netherlands.
Finland, Scotland's Team Kyle Waddell (5-2), Team Sixten Totzek of Germany (3-4), Norway's Team Magnus Ramsfjell (3-4) and Team Lukas Klima of the Czech Republic (2-5) all had byes on Wednesday morning.
The top six teams qualify for the playoff round with the top two receiving a bye while the remaining four play in the first round. The gold-medal game will be played Sunday.
For Team Canada updates, go to www.curling.ca. Follow us on Twitter, Instagram and Facebook.
TSN/RDS2, the official broadcast partners of Curling Canada's Season of Champions, will provide live coverage of Canada's round-robin games, in addition to all playoff games. CLICK HERE for their complete broadcast schedule.
The list of teams, schedule information and live scoring can be found on the event website, worldcurling.org/events/wmcc2022/