Headed to the playoffs!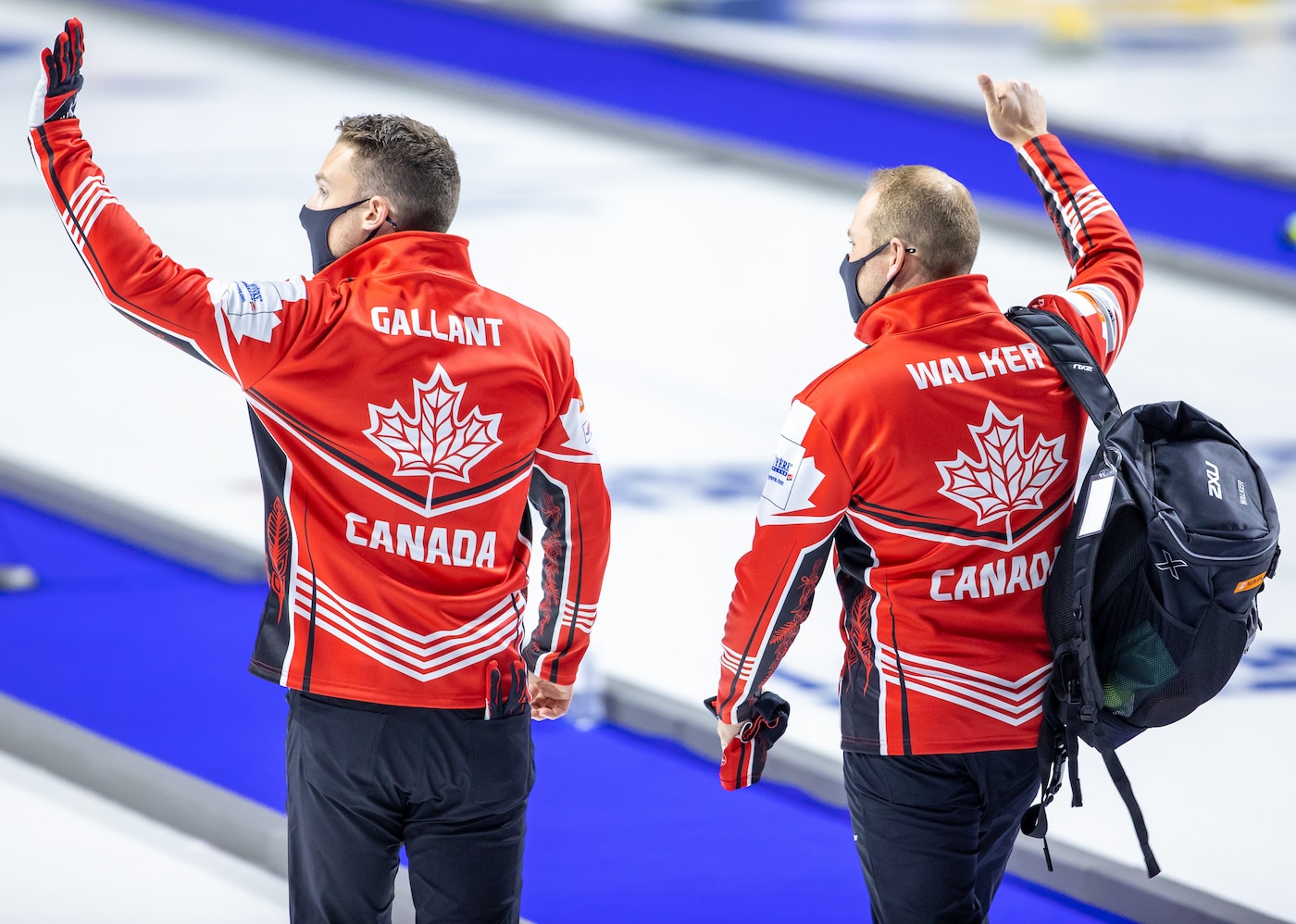 Team Canada locks up LGT World Men's Championship playoff berth
Box 1 on the Team Canada to-do list has been checked off — clinch a playoff berth.
Brad Gushue's Canadian team from St. John's, N.L., did that on Thursday night at Orleans Arena in Las Vegas, rolling up a 10-2 win over South Korea's Team Chang-min Kim (5-5) to improve to 8-2 and maintain sole possession of first place at the 2022 LGT World Men's Curling Championship, presented by New Holland, at Orleans Arena in Las Vegas.
Friday, Gushue, vice-skip Mark Nichols, second Brett Gallant, lead Geoff Walker, alternate E.J. Harnden, team coach Jules Owchar and national coach Jeff Stoughton will have two chances to check off Box 2 — clinch a top-two finish in the 13-team round-robin and a bye into Saturday night's semifinals.
The third and final box? Well, we're sure you can figure that out, and it's what all 13 teams are pursuing this week in Las Vegas.
Based on Thursday night's emphatic Team Canada bounceback after a dispiriting loss earlier Thursday to Team Korey Dropkin of the U.S., Gushue and Co. are in good shape heading into their final day of round-robin play.
"There wasn't actually that much of a discussion (after the loss to the U.S.)," said Walker. "I think we all knew what we needed to do. We struggled this morning, we didn't make the adjustments we needed to. We came out tonight and we were really inspired to try to get hammer (in the first end) because that's been elusive. We did it and we obviously got off to a good start."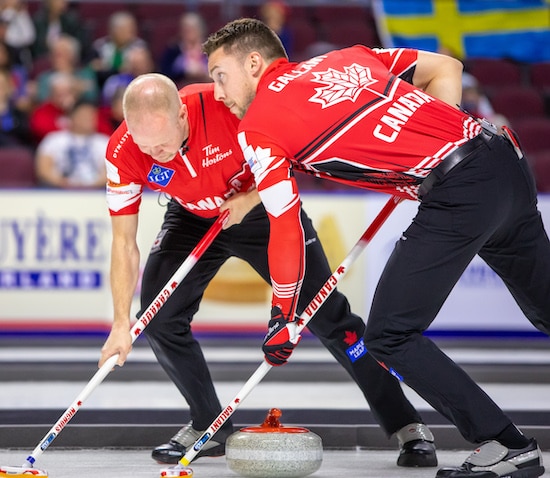 They did indeed. Canada had enjoyed last-rock advantage in the first end just once in its nine previous games, despite having the fourth-best cumulative pre-game draw total in the 13-team field.
Thursday night, though, Canada covered the pin twice to earn the hammer, and put it to good use with a first-end three on a short raise double-takeout by Gushue.
"I think it was even more important for us to get draw to the button (for first-end hammer)," said Gushue. "We were 1-and-8 coming into this game, and we had a really bad run at the Olympics as well. At the Brier, we were dominant with it. So we didn't know what the difference was. But we came out tonight, put two on the pin, got the hammer and got the three. So I think it even started in the pre-game, where we kind of turned over a new leaf from what we did this morning."
Canada would steal three more in the second end when South Korea's last-rock thrower Soo-Hyuk Kim wrecked on a guard.
Another stolen three in the fifth end was more than enough, and South Korea conceded after six ends.
Canada will play twice on Friday — against Scotland's Team Kyle Waddell (6-4) at 9 a.m. (all times Pacific) and against Denmark's Team Tobias Thune (2-8) at 7 p.m.
A win in either one of them would clinch a minimum second-place finish and a bye to the semifinals; win them both and Canada locks up first place and last-rock advantage in the first end through the playoffs
"That's great, if it's just one," said Gushue. "Obviously, we'd love to get two. We want to make sure we're continuing to build some momentum. I think tonight was a really good start; it was probably our best game of the week, and probably the most comfortable we've felt. Just build on that."
In other action Thursday night, Sweden's Team Niklas Edin (8-3) scored two in the 10th end for a 5-3 win over Dropkin's U.S. team (6-4) to clinch a playoff spot; the Danes cruised to a 7-2 victory over Team Wouter Goesgens of the Netherlands (2-8); and Italy's Team Joel Retornaz (6-4) needed an extra end to defeat the Czech Republic's Team Lukas Klima (4-7) 6-5.
Scotland, Switzerland's Team Yannick Schwaller (6-4), Germany's Team Sixten Totzek (5-5), Norway's Team Magnus Rasmfjell (5-5) and Team Kalle Kiiskinen of Finland (3-7) all had byes on Thursday night.
The top six teams qualify for the playoff round with the top two receiving a bye while the remaining four play in the first round. The gold-medal game will be played Sunday.
For Team Canada updates, go to www.curling.ca. Follow us on Twitter, Instagram and Facebook.
TSN/RDS2, the official broadcast partners of Curling Canada's Season of Champions, will provide live coverage of Canada's round-robin games, in addition to all playoff games. CLICK HERE for their complete broadcast schedule.
The list of teams, schedule information and live scoring can be found on the event website, worldcurling.org/events/wmcc2022/