Wheelchair curling in schools!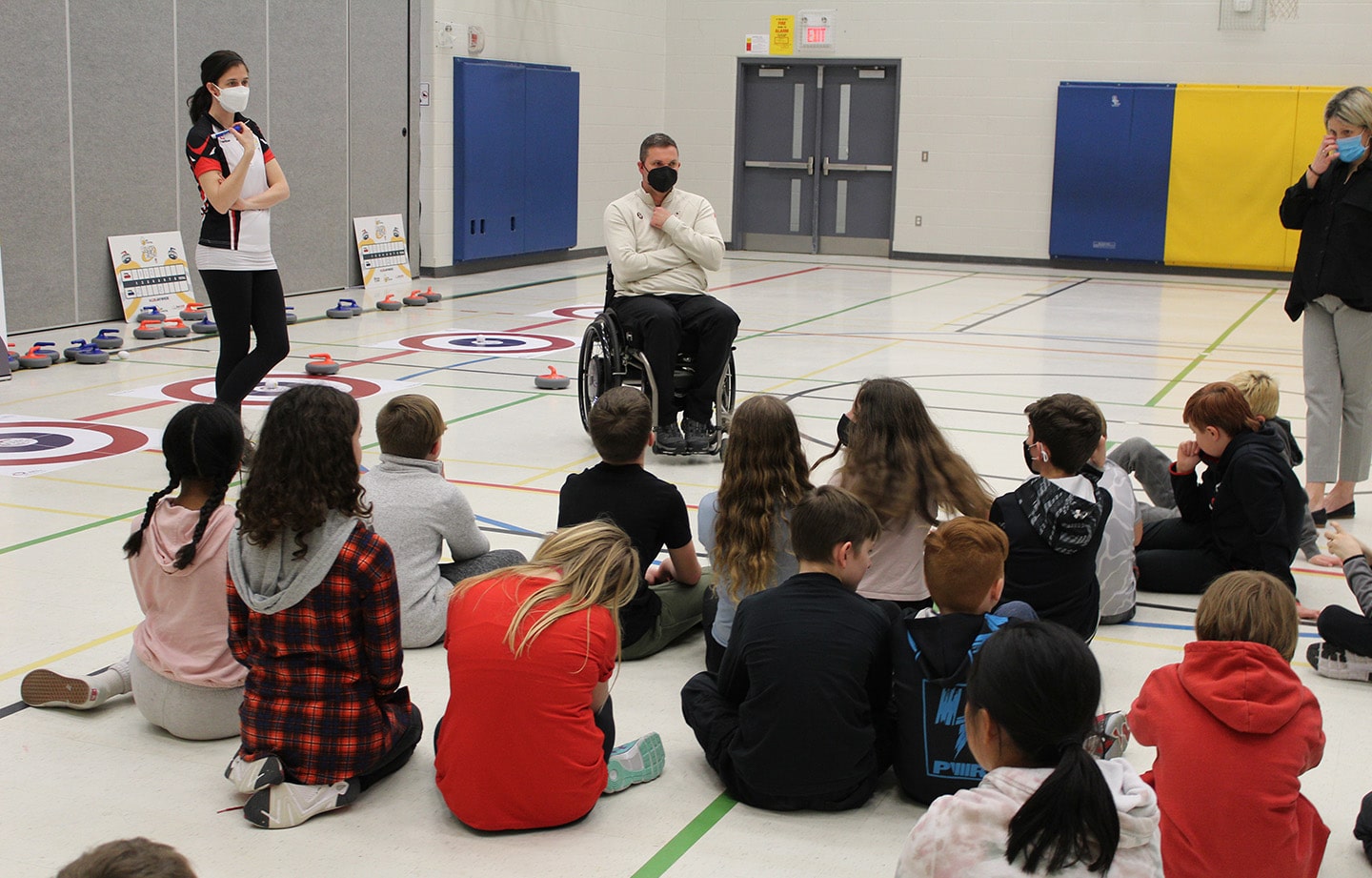 Wheelchair curling included in school curling program curriculum
By: Lisa Weagle
Students are now learning about both curling and wheelchair curling through Egg Farmers Rocks & Rings, presented by Curling Canada, Canada's national elementary school curling program.
The 2021-22 school year marked the first full season with a wheelchair curling component in all Egg Farmers Rocks & Rings programs. Over the school year, the program provided 318,000 curling experiences for kids across Canada, both in the gym and in the classroom.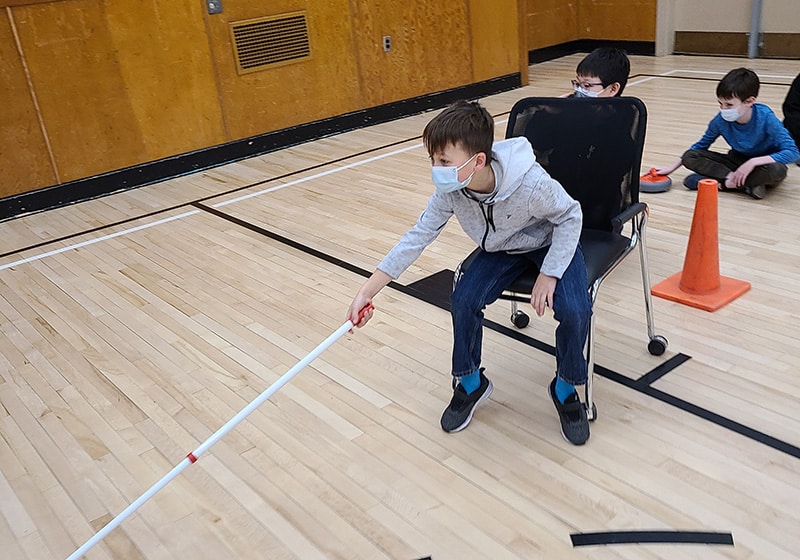 With the addition of FloorCurl pusher sticks, wheelchair curling was introduced as part of the gym curling lessons. Using stationary chairs for students to deliver the stones from a seated position, along with program cards that include lessons on wheelchair curling, the Egg Farmers Rocks & Rings program teaches students about the Paralympic sport of wheelchair curling throughout schools in Canada.
"Curling is a sport where everybody can be included, no matter your age or ability," said Abbie Darnley, Program Director, Egg Farmers Rocks & Rings. "Adding wheelchair curling to the program has also helped increase awareness and inclusion through curling as a mixed ability sport."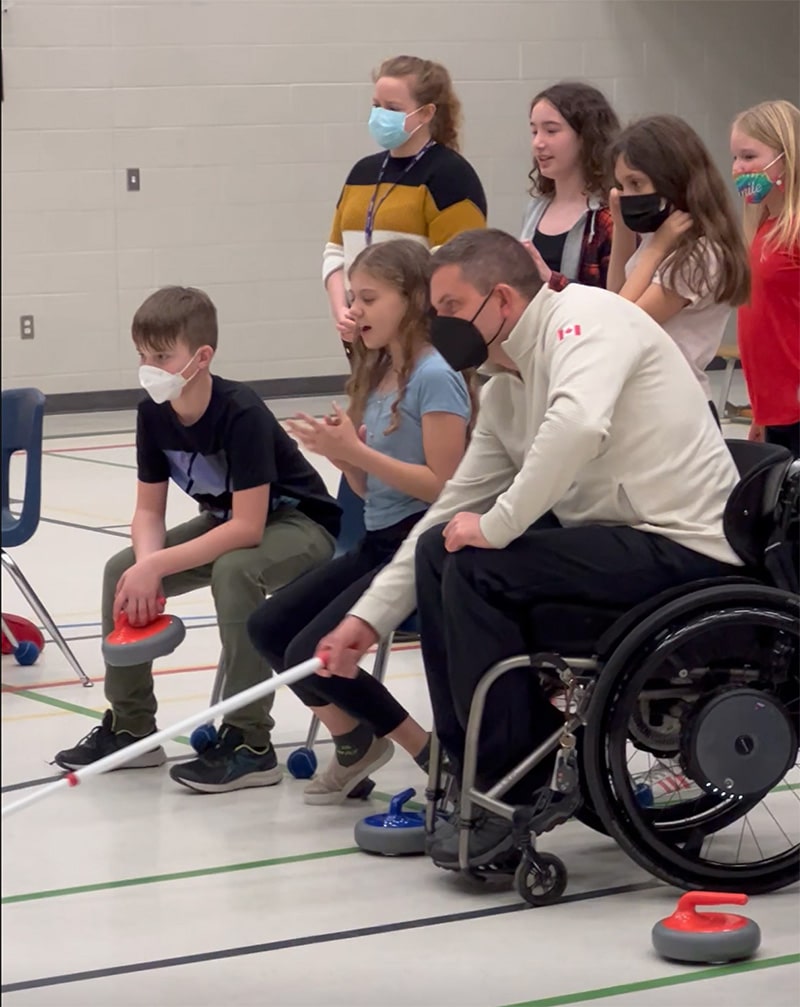 A model of inclusive sport, mixed ability sport encourages social inclusion and physical activity by welcoming players of all abilities into a mainstream sport setting playing non-adapted sports.
Feedback for the school program has been extremely positive, with teachers commenting that the addition of wheelchair curling has allowed them to include students of all abilities in the Egg Farmers Rocks & Rings sessions while fostering awareness about parasports, diversity, and inclusion. 
"We are constantly evolving and adding to the Rocks & Rings program to meet the needs of our communities," added Darnley. "The COVID-19 pandemic led us to develop a variety of new programs, including a virtual program, which was hugely successful and helped us reach more students than ever before. Through our interactive virtual and in-person programs, we're able to foster awareness about wheelchair curling, encourage sport participation, and maybe even inspire some Paralympic and Olympic dreams." 
In the lead-up to the Beijing 2022 Paralympic Winter Games, Egg Farmers Rocks & Rings showcased wheelchair curling by including special guests in some sessions. Mark Ideson, a three-time Paralympian in wheelchair curling (a gold-medallist and two-time bronze-medallist), joined a virtual and gymnasium session with elementary school students, while Jon Thurston, a Paralympic bronze medallist in wheelchair curling, joined a live virtual session.
"It's so fun to be around the kids and introduce them to curling in their schools," said Ideson. "The program integrates so well with wheelchair curling and everyone can play together. I've done sessions with kids of varying levels of ability—some in chairs, some using walkers, and some were able-bodied."
Students rotate through a variety of activities and stations, learning about different aspects of the sport. The program also includes tournament-style play and interactive games that teach terminology and scoring.
"It was nice to see everyone playing together and cheering each other on as part of one big team," said Ideson. "The kids loved every minute of it."
What's next for the program? "We are always adding new things and developing our school programming further," said Darnley. "Stay tuned to see what the 2022-23 school year brings!"