Celebrity Invitational!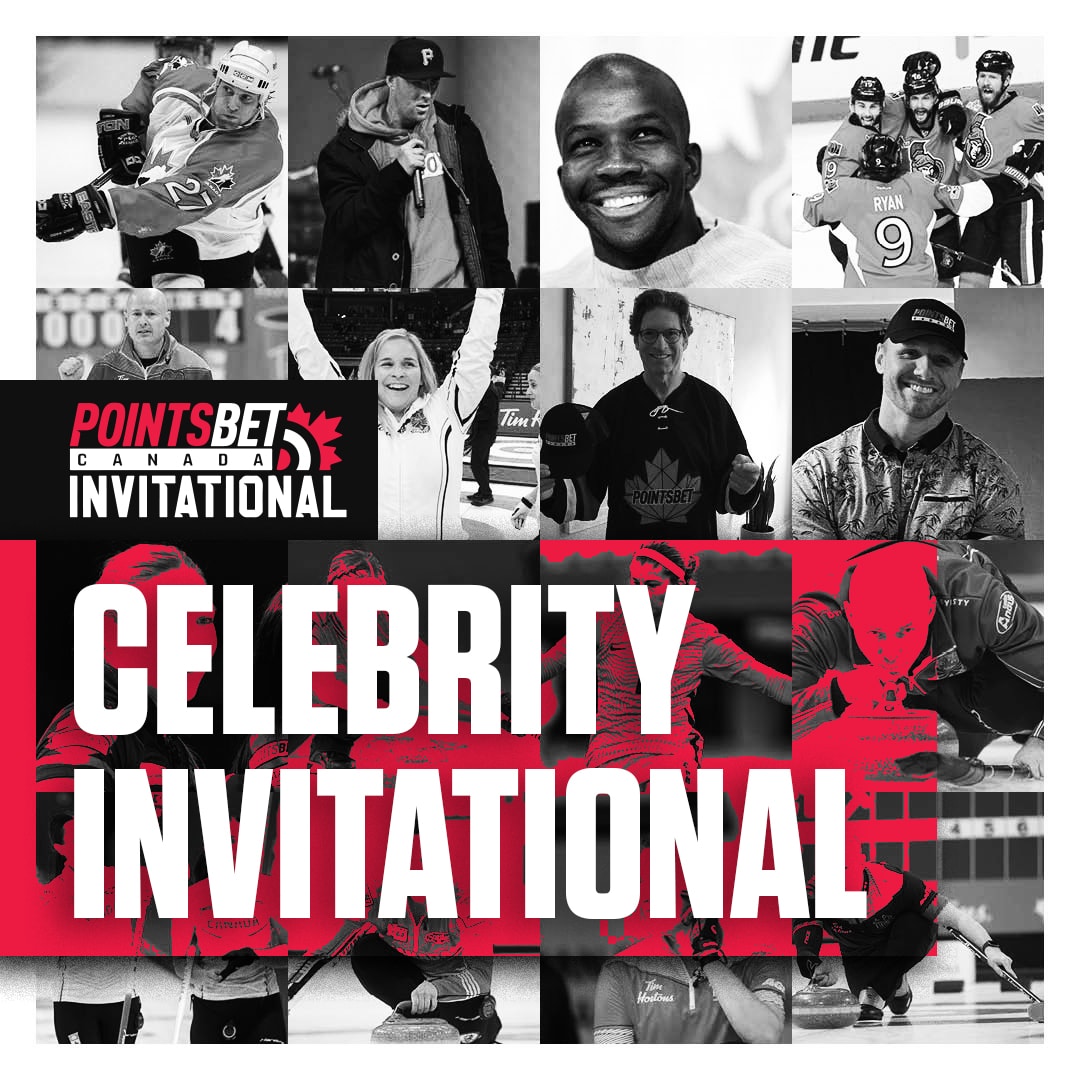 Olympians, NHL'ers, rapper and a Trailer Park Boy slated to compete at 2022 PointsBet Invitational
There will be no better place for fun next week when the Celebrity Invitational hits the ice at the 2022 PointsBet Invitational's Celebrity Invitational. The event will feature an array of elite curlers, NHL'ers and Olympians, along with a rapper and a cheeseburger aficionado.
Confused? Read on.
The 2022 PointsBet Invitational in Fredericton is all about finding new ways to engage with new fans of the sport. That's why Curling Canada and PointsBet Canada invited a few Canadian celebrities to try their hand at curling in fun exhibition games on the Friday night of the PointsBet Invitational on Sept. 23, following the 'Elite Eight' round at 8 p.m. (all times AT).
The men and women behind 33 Canadian Championships, 11 Olympic medals, a world hockey championship, a Memorial Cup championship and a Juno award will be competing on Friday night at the Willie O'Ree Centre.
Check out the teams competing:
Brendan Bottcher (Team Bottcher), B.J. Neufeld (Team Dunstone), Briane Harris (Team Einarson), Pat 'Randy' Roach (Trailer Park Boys) VS. Jennifer Jones (Team Jones), Kevin Koe (Team Koe), Marc Methot (NHL), Shayne Corson (NHL)
Mark Nichols (Team Gushue), Val Sweeting (Team Einarson), Stephanie Labbé (2020 Olympic gold medallist), Classified (rapper) vs. Kaitlyn Lawes (Team Lawes), Ben Hebert (Team Bottcher), Georgia Simmerling (2016 Olympic bronze-medallist), Donovan Bailey (two-time 1996 Olympic gold-medallist)
Friday Day Package and Full Event Package customers will get their guaranteed seat for the Celebrity Invitational. All other tickets will be issued complimentary from the box office that will be set up during the event at Willie O'Ree Place.
Other curling fans nationwide can tune in on the event's live stream on Curling Canada's Facebook and Instagram channels.
Curling fans who can predict a perfect men's and women's bracket at the 2022 PointsBet Invitational can win a $1-million prize from PointsBet Canada, along with some other big prizes, through the Sweep 16 Bracket Challenge. Visit Sweep16.ca for more information and make your bracket today.
A limited number of ticket packages and single-draw tickets are still available.
Full-event ticket packages are available for $249 and guarantee a single ticket and seat selection for all 10 draws of the 2022 PointsBet Invitational. The package will also include a bonus ticket for admission to the Friday night Celebrity Invitational and party in the Patch.
Single-day packages are on sale starting from $40, and single-draw tickets start at $25. Prices will vary depending on the draw or day selected.
On Wednesday and Thursday, walk-up tickets for youth under 18 are free with a paying adult. The same youth tickets are $10 plus applicable fees on Friday through Sunday and can be purchased online in advance.
All tickets are subject to standard facility and ticketing service fees. Fans can purchase tickets online via Ticketmaster.
For more information and to buy tickets today, click here.
Customers needing assistance with purchasing can call the Capital Winter Club at 506-452-0020.
TSN and RDS will broadcast the 2022 PointsBet Invitational. Click here to view the broadcast schedule.