Rally from the Rock!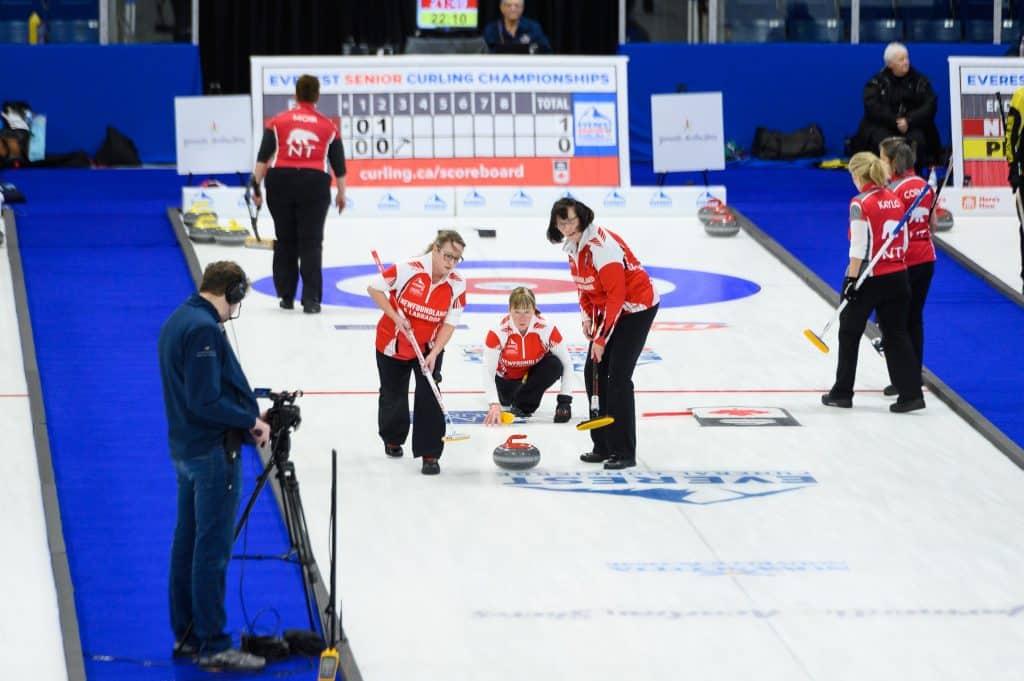 Newfoundland & Labrador women steal in extra end to earn first victory at 2022 Everest Canadian Senior Championships
Fans who made the trip to Mariners Centre and Yarmouth Curling Club in Nova Scotia for the 2022 Everest Canadian Senior Championships have yet to be disappointed with the calibre of curling, proving once again that curling skill and fine wine have much in common when it comes to maturation.
Indeed, the ladies from Newfoundland & Labrador did not buck the trend of thrilling curling content at this year's Everest Senior Championships and put on one heck of a show in draw 4 Monday afternoon.
In what is being considered an early contender for "game of the week", Newfoundland & Labrador managed a stunning 7-5 come from behind victory in an extra end over the Northwest Territories' Sharon Cormier (0-2; Yellowknife).
The win marks the first notch in the victory column for skip Laura Phillips, third Heather Martin, second Cathy Rogers and lead Candice Thomas, representing the Remax Centre/St. John's Curling Club, and one that Phillips describes as exceedingly important.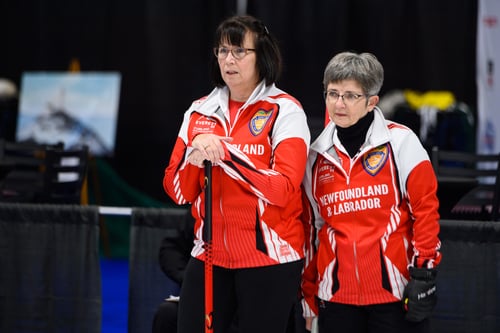 "Always good to get that monkey off your back," said Phillips, who dropped their draw 1 match by an 8-1 score to powerhouse Saskatchewan, skipped by Sherry Anderson (2-0; Saskatoon). "Now (the loss) isn't hanging over you thinking 'we have to win'. So now we're 1-1 and starting to pick up our play a little bit and plan to continue to do so."
While every win is hard earned at a Canadian national championship, this one was especially white knuckled.
The teams would trade missed opportunities in the opening three ends to score multiple points, seeing Newfoundland & Labrador lead 2-1 after four ends of play. The Northwest Territories however would begin to rally back and earned a deuce in the fifth end, followed by back-to-back steals in the sixth and seventh thanks to a miss from Phillips on her last, marking a 5-2 lead for the northerners.
The eighth end would prove to be the wildest end yet in a game that already featured plenty of twists and turns. A series of jammed peel attempts and a flashed hit from the Northwest Territories would leave Newfoundland & Labrador with enough stones in play to cook up the required three points to tie, polished off by a controlled weight open hit from skip Laura Phillips to force extras.
"That felt really good, especially with how I threw my last one in the seventh end," reflected Phillips about her team's impressive comeback. "That was a pretty brutal throw in the seventh, so it was nice to come back in eight and actually make both of my rocks."
Newfoundland & Labrador would carry their momentum straight through to the extra end with plenty of pressure in the four-foot, scoring an improbable steal of two points thanks to a final draw attempt from the Northwest Territories that would slip deep, giving Newfoundland & Labrador the 7-5 win.
Nerves certainly came into play for Newfoundland & Labrador moving on to the extra end, said Phillips.
"I've settled down now," laughed Phillips in her post game interview, "But once we tied it up then you say 'OK, we'll do our best, hope for the best and it worked out that the girls made some great rocks and we were able to position it and put the pressure on Sharon with her last rock."
Newfoundland & Labrador will next face British Columbia's Leanne Andrews (2-0; Langley) on Monday afternoon at 4 p.m. (all times Atlantic).
In women's pool standings, British Columbia and Saskatchewan lead the pack in Pool A with unblemished records while Pool B sees Theresa Breen of Nova Scotia (2-0; Halifax) tied alongside Québec's Chantal Osborne (2-0; Thurso) for the interim top pool spot.
Action resumes in both men's and women's play Monday afternoon at 4:00 p.m.
Live scoring updates for the 2022 Everest Canadian Seniors are available by clicking here. For event information, click here.
Games from the 2022 Everest Canadian Senior Championships will be live-streamed on TSN.ca as well as on Curling Canada's YouTube channel. For the up-to-date broadcast schedule, click here.