Manitoba Muscle!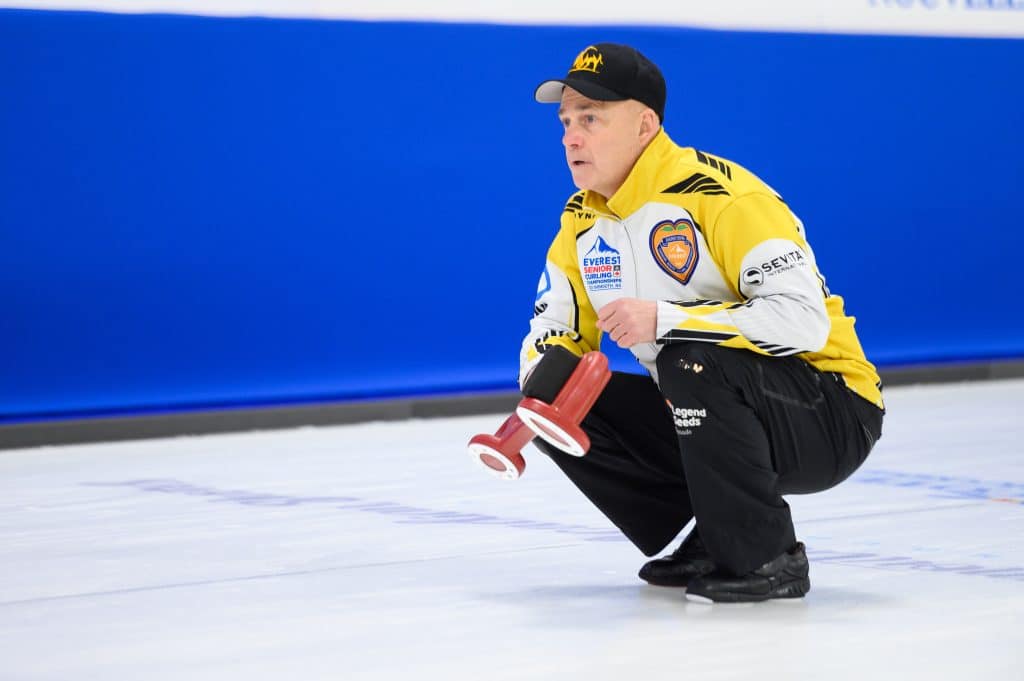 Team Manitoba men extend undefeated streak to five games at 2022 Everest Canadian Senior Curling Championships
They say it's lonely at the top, but it's a very comfortable spot for the Manitoba men's representatives at the 2022 Everest Canadian Senior Curling Championships at the Mariners Centre and Yarmouth Curling Club in Nova Scotia.
And though the 'friendly Manitoba' rink of skip Randy Neufeld, third Dean Moxham, vice-skip Peter Nicholls and lead Dale Michie from the La Salle Curling Club are the type of gentlemen you can break bread with, you can't blame them for not inviting any immediate company to share in the top spot.
In fact, they're much happier with the rest of the men's field chasing their overall best undefeated 5-0 record after 11 draws.
Manitoba's success continued on Wednesday afternoon where a tightly contested 6-4 win over the Northwest Territories' Glen Hudy (0-6; Yellowknife) would see them secure the top spot in Pool B after already being guaranteed a place in the Championship Pool beginning on Thursday.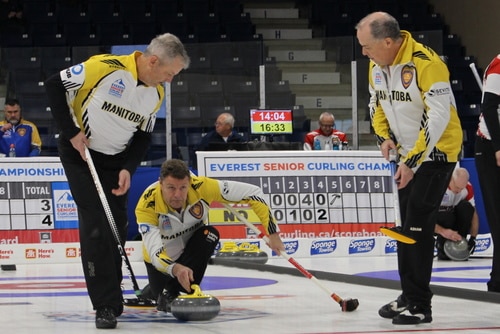 The game was a bit of a seesaw affair, which saw both teams give and take opportunities with some clutch shot making.
"It was a battle," said Neufeld about the afternoon match versus the Northwest Territories. "They kept it close. They were making a lot of good draws and a lot of good freezes."
One said freeze came in the fourth end where, amidst a 2-1 lead for the Northwest Territories, Manitoba had the four-foot essentially surrounded and were looking to score at least three but Northwest Territories skip Glen Hudy would make a clutch freeze thanks to his sweepers to shrink the available scoring area.
"We were looking at getting a few in the fourth end," recalls Neufeld. "(Hudy) made that great freeze and we had to throw it away to get our deuce, but at that time, the deuce was pretty big."
Scoring two in the fourth would give Manitoba a 3-2 advantage on the scoreboard at the break. The Northwest Territories would manage a single in the fifth end with hammer, before Manitoba would mark the game's biggest blow via a score of three in the sixth.
It would prove to be the difference maker for Manitoba on their way to their fifth consecutive win.
"We had control, but it wasn't big control," said Neufeld reflecting upon his team's play prior to the big score of three in the sixth end. "It was big. It was a pretty open end and fortunately, we got a couple misses and we made it good."
It's a measurable level of success for Neufeld and company, but as the Championship Pool looms and pool play records carry through, Manitoba is looking to remain focused on winning its final pool play match versus New Brunswick's Terry Odishaw (3-2; Moncton) on Wednesday afternoon at 6:00 p.m. (all times Atlantic).
"It feels good," chuckled Neufeld when asked about his team's pristine record. "It's good for now. It's the first goal to get to the next round so yeah, it's good."
Not resting on their laurels, Team Manitoba knows its toughest challenges are yet to come.
"Just got to play and play sharp," said Neufeld when asked about sustaining Manitoba's current success. "You know, we've been through it enough times and yeah, I think we'll be OK."
The top four in each pool then advance to the Championship Pool for crossover games against teams from the other pool, while the remaining teams go to the Seeding Pool.
After the Championship Pool on Friday, Dec. 9, the playoffs will start Saturday, Dec. 10, at 8:30 a.m. (all times Atlantic) with the semifinals, pairing the first-seeded team against the fourth-seeded team and the second- and third-ranked teams in the second semifinal.
The winners advance to their respective gold-medal final, while the losers will play for bronze. The men's medal games will be at 12:30 p.m. and the women's medal games commence at 3:30 p.m.
Live scoring updates for the 2022 Everest Canadian Seniors are available by clicking here. For event information, click here.
Games from the 2022 Everest Canadian Senior Championships will be live-streamed on TSN.ca as well as on Curling Canada's YouTube channel. For the up-to-date broadcast schedule, click here.