The Future of Curling!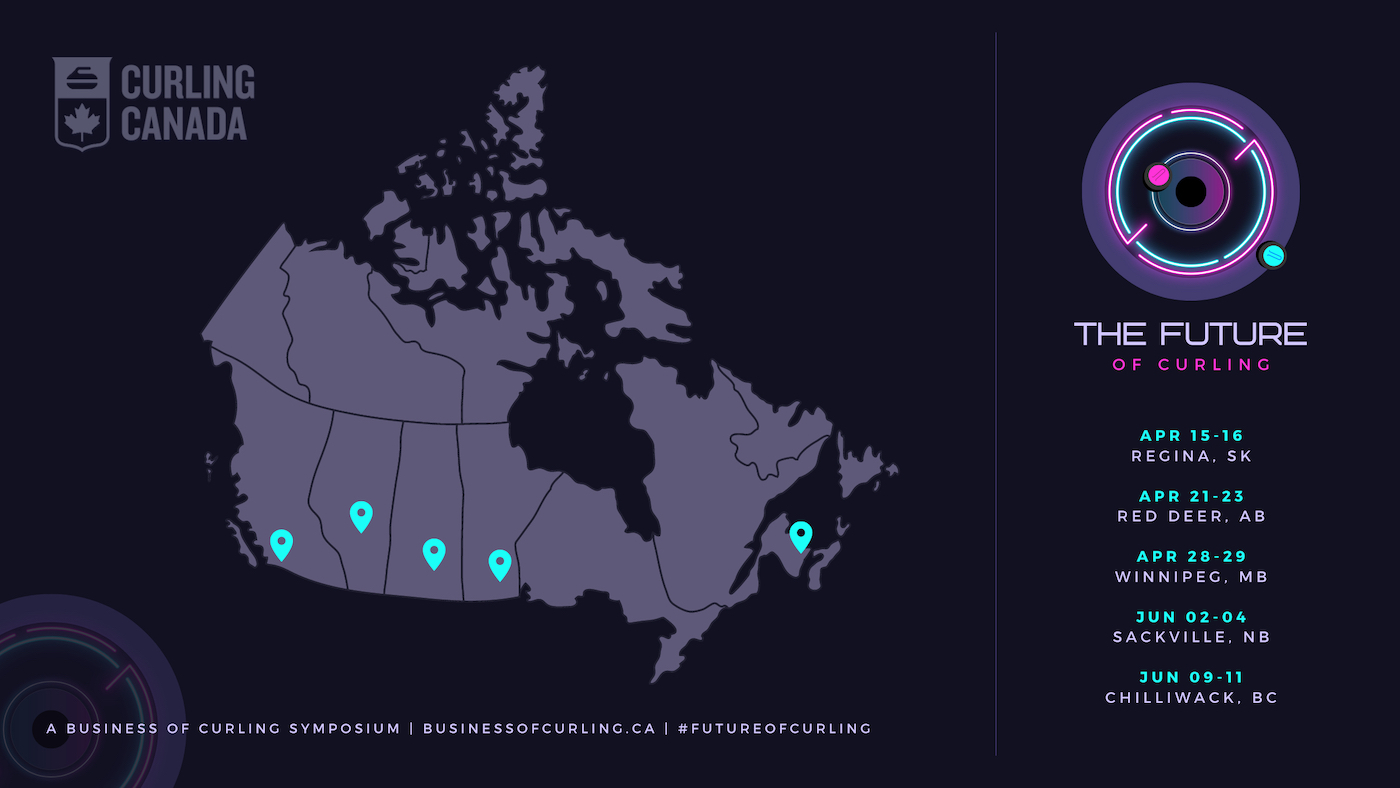 Cross-country symposium tour to reimagine future of curling in Canadian communities
Curling Canada, in a joint venture with its provincial and territorial Member Associations, will put on a cross-country tour of symposiums focused on the future of curling at the community level.
As the undisputed world leader in grassroots curling, Canada is home to more than 900 curling clubs and has more than 1.5 million individuals participating on an annual basis.
While curling has surged internationally since becoming an Olympic medal sport in 1998, other factors have restricted the iconic game from maintaining record participation levels in Canada. By engaging in these symposiums with an open mind, participants will acquire innovative strategies and play an important role in overcoming these challenges.
This upcoming series of events is but the latest effort to sharpen the skills and knowledge of curling club operators through Curling Canada's Business of Curling program. Curling Club Manager, Keith Parry of the Comox Valley Curling Centre credits such opportunities for contributing to the growth of their organization in recent years.
"As a new manager of a curling facility I attended the Business of Curling Symposium in Kelowna in 2017. I came away from that conference with a great many ideas and inspirations, some based on the forward-thinking concepts explored there. Specifically gaining growing the sport through shorter leagues, improved off-ice options, selling fun rather than two hours of cold, making community partnerships, and in general starting a refreshing of the culture at our curling centre. The results have been dramatic, as we have essentially doubled our membership in the resulting 5 years. Our club is thriving.
The Diversity and Inclusion in Curling conference in Niagara Falls had a similar impact. While it was uncomfortable to hear the numerous stories of obstacles & hatred present and past that LGBTQ+, BIPOC, persons with disabilities have suffered at curling facilities; I don't believe anyone left the conference without a determination and strategies to make their club better by being safe and truly welcoming for everyone."
The Future of Curling symposium tour signifies a passing of the torch from the generations that built one of the greatest infrastructures in sport to the generations that must now deliver rewarding curling experiences to emerging audiences in ways that are most appealing to them.
Symposium attendees will be exposed to an assortment of presentations, research, discussions, and interactive workshops on topics such as:
the business of curling
recruitment and retention of new curlers
new programs, leagues, events, and formats
volunteer and professional work
the price and value of curling
digital marketing
change management
diversity, equity, and inclusion
accessibility
government, community, and stakeholder relations
revenue generation and diversification
financial planning for facility maintenance
It has been famously said that the best way to predict the future is to create it. If you believe that the curling community controls its own destiny and wish to contribute to its modernization, plan to be in the room at any of the following events:
April 15-16, 2023: Regina, Saskatchewan
April 21-23, 2023: Red Deer, Alberta
April 28-29, 2023: Winnipeg, Manitoba
June 2-4, 2023: Sackville, New Brunswick
June 9-11, 2023: Chilliwack, British Columbia
An additional Business of Curling event is being planned for the Ottawa region. Click here for more details.
Space is limited, so be sure to register as quickly as possible. More information and registration details are available at businessofcurling.ca/future.