Tiebreakers needed!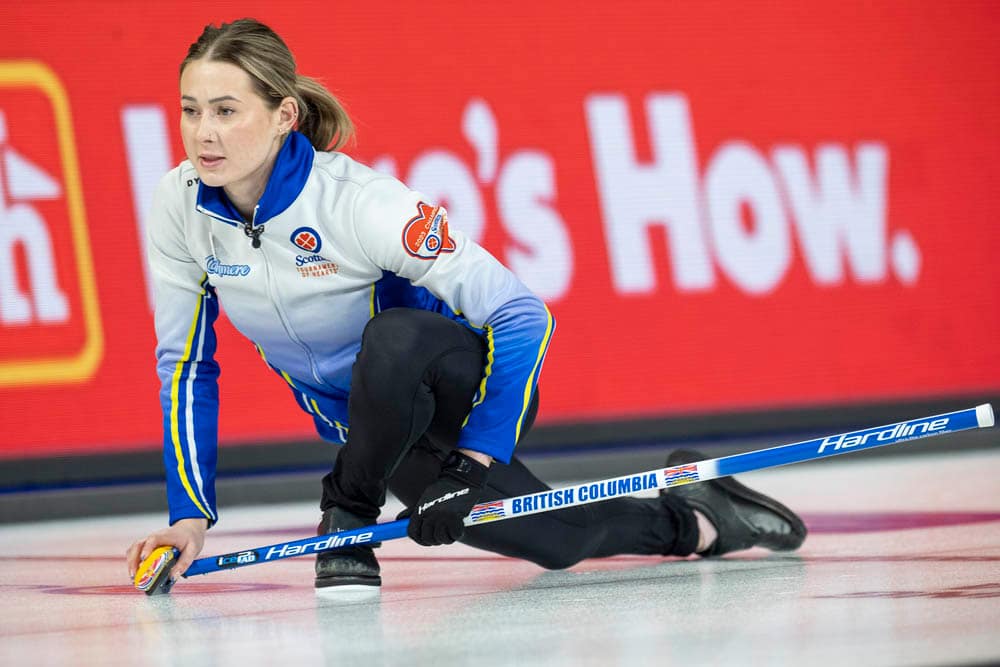 Four-way logjam for final two playoff spots at Scotties
Is it a little extra curling you want at the 2023 Scotties Tournament of Hearts?
Well, you got it. The Scotties was assured of tiebreakers to be played Friday morning after the smoke cleared Thursday evening in the final round-robin draw at the Sandman Centre in Kamloops, B.C.
What developed is this: four teams emerged with identical 5-3 records and tied for second place in Pool A. Now, those four teams will have to sort themselves out to see who gets the final two playoff spots. The four teams are skipped by Kaitlyn Lawes of Wild Card 1 (Winnipeg), Team Quebec's Laurie St-Georges (Laval-sur-le-Lac/Glenmore), Christina Black of Team Nova Scotia (Dartmouth) and Clancy Grandy of Team British Columbia (Vancouver).
The tiebreaker games have fourth-ranked Team B.C. facing third-ranked Team Quebec, and Team Nova Scotia – the second-ranked team – going up against fifth-ranked Team Wild Card 1.
The highest-ranked winner will finish second in the pool and the lowest-ranked winner will finish third.
Team Quebec had a chance to slip into the number two playoff spot but suffered a 7-6 defeat at the hands of Team Nova Scotia to fall back in the pack. St-Georges, with the hammer in the 10th, needed to draw fully to the button to win but came up light and crashed on a front stone.
Team Grandy won a win-or-go-home matchup against Team Alberta skipped by Kayla Skrlik (4-4, Calgary). Both teams entered the game with 4-3 records, and something had to give.
Grandy was thrilled to still be alive and perform before a home province audience.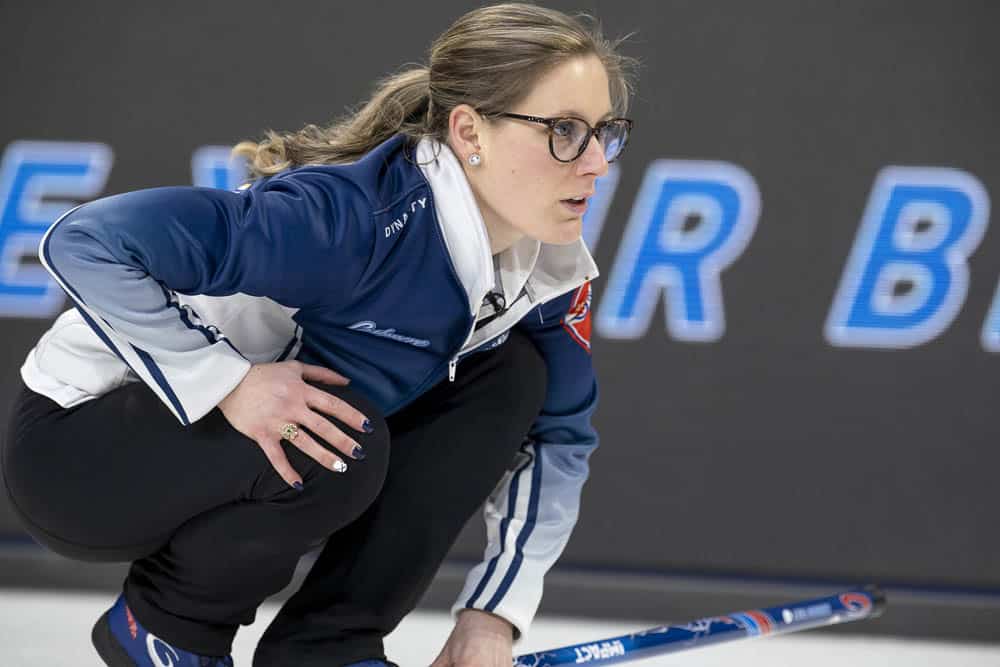 "We knew we had to bring our best today, so we're happy we're still fighting," said Grandy. "We made some key shots when it counted and it was really tight back and forth. Any time you have that, it's just one shot here or there."
Lawes, whose Wild Card 1 team bested Team Suzanne Birt of Prince Edward Island (2-6, Cornwall) by a score of 10-6, said she'll go back to her hotel, have a bit of food, get some rest, and get ready for a big day Friday.
"They're still allowing us to play so it's good to have a chance at it," said Lawes. "We knew we had to focus on what our jobs were and see how it all unfolded. But really proud of the team to stay positive and finishing off the round robin with two wins."
Three-time Canadian women's champions Team Kerri Einarson (8-0, Gimli, Man.), looking for its fourth straight Scotties title, solidified its position as the team to beat after finishing the round robin undefeated for the second straight year. Canada bested Team Nunavut's Brigitte MacPhail (0-8, Iqaluit) by a score of 11-3.
The three playoffs teams in Pool B were decided earlier by teams skipped by top-seed Team Krista McCarville of Northern Ontario (7-1, Thunder Bay), second-seeded Team Jennifer Jones of Manitoba (7-1, Winnipeg/Altona), and third-seeded Team Rachel Homan of Ontario (6-2, Ottawa).
Tiebreaker games are scheduled for 8:30 a.m. (all times PT) on Friday. The first round of Page qualifier playoffs slide from the hacks at 1 p.m., followed by the Page seedings at 6 p.m. Pool winners Team Einarson and Team McCarville get the first-round bye and will take to the ice during the evening game.
The final goes Sunday, Feb. 26.
Live scoring, standings and statistics for the 2023 Scotties Tournament of Hearts are available at www.curling.ca/scoreboard/.
TSN and RDS2 will provide complete coverage of the 2023 Scotties Tournament of Hearts. CLICK HERE for the complete schedule.
For ticket information for the 2023 Scotties Tournament of Hearts, go to www.curling.ca/2023scotties/tickets/.
This story will be available in French as soon as possible at www.curling.ca/2023scotties/nouvelles/?lang=fr.