First win for Nunavut!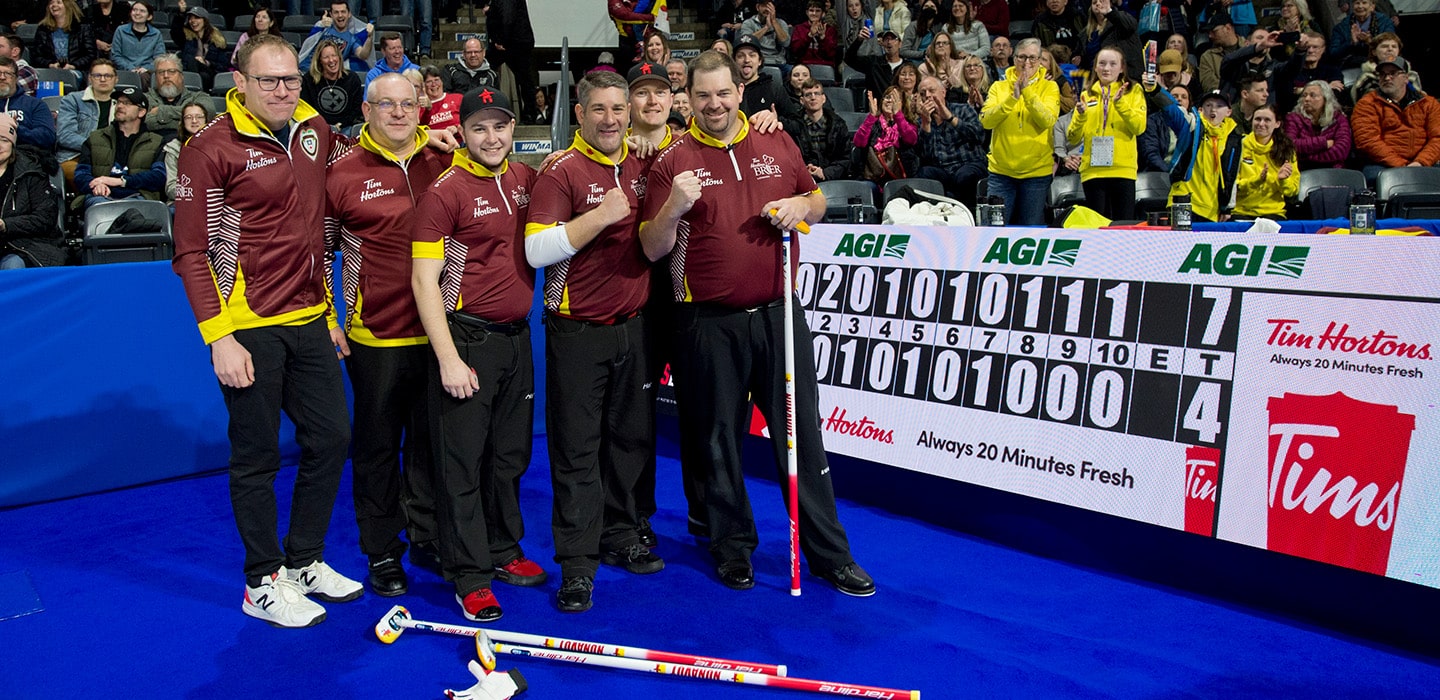 London fans cheer on first Tim Hortons Brier win for Team Nunavut
For one brief, glorious moment at the 2023 Tim Hortons Brier, presented by AGI, Team Nunavut is tied atop its pool standings.
Few expect the team from Iqaluit to stay there, but when the team members go to sleep tonight, skip Jake Higgs and his teammates (third Sheldon Wettig, second Brady St. Louis, leads Christian Smitheram and Terry Lichty and coached by Blair Evans) will enjoy some sweet dreams after scoring a first-ever win for Nunavut in the event, opening with a 7-4 Pool A win over Newfoundland and Labrador's young team skipped by Nathan Young (0-1, St. John's) in London, Ont.
Wins have been hard to come by the boys from the North over the years, so this was one to savour, especially for Higgs who lives in Strathroy, a few kilometres down the road from London, and had a huge following in the Budweiser Gardens stands.
"The crowd was so great it almost made me want to tear up," said Higgs, who was emotional in his post-game interview. "You just try to keep breathing. I was nervous out there and you say just make all the shots you can and let the chips fall where they may."
There were more than a few raised eyebrows Saturday afternoon after Team Nunavut posted its win. The boys from The Rock are no slouches and are one of the up-and-coming junior teams in Canada. After the Tim Hortons Brier, Young and Co. are expected to challenge for the 2023 New Holland Canadian Junior men's championship in Rouyn-Noranda, Que., from March 25-April 2.
But on this afternoon, Nunavut's Team Higgs had their number.
"I thought we played great and deserved to win," added Higgs, a high school teacher playing in his second Tim Hortons Brier. He skipped Team Nunavut at the 2020 Tim Hortons Brier in Kingston, Ont., losing all seven games.
Higgs may have made the biggest shot of his career in the 10th end when, up by two and without the hammer, he passed on a thin double and made a lovely hit and roll behind a short guard to take away a possible game-trying deuce from Team Newfoundland and Labrador.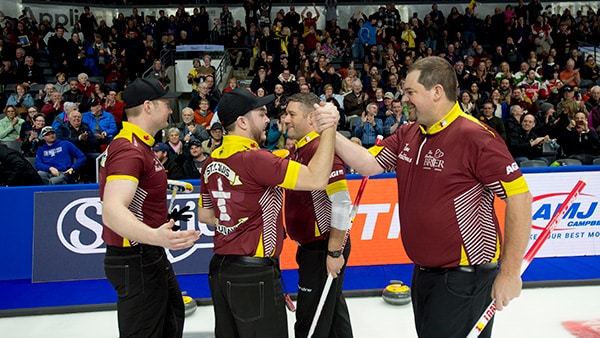 "Most of the teams here will play the bullet-weight thin double," said Higgs. "That's not my shot. I'm more control weight, make the nice hit and roll."
While Team Higgs was getting in their opening licks, so was four-time champion Kevin Koe who skipped Team Alberta (1-0, Calgary) to a narrow 5-4 win over Team Nova Scotia, skipped by Matthew Manuel (0-1, Halifax).
Koe and Canada's Brad Gushue are looking to win their record-breaking fifth Tim Hortons Briers as skips this week.
Meanwhile, a couple of Manitoba teams who figure to create some noise got their weeks going, with mixed results. Team Manitoba skip Matt Dunstone (1-0, Winnipeg) blitzed skip Kelly Knapp's Team Saskatchewan (0-1, Regina) 9-3 in eight ends. A couple of sheets over Northern Ontario's Team Tanner Horgan (1-0, Sudbury), skipped by Darren Moulding, earned a 6-4 win over Team Wild Card 2 skipped by Reid Carruthers (0-1, Morris, Man.).
Team Dunstone was locked in a tight battle with its prairie neighbours before finally breaking free with a big count of four in the sixth end, breaking open a tight 2-2 struggle.
It was the first win for Dunstone representing Manitoba at a Tim Hortons Brier. He previously skipped Team Saskatchewan and a wild card team, and wore the Manitoba buffalo winning two Canadian junior titles.
"A very cool moment, one I'm going to remember for a long time," said Dunstone. "Some nerves going out there. Huge arena, a great turnout today. The atmosphere was amazing and it's nice to get the first one out of the way. It feels great to have a win for Manitoba."
Team Northwest Territories, skipped by veteran Jamie Koe, (Yellowknife) had the opening bye.
The 18 Tim Hortons Brier teams are split into two pools of nine, and will play a complete eight-game round robin. The top three teams in each pool advance to the playoffs where it will be further reduced to a Final Four and a Page playoff system.
The final goes Sunday, March 12.
The Brier champion will wear the Maple Leaf at the 2023 BKT Tires & OK Tire World Men's Curling Championship, April 1-9 in Ottawa.
The 2023 Tim Hortons Brier continues with a draws Saturday at 7 p.m. (all times ET).
Live scoring, standings and statistics for the 2023 Tim Hortons Brier are available at curling.ca/scoreboard.
TSN and RDS2 will provide complete coverage of the 2023 Tim Hortons Brier. CLICK HERE for the complete schedule.
For ticket information for the 2023 Tim Hortons Brier, go to www.curling.ca/2023brier/tickets/
This story will be available in French as soon as possible at www.curling.ca/2023brier/nouvelles/?lang=fr